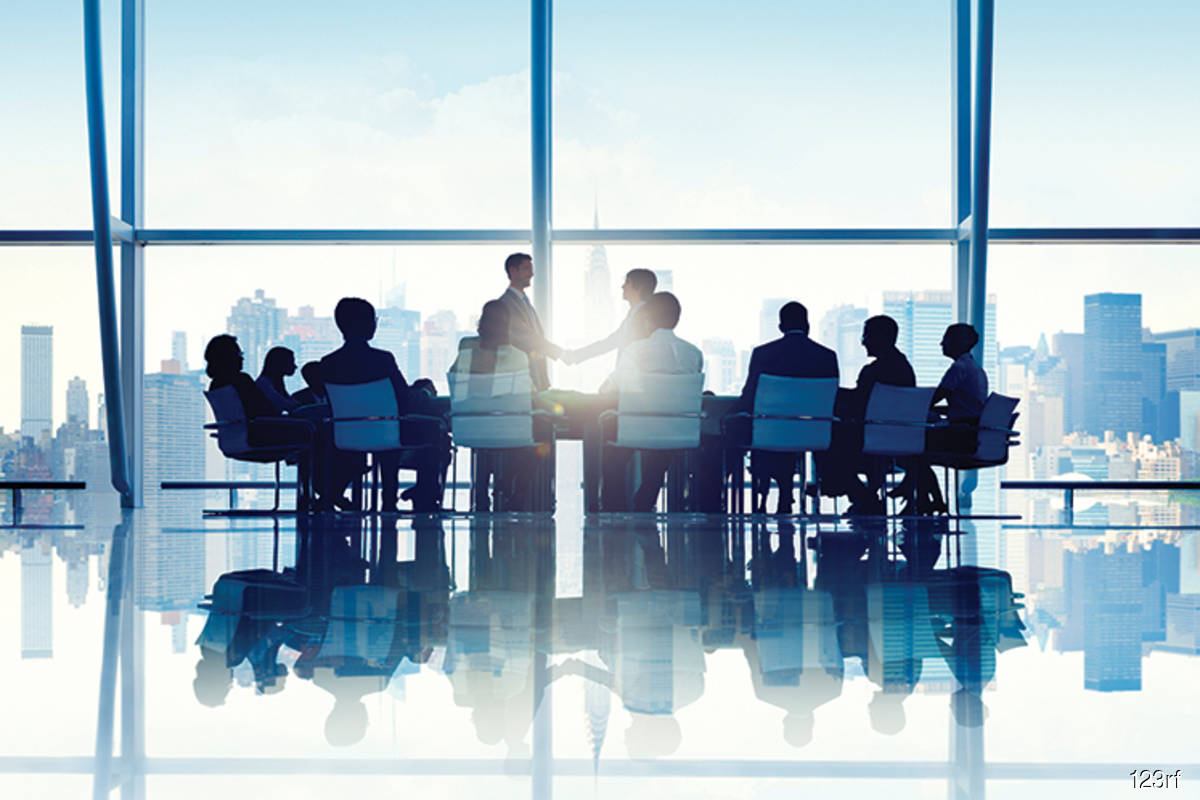 KUALA LUMPUR (Nov 24): There is a risk of progress plateauing in relation to gender diversity on boards of Bursa Malaysia-listed companies, according to the Securities Commission Malaysia (SC).
Data from the capital market regulator's Corporate Governance Monitor 2021 (CG Monitor 2021) report released on Wednesday (Nov 24) showed that since 2019, the percentage of board positions held by women had hovered around 17% overall and 25% for the top 100 listed companies.
"There is a marginal improvement in relation to gender diversity on boards. Women held 17.7% of board positions across all listed companies and 25.5% on the top 100 listed companies as of Oct 1, 2021 compared with 17.5% and 25.1% respectively in 2020," said the SC.
Of all the 5,235 individual directors as of Oct 1, 2021 — up from 5,117 individual directors in 2020 — only 18% or 952 were women directors.
The report also revealed that 162 listed companies had 30% or more women on the boards, out of which 37 were among the top 100 listed companies as of Oct 1, 2021. This compared with 165 companies in 2020.
As of Oct 1, 2021, there were 252 listed companies with all-male boards, compared with 248 companies last year. The top five companies among the top 100 listed companies with all-male boards in that period were AirAsia Group Bhd, BIMB Holdings Bhd, Frontken Corp Bhd, Hong Seng Consolidated Bhd and Malakoff Corp Bhd.
The SC noted, however, that Frontken appointed a woman director on Nov 18, 2021, while BIMB transferred its listing status to Bank Islam Malaysia Bhd on Oct 8, 2021, where the latter had one women director on its board.
While the improvement in the adoption level of gender diversity on boards was marginal, the SC is expecting a more significant increase in the number of boards that comprise at least 30% women directors, driven by the requirement to have at least one woman on the board and the continued effort by stakeholders to accelerate progress in the participation of women on boards and achieving the 30% target.
There were 781 companies which had less than 30% women directors as of Oct 1, 2021. Additionally, there were 691 companies with at least one woman director on the board among all listed companies in Malaysia, up from 682 in 2020. 
'Adoption of gender diversity on boards among the lowest CG practices'
Still, the adoption level of gender diversity on boards (Practice 4.5) remained among the lowest as compared to other practices in the Malaysian Code on Corporate Governance (MCCG).
"Boards are reminded that Bursa Malaysia's Listing Requirements will be amended to require all boards of listed companies to comprise at least one woman director effective Sept 1, 2022 for boards of large companies and June 1, 2023 for the remaining listed companies. While the mandatory minimum is set at one, boards should continue undertaking measures to have boards comprising at least 30% women directors as recommended in the MCCG," said the SC.
The regulator said there appears to be inertia on some boards which still consider gender diversity as a "nice to have", while some had maintained all-male boards. These issues should be on the agenda of shareholders-board engagements, with a view to drive the adoption of these practices and improve board diversity with regard to the participation of women on boards.
"It is disappointing to find that a large number of listed companies still depart from Practice 4.5 which recommends that the board disclose in its annual report the company's policies on gender diversity, its targets and measures to meet those targets. A number of the companies that reported departure from Practice 4.5 explained that the company appoints directors based on merit, and does not discriminate based on gender," the SC noted.
However, it pointed out that boards are expected to ensure that any individual appointed to the board, regardless of gender, is appointed based on merit and possesses the skills and experience required for the position. "Setting a gender diversity policy and target does not dilute this expectation. Moreover, boards should recognise that gender is a critical aspect of board diversity, alongside other factors such as skills, experience, age and nationality."
The SC pointed to a review undertaken by the Institute of Corporate Directors Malaysia on board diversity which found that boards comprising at least one-third women directors had on average a 38% higher return on equity compared to all male boards.
It also cited Credit Suisse's 2021 Gender 3000 Report, which highlighted positive correlation between increased participation of women in leadership positions and superior returns on capital, environmental, social and governance and stock performance. "The more pervasive diversity is within an organisation, the stronger the relationship. These findings add to the body of research that presents evidence of the positive impact of women participation on boards," it added.
For more stories on the SC CG Monitor 2021, click here.