This article first appeared in The Edge Financial Daily, on June 19, 2019.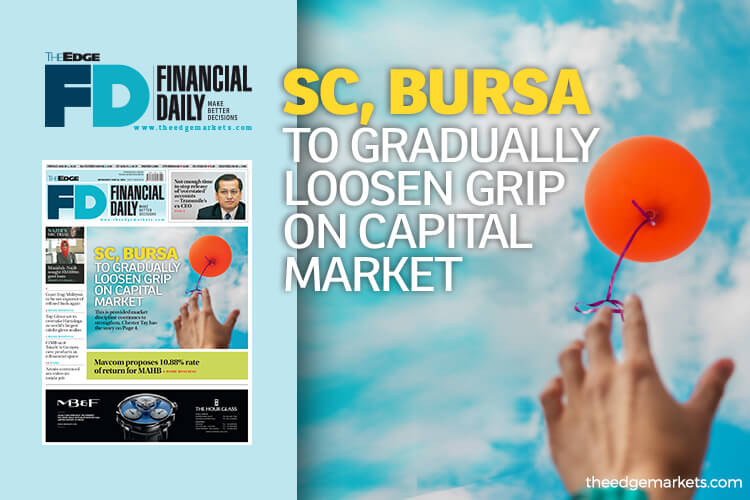 KUALA LUMPUR: The Securities Commission Malaysia (SC) and Bursa Malaysia Bhd intend to "proportionately" scale down the regulatory discipline intensity in the domestic capital market, provided market discipline continues to strengthen.
This suggests the two regulators, with new chieftains, are looking at loosening their grip when market discipline prevails.
The SC appointed prominent lawyer Datuk Syed Zaid Albar as its chairman in November last year. Datuk Muhamad Umar Swift became Bursa Malaysia Bhd's chief executive officer in mid-February.
Such a move is perceived by market players, for instance corporate advisers and investment banks, as a step in the right direction as some quarters view the Malaysian capital market as being overly regulated, which in turn affects market efficiency.
In a joint statement yesterday, the capital market regulators said moving forward, they will adopt a facilitative and dynamic surveillance and supervisory approach in tandem with the market's maturity and the level of market discipline achieved.
"[The] market and self-discipline will be prioritised as the regulatory discipline is liberalised. The pursuit of industry best practices will be driven by disclosures, self-reporting and engagement with intermediaries," they said.
The SC and Bursa said their ongoing reviews indicate financial intermediaries have increased their investments in people and systems to improve the compliance culture and enhance self-discipline when managing businesses and regulatory risks.
"A majority of brokers also implemented trade surveillance systems, enabling them to detect suspicious transactions early, leading to an increase in self-reporting and collaborations with regulators in mitigating the breaches detected," the statement said.
Over the last decade, the SC and Bursa have applied various intervention tools to instil a greater market discipline in the most efficient and effective manner.
"To enable the Malaysian capital market to compete regionally and remain attractive, investors need to be assured, among others, that the market operates in a fair and orderly manner; companies' financial statements are reliable; and intermediaries are competent with strong governance and internal systems, and always act in their clients' best interest," said the regulators.
While the regulators said they will still provide guidance for intermediaries to strengthen governance processes, they urged these financial intermediaries to put more efforts in invigorating the market by increasing their customer base, enhancing efficiency and improving investors' experience when trading on the market or consuming capital market products and services.
The SC and Bursa will also be engaging all stakeholders to seek ideas and feedback on measures to drive and support a market-friendly and vibrant capital market, the statement said.
The regulators said they remain committed to ensuring the Malaysian capital market continues to grow and support domestic economic needs as well.
The SC and Bursa said promoting good governance and ensuring fair outcomes for investors are at the core of their regulatory priorities. "Intermediaries are expected to uphold the highest level of professionalism and ethical conduct when dealing with investors," said the regulators.