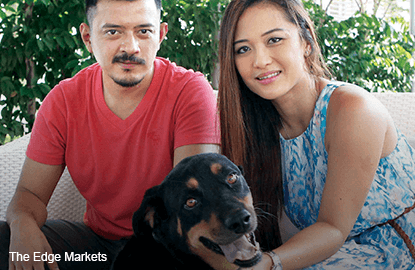 This article first appeared in The Edge Financial Daily, on January 14, 2016.
IT all started when two guys got bored of the free time they had, spending it doing nothing. One fateful day, they went for breakfast and found a stray puppy. Being animal lovers, the duo decided to send the puppy to an animal shelter. They soon noticed though, that Malaysia's huge stray animal problem wasn't being adequately and effectively dealt with, and that was how Trap-Neuter-Release-Manage (TNRM) was born — the brainchild of co-founders Stuart Tan and Nawanat Dee-on, a Thai expatriate working for Procter & Gamble better known as Stewie.
The root cause of the overpopulation of strays in this country is uncontrolled breeding. Unlike countries like the United States, Canada and Australia, where pet owners are constantly reminded by authorities, vets and the community to spay and neuter their animals to prevent the birth of unwanted kittens and puppies, Malaysians are often reluctant to desex their pets. Some think that it's putting an animal under undue stress, others own pets with the goal of breeding them either for fun or for profit, without the rigorous health testing and research into an animal's pedigree, which is what responsible breeders do.
All this has the effect of increasing the number of strays that now prowl our streets. Research shows that an unaltered female dog and her offspring can produce 67,000 puppies in just six years, while a female cat and her offspring can produce a staggering 370,000 kittens in seven years. Whenever an un-desexed animal is left to roam the streets, it contributes to this number, which authorities then try to control by rounding them up and euthanising them, often to no effect.
By nature, cats and dogs defend "territories", just like wild cats and wolves do in their natural habitats. Domestication did not remove this primal instinct, and this is the basis on which the philosophies of TNRM have been founded upon. When a pack of dogs is rounded up and killed, all that happens is, another pack of dogs will take over their place, perpetuating the cycle — this is called the "vacuum effect". If, on the other hand, the original pack of dogs is desexed and released back into their original territory, they will continue defending it while no longer reproducing, keeping the population at a steady number.
Over time, TNRM effectively reduces the number of strays as they keep territories from being invaded by unaltered animals, and thereby allowing rescue groups to keep track of which areas have been cleared of any unaltered dogs, and work in a systematic manner so as to eventually desex all strays in all areas.
What groups like TNRM Malaysia does is work with community feeders — people who provide food and water to packs of stray animals in their area — by trapping the animals, bringing them to clinics to be spayed or neutered, and then returning them to the streets. While the end goal of any rescue organisation is the eventual elimination of all stray populations, with the numbers that are currently roaming our streets, it is just not possible to find homes for all of them.
TNRM Malaysia started off with just a single Facebook page, which was noticed by Jean Liew, the third member of this rescue group who helped develop groundwork, non-profit documentation and fund-raising. Today, Liew, Tan and Stewie have become an efficient team, working to desex as many strays as they possibly can every year — in 2015, they managed to desex around 300 street animals.
"When we first started, we were working at TNRM every single day. After work, we would go and try to catch animals till late at night. All our weekends were spent volunteering to help with chauffeuring the animals to and from the vet's and other rescue duties," Stewie said in an interview with Live It!
"After a while, we realised that we couldn't be spending all our free time doing this, and that we needed to have some sort of system that brings balance. So we decided to dedicate just Sundays to working at TNRM, although sometimes we do also work on Fridays if there are too many cases," he said.
The trio's effort with helping strays is completely voluntary — all have full-time jobs and help with TNRM during their free time.
"We haven't been able to find anyone else who we could work with this well; it's hard to come across anyone who's as crazy as us — doing this day in and day out without any pay whatsoever. Many times, after a long day trying to catch animals and failing, we return home empty-handed, so it is very challenging. You really need to have commitment," said Liew.
As a person who's always been conscientious about fitness and health, Liew's brainchild StrayFit became TNRM Malaysia's fund-raising tool. A combination of Crossfit-inspired workout regiments and other fitness routines such as Acroyoga, Latin dance and Zumba, StrayFit events are held at District 13, Malaysia's first warehouse CrossFit gym. Liew has now made StrayFit events tailored for corporations and small companies called CrossFit Corporate to engage their staff for team-building and CSR activities, with proceeds going into TNRM's fund.
In addition, Liew, Tan and Stewie can regularly be seen at pet events, where TNRM operates booths to educate and raise awareness among pet owners from the ground up. There, the trio not only explain to the masses the importance of desexing their pets, but also provide nutritional, behavioural and health advice.
"We have T-shirts and some other merchandise at these events, but we don't focus so much on selling them. The main point of going out there is for awareness, so that people know what we're doing. We want to talk to people not only about strays, but also about their personal pets because responsible ownership is something we want to focus on simply because that is the source and cause of the stray overpopulation in Malaysia," said Liew.
"In short, trap-neuter-release-manage has proved to be the most humane, sustainable, effective and efficient way to deal with stray animals because most of Malaysia's shelters are already operating at capacity," she said.
To learn more about TNRM Malaysia, log onto www.facebook.com/trap-neuter-release-manage-tnrm-malaysia. To donate, money transfers can be made to Trap Neuter Release Manage Society of Kuala Lumpur and Selangor, Maybank Account #5125 5832 5774, Swift Code MBBEMYKL. For inquiries regarding trapping and neutering, call (012) 656 4232 (Tan), for inquiries regarding adoption, call (018) 968 3534 (Stewie) and for inquiries regarding donations and fundraising, call (012) 9696 573 (Liew).