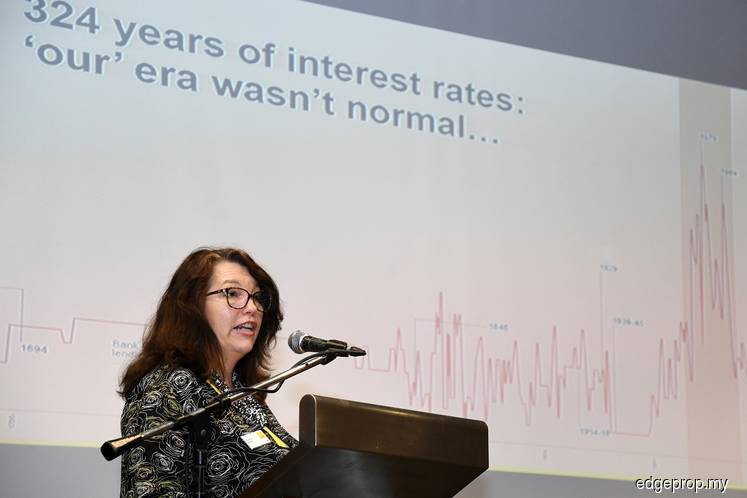 KUALA LUMPUR (March 20): A perfect storm of demographic, social, economic and technological change will transform the real estate sector globally, said Savills World Research head Yolande Barnes.
"In the economic sphere, there has been an extraordinary and unprecedented fall in the world's interest rate, particularly in the developed countries, spurred on by central banks as well as the underlying demographic system. The consequences of that have been that asset prices have risen and thus impacting numerous global real estate markets.
"But what will happen when the underlying central banks' base rates and government bonds yields start to move up?" she asked the audience at the Savills Malaysia Breakfast Forum in Kuala Lumpur today.
Barnes was one of the speakers at the forum entitled "Navigating 2018 & Beyond".
However, she believes that real estate yields will not go any lower, as yield compression over the years have either completed in most major cities or are approaching completion.
"The good news is we think that there is a quite considerable cushion between bond rates and real estate," she added.
Meanwhile, she noted that as the digital age gathers momentum, there are many entrepreneurial startups looking for highly flexible spaces and a different work style.
This has created a demand for co-working space and more new and improved forms of working spaces are expected to be seen going forward, she added.
On top of that, she noted that while the rise of e-tailing will also have an impact on the real estate sector, it will not kill conventional retail space as e-tailers will still occupy physical spaces to showcase their products.
There is also the potential of adopting blockchain technology in land registries to change the way the market trades real estate, she added.
The last factor that is expected to change the state of the global real estate sector is the aging population, which will shrink the size of the workforce.
"We think the nature of real estate risks is changing at a global level because it is a big macro trend. And these trends are global trends happening in many different places but of course showing up locally in different markets. This is a symptom of a bigger change and if we can understand that global change, there are actually huge opportunities for investors," she concluded.