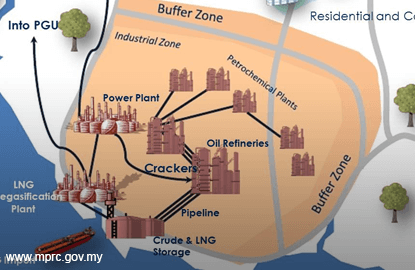 KUALA LUMPUR (Feb 28): The Pengerang Refinery and Petrochemical Integrated Development (RAPID) project opens a new chapter today. The Saudi Arabian Oil Company (Saudi Aramco) is pumping in US$7 billion (RM31 billion) to hold equity stake in selected assets in the massive petrochemical project in Pengerang, southern Johor.
Saudi Aramco has entered into a share purchase agreement with Petroliam National Bhd (Petronas) to equally own some facilities, including with 300,000 barrel per day (bpd) processing capacity, and a steam cracker plant capable of producing three million tonnes of petrochemicals annually.
Through the joint venture, Saudi Aramco will supply up to 70% of the crude feedstock requirements of the refinery. Petronas, on the other hand, will supply gas, power and other utilities.
The SPA was signed during Saudi Arabia King Salman Abdulaziz Al Saudi's visit to Malaysia.
"The signing of this agreement is truly a historic moment for the industry as it is not often that two professionally run national oil companies enter into a partnership in a world-scale greenfield project.
"Now we have long-term crude supply security for the refinery. This region is also a focus for Aramco, and together we will develop this business," said Petronas group CEO Datuk Wan Zulkiflee Wan Ariffin said at the a press conference today.
Wan Zulkiflee noted that this will be the only agreement on a joint-venture basis for RAPID.
The deal also ended speculation that the Arab oil giant had pulled out from the RAPID project, which is valued at US$27 billion in total. "When the news came out, we did not elaborate to the media, as we were planning for this occasion," Aramco CEO Amin H Nasser said.
"There was no intention to break out of the negotiations. It started three years ago, and we knew from beginning that it will end with the signing of partnership. We came with the intention to stay and to form a strong partnership with Petronas.
"From the Aramco standpoint, this is a final investment decision (on RAPID). We have always wanted to be here in Malaysia," Amin added.
The first phase of RAPID is targeted for completion in mid-2019. RAPID will house petrochemical plants, a liquefied natural gas import terminal and a regasification plant.
The complex will sit alongside an existing oil storage site. Other facilities in the pipeline include a 1,220 megawatt power plant, 72km of gas pipeline, one deepwater terminal, and a 260 million litre-per-day raw water supply plant.
RAPID forms part of the 22,000-acre Pengerang Integrated Petroleum Complex (PIPC), which would become one of Asia's biggest hubs for oil storage, fuel refining and petrochemical production, as well as imports and exports of liquefied natural gas (LNG) upon completion.
Looking forward, Wan Zulkiflee said that Petronas will continue to invest for both upstream and downstream. "We have a RM60 billion capital expenditure for 2017. Our aim is to maintain a robust portfolio in both upstream and downstream. As for RAPID, this is a project that has been going on since 2014," Wan Zulkiflee said.
Malaysia is King Salman's first of many stops during a month-long Asian tour to promote investment opportunities from his country, with Aramco as the first company to kickstart the initiatives. "Saudi Aramco will support any regional project financing in accordance to the agreement that we have worked out with Petronas," Amin said.
Aramco chairman Khalid A Falih opines that the joint venture will be a positive take for the company come its public listing plan next year.
"We believe this will strengthen the equity story of Saudi Aramco. Aramco will go public next year, and investors will be looking for a company that has breadth in portfolio, balance, values for shareholders across the value chain.
"We can offer that to more shareholders when the company is listed," Khalid said.