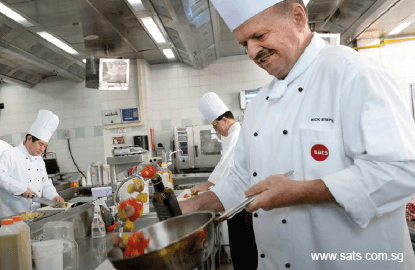 SINGAPORE (Dec 27): SATS, the provider of gateway and food solutions, is acquiring another 10% stake in Evergreen Sky Catering Corporation (ESCC) for S$32.3 million.
(See SATS is world's first IATA-certified ramp services trainer; introduces IoT into technical ramp operations)
(See also: Deutsche Bank's 5 'must buy' stocks for 2017)
SATS currently owns 16.5 million shares in ESCC, representing 15% of its total issued shares. Upon the completion of the proposed acquisition of the shares from Malaysia Airlines Bhd, the company would own 27.5 million shares in ESCC, representing 25% of the total issued shares in ESCC.
ESCC would also become an associated company of SATS.
SATS says the proposed acquisition is in line with the company's strategy of growing the scale of its food business and enhancing its connectivity to better serve its customers across key airports in Asia.
The acquisition is not expected to have any material impact on the company's net tangible assets per share and consolidated earnings per share for the current financial year.
Shares of SATS closed 2 Singapore cents higher at S$4.85 on Tuesday.