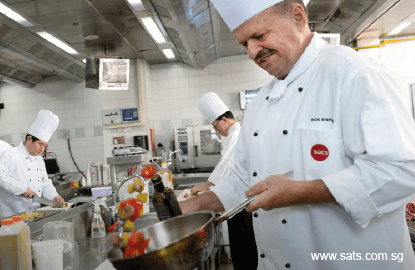 SINGAPORE (Aug 1): Food Solutions and Gateway Services provider SATS has announced that it is investing in a new production line that would enable mechanisation of up to 50% of certain kitchen operations and increase its airline catering capacity to 115,000 meals a day.
According to the media release issued today, the new production will include automated sauce and ingredient dispensers as well as robotic wok paddles, thus speeding up soup, sauce and rice production and part of its dishing process.
"The increased use of automation and robotics will allow us to produce larger quantities of food with a high level of quality and consistency," says Jean Sin, Assistant Vice President of Innovation and Product Development, SATS.
The new production line will be housed in SATS's Inflight Catering Centre 2, which will undergo an S$18 million expansion.
SATS says that the new production line is the latest in a series of capital investments deployed in its kitchens to drive operational efficiency, joining other technologies such as guided vehicles, a flexible assembly line, as well as an automated cutlery system.
Alex Hungate, President and Chief Executive Officer of SATS, says that automation is not just about enhancing the quality and consistency of the Group's food offerings.
In addition, "this investment underscores SAT's commitment to support the long-term growth of Changi Airport," says Hungate.
SATS closed 0.7% higher at S$4.40.