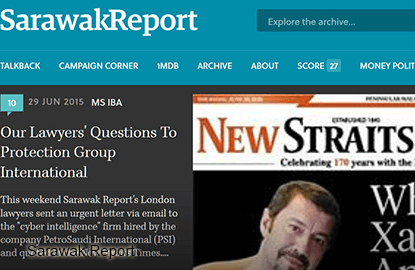 (July 7): Whistleblower site Sarawak Report is inaccessible again, just a day after it carried a photograph of the prime minister and his wife with PetroSaudi officials and businessman Low Taek Jho (or Jho Low) allegedly holidaying in southern France.
It was not immediately clear why the London-based website was inaccessible in this latest incident.
Just last week, Sarawak Report had said it was "under attack" after a similar experience, which came following its expose, with the Wall Street Journal (WSJ), that up to US$700 million (RM2.6 billion) were deposited into the Prime Minister Datuk Seri Najib Razak's personal bank accounts.
This latest incident came after a photograph, allegedly taken on August 2009, showed Jho Low; Prince Turki, the owner of PetroSaudi; Prime Minister Datuk Seri Najib Razak; his wife Datin Seri Rosmah Mansor; the couple's son Nor Ashman; Tarek Obaid, the director of PetroSaudi; and Rosmah's favoured daughter, Nooryana Najwa, grinning broadly on the luxury yacht Tattoosh.
The picture was allegedly sent as a memento of the happy gathering by Najib's special officer to Tarek Obaid and Jho Low.  
Meanwhile, Sarawak Report editor Clare Rewcastle Brown told The Malaysian Insider that the site was under constant attack particularly over the past three weeks.
She said those involved in the attack could have hired someone "expensive" to try and remove stories "they do not like" and disrupt the site's google search facilities.
She added that the attackers also appeared to be using a new form of distributed denial of service technique that involved a kind of micro-burst that can bring down websites but hard to detect.
"They have also started doing it while we are asleep because they have worked out we are on European time.
"It does seem remarkably childish and counter-productive, but I suppose someone is charging a lot for their services and are telling their client that they are succeeding in disrupting us," she said.
Brown added that the Sarawak Report team is "on top of things" despite comprising of only a small team of volunteers. – The Malaysian Insider