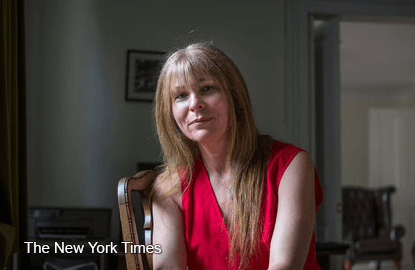 (Aug 6): Sarawak Report editor Clare Rewcastle-Brown has been accorded police protection after she reported of being stalked and photographed in London's Hyde Park last month, The Independent reports.
"I have had to put in police reports that I have been stalked and followed," she told the British daily, which said Scotland Yard was giving her protection in London, where she lived.
"They have put a detail on my house because we have had men sitting in cars, idling. It's absurd."
The UK police confirmed receiving a complaint from Rewcastle-Brown, now being sought by Malaysian police which issued an arrest warrant on her, accusing her of activities detrimental to parliamentary democracy.
The Independent said last month Rewcastle-Brown, 55, claimed she was followed and photographed while having tea with a former Malaysian official at a restaurant in the Sackler Gallery near Hyde Park.
"I had my back to the big glass window and he kept looking over my shoulder and getting nervous and he said 'You do know you are being followed?'" she was quoted as saying.
She also said a "Chinese-Malaysian" looking man was outside the window "very obviously photographing us" while "pretending to be photographing a bunch of people who had just left the restaurant".
"I got up, went out and confronted him and he ran away," she was further quoted as saying.
Rewcastle-Brown, who is the sister in law of former British prime minister Gordon Brown, also suspected her emails had been hacked, The Independent reported her as saying.
"[Almost] everybody that has been in touch with me has been arrested," she told the newspaper.
She added that she was beginning to fear that she might end up getting harmed, despite believing earlier that those out to get her would not be "so stupid that they would try and harm me".
"I've no doubt whatsoever that they are trying to intimidate me," she was quoted saying.
The London-based site Sarawak Report, which Rewcastle-Brown started five years ago, began with reportage on alleged excesses and corruption of the state's former chief minister Tan Sri Abdul Taib Mahmud.
It gained further prominence for its critical reports on debt-ridden state investment firm 1Malaysia Development Berhad (1MDB), leading to investigations into the company.
Rewcastle-Brown has also been accused of interfering in Malaysia's affairs, and attempting to "colonise" the country through Sarawak Report's exposes on scandal-ridden 1MDB.
She has been accused of tampering with 1MDB documents as part of a scheme to topple Prime Minister Datuk Seri Najib Razak, who is also finance minister and 1MDB's advisory board chairman.
The Sarawak Report website has been blocked by Malaysian Internet regulators, on grounds that its contents on 1MDB could destabilise the country, while the Malaysian police has issued a warrant of arrest for Rewcastle-Brown. – The Malaysian Insider