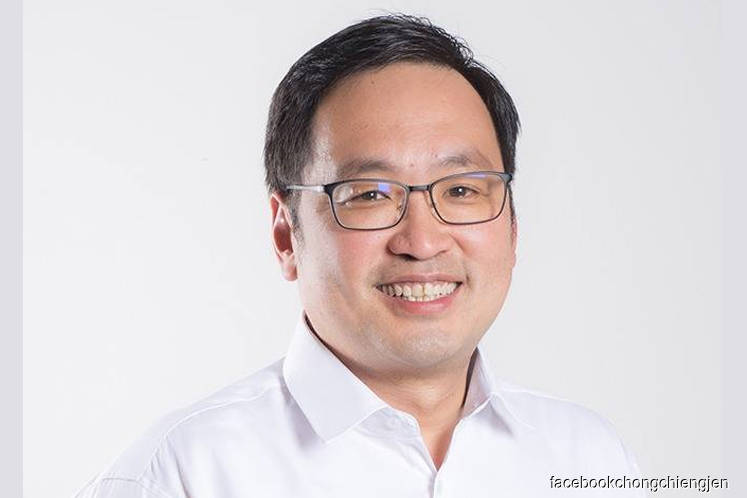 KUALA LUMPUR (April 8): Sarawak Pakatan Harapan chairman Chong Chieng Jen has urged Gabungan Parti Sarawak (GPS) lawmakers to support the proposed amendment to Article 1(2) of the Federal Constitution that is expected to be tabled in the Dewan Rakyat for second reading and debate tomorrow.
Chong said GPS should set aside its political interests and prioritise Sarawak's interests by supporting the amendment to restore Sabah's and Sarawak's position to what it was when the Malaysia Agreement (MA63) was signed in 1963.
Sabah and Sarawak are demanding more autonomy from the federal government, and are seeking to establish each state as an equal partner of West Malaysia as a whole, as purportedly premised in MA63.
Speaking to reporters at the Parliament lobby today, Chong said: "We have less than 24 hours [before the amendment is tabled], where the position of Sarawak hinges very much on this amendment."
"If (the amendment bill) goes through, all the states in the country will be on the same structure as it was when we formed Malaysia," he said.
"My message to GPS is that the bill is important. The bill is there to restore the constitutional status of Sabah and Sarawak. You may have other interests in mind, ie your political and survival interests, but I think it is important that the interests of the state should be put as the first priority," he added.
Last week, opposition MPs urged the government to postpone the amendment to Article 1(2). This, said GPS chief whip Datuk Seri Fadhilah Yusof, is because the bill does not fulfil the aspiration of the two states.
Under Article 1(2), all states of the federation are grouped into one, but the amendment bill seeks to put Sabah and Sarawak in another grouping — although still referred to as "the states of the federation".
In disagreement, the opposition, including Barisan Nasional and PAS, have instead requested the federal government to at least wait until the conclusion of the MA63 steering committee report.