This article first appeared in The Edge Malaysia Weekly, on September 9, 2019 - September 15, 2019.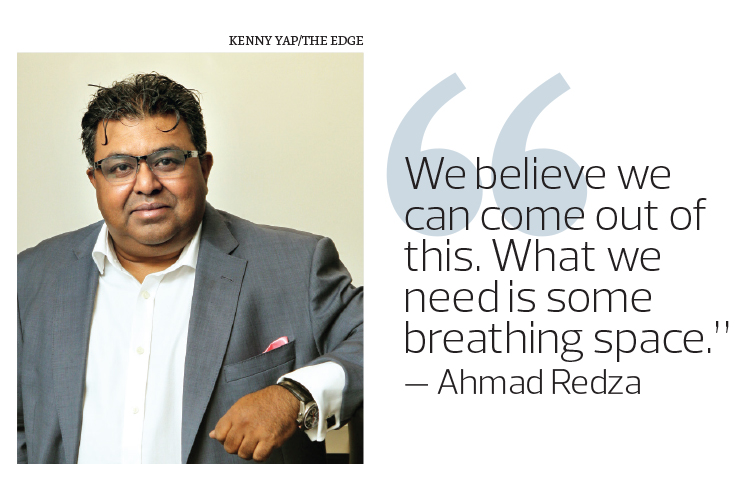 SARAWAK Cable Bhd is understood to have sought assistance from the Corporate Debt Restructuring Committee (CDRC) to better manage its borrowings.
It is understood that while the company has yet to make an announcement pertaining to the matter, some of its creditors are already aware of its decision.
In a nutshell, the CDRC is a pre-emptive measure by the government to provide a platform for corporate borrowers and their creditors to resolve debt issues without having to resort to legal proceedings.
Sarawak Cable managing director Datuk Ahmad Redza Abdullah, who was abroad when contacted by The Edge, confirmed the assistance and admission to CDRC, saying, "[Yes,] we are admitted into CDRC. We're currently working on a [restructuring] proposal with our advisers, but there will be no haircut [for the borrowings]. We are coming up with a proposal from the sale of assets … it is still preliminary … We believe we can come out of this. What we need is some breathing space."
Ahmad Redza was appointed as executive director of Sarawak Cable in January last year and subsequently as MD in mid-March the same year.
Meanwhile, Sarawak Cable is understood to have appointed EY to help with its restructuring.
A check on its annual report indicates that its principle bankers are AmBank (M) Bhd, Bank of China (M) Bhd, Bank Muamalat Malaysia Bhd, CIMB Bank Bhd, Export-Import Bank of Malaysia Bhd and Hong Leong Bank Bhd, among others.
One source familiar with the matter says, "If I am not mistaken, the CDRC involvement (assistance) in Sarawak Cable commenced last month, in August."
Another source questions whether the shareholders are aware of the company's plan to involve the CDRC to help restructure its debts. Whether Sarawak Cable should have made an announcement on this is a moot point, with some suggesting the company should have done so while others say there is no such need.
Sarawak Cable's wholly-owned subsidiary, Leader Cable Industry Bhd, is hiving off a parcel of land with a one-storey detached factory, a four-storey extra high voltage tower, a three-storey detached office building, a one-storey canteen and other ancillary buildings erected for a cash consideration of RM65 million to Maxter Glove Manufacturing Sdn Bhd, a wholly-owned subsidiary of Supermax Corp Bhd.
In its announcement on the sale of the assets, Sarawak Cable says the proposed disposal is to strengthen the company's liquidity and cash flow position by raising cash proceeds mainly for working capital for its core business segments with growth opportunities.
It adds that the price tag of RM65 million is an attractive premium over the latest audited net book value of the property, and the company stands to make an estimated net gain on disposal of about RM18.7 million.
The RM65 million proceeds may also be used to procure raw materials such as copper rods, aluminium rods, steel plates, steel coils, zinc blocks and optical ground wires for the group's power and telecommunication cable manufacturing operations and steel structures fabrication operations, among others.
For the past eight quarters, Sarawak Cable has posted losses. The company suffered a net loss of RM7.57 million on sales of RM388.76 million for its six months ended June 2019, compared with a net loss of RM5.79 million and sales of RM317.97 million in the previous corresponding period.
As at end-June, cash and bank balances stood at RM27.05 million. On the other side of the balance sheet, the company had short and long-term debt commitments of RM505.64 million and RM101.22 million respectively.
From end-December last year to end-June this year, Sarawak Cable's cash and bank balances fell almost 44% while short-term loans and borrowings increased by RM50.04 million or almost 11%, and long-term borrowings dipped by 15.78%.
In the notes accompanying its financials, Sarawak Cable says the bleeding was "principally due to losses incurred in power generation and aviation segments".
On its prospects, the company says it "anticipates improving performance in the coming quarters, barring any unforeseen circumstances".
To its credit, Sarawak Cable is the largest cable manufacturer in Southeast Asia and could benefit from many projects in the region.
The company's largest shareholder with a 26.61% stake is Datuk Seri Mahmud Abu Bekir Abdul Taib, son of former chief minister and current governor of Sarawak, Tun Abdul Taib Mahmud. Other substantial shareholders include Sarawak Energy Bhd, a unit of the Sarawak State Financial Secretary, with a 16.53% stake and Sarawak Cable non-independent non-executive directors Tan Sri H'ng Bok San (11.57%) and Yek Siew Liong (10.84%).
Since April, the stock has shed more than a third of its value. It closed last Thursday at 29 sen, giving the company a market capitalisation of RM91.9 million.