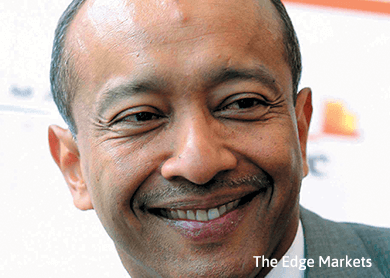 KUALA LUMPUR: SapuraKencana Petroleum Bhd needs an order book replenishment of at least RM6 billion for this year and the next to maintain its performance, and to help push up the declining utilisation rate of its overall assets, including its fabrication yard in Lumut, Perak.
President and group chief executive officer Tan Sri Shahril Shamsuddin noted that its fabrication yard is currently running at 75% to 80% capacity.
"But this is from the work that we won last year, so between now and September or October, quite a number of the structures are sailing away to be installed offshore. We see the loading dropping from September onwards.
"Some of the contracts will run through next year. We are assuming nothing changes and we will enter the following year at probably a 25% to 30% utilisation [rate]," he told reporters after the group's annual general meeting yesterday.
Shahril, however, stressed that the drop in yard utilisation rate will happen only if the group does not secure any jobs from now until then.
"The [group's] order book of RM5 billion to be recognised for next year represents only 50% of our yearly capacity, [so] we still need to go out and win another half of it. If we want to maintain at least the same kind of performance, we need to acquire at least RM6 billion worth of works [for] this year and the next in order to maintain the same turnover," said Shahril.
Recently, The Edge weekly reported that SapuraKencana (fundamental: 1.3; valuation: 1.4) is close to securing an engineering, procurement, construction, installation and commissioning contract from India's Oil and Natural Gas Corp Ltd's (ONGC) Phase 3 redevelopment of the Mumbai High South oilfield.
Shahril did not dismiss the report. He noted that the group expects to win contracts worth US$280 million (RM1.05 billion), which will come in handy to boost the yard utilisation rate.
Meanwhile, Shahril said that currently, the group is bidding for RM24 billion worth of jobs, which is the same as the figure in its order book.
This year alone, SapuraKencana has won about RM1 billion worth of jobs. Should the group announce the contract from ONGC soon, expected to be worth about RM1 billion, this will leave a RM4 billion gap for the company to replenish for this year and the next in total.
However, the group's RM24 billion order book has RM8 billion to RM9 billion worth of contracts to be recognised in revenue for this year, and RM5 billion for next year.
When asked whether it is difficult for the group to secure fabrication jobs, Shahril said: "It's not difficult. If a project starts up, the people who actually get the benefits first are the yards, the last ones would be the installation guys.
"So, if something happens between now and six months [later], it (fabrication jobs) will turn around quite quickly," he said, adding that the group's fabrication business contributes 12% to 15% of its revenue.
Commenting on the group's recently announced results, Shahril said: "Honestly, I feel that in this environment, we are able to make a pretty decent profit. We have seen our service business segment in engineering, construction and drilling still producing results."
SapuraKencana shares fell as much as nine sen, or 4%, to an intraday low of RM2.33 yesterday, after the release of its quarterly earnings. The stock closed at RM2.40, down two sen.
On Monday, SapuraKencana announced that its net profit for the first quarter ended April 30, 2015 (1QFY16) declined 49% to RM260.69 million from RM509.42 million a year ago, on lower operating profits. Revenue stood 7.6% lower at RM2.26 billion for 1QFY16, from RM2.44 billion previously.
This article first appeared in The Edge Financial Daily, on June 17, 2015.