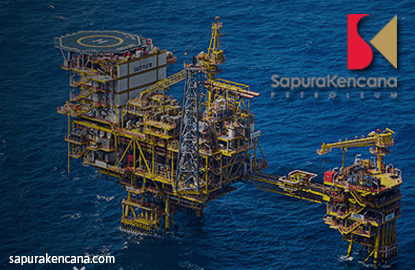 This article first appeared in Corporate, The Edge Malaysia Weekly, on June 27 - July 3, 2016.
SAPURAKENCANA Petroleum Bhd's share price has been sliding steadily for more than a year, in response to the slump in oil prices. And it hit new lows this month. Year-to-date, it has lost RM3.72 billion, or about 30% of its market value, reaching RM8.45 billion yesterday.
On June 20, its share price fell 15.9% in six days to an all-time low of RM1.38. This came after SapuraKencana guided for weaker growth at a June 10 briefing, which prompted some analysts to slash their earnings estimates.
The average 12-month target price after the revision was RM1.44, according to Bloomberg data. This is slightly more than its closing price of RM1.40 last Thursday, which is only 0.82 times its book value.
While some market observers view the recent sell-off of SapuraKencana shares as overdone, analysts do not expect gains any–time soon as investors continue to shrug off the recovery in oil prices.
Brent crude, the international oil benchmark, was trading at US$115 a barrel in June 2014, but fell to as low as US$27 in January this year. It is now trading at about US$50 per barrel, up more than 80%.
On June 22, Khalid al-Falih, Saudi Arabia's Energy, Industry and Mineral Resources minister, was quoted as saying that the supply glut that had kindled a two-year oil rout around the world has finally vanished. "The question now, is how fast will you work off the global inventory overhang," he told the Houston Chronicle.
While most analysts agree that at some point the upside in SapuraKencana's share price will come along with the oil price recovery, they are of the view that it will not be sufficient to turn the tide.
SapuraKencana slipped to a net loss of RM791.56 million for the financial year ended Jan 31 (FY2016) from RM1.43 billion in FY2015, due to impairment provisions on oil and gas (O&G) assets totalling RM1.14 billion and a write-off on deposit on acquisition of RM172.5 million. Revenue was 2% higher at RM10.18 billion, from RM9.94 billion the previous year.
However, it is worth noting that the company remains an integrated O&G service provider and is the largest in the world for tender rig drilling with a diversified exposure in different geographical areas such as Brazil and Australia and is even looking at India.
It also announced a major gas discovery from its three wells within the Block SK408 production sharing contract area, off Malaysia. The estimated gas discovered is around three trillion cu ft, which bring the total gas reserves to 214.3 million barrels of oil equivalent, while its SK310 B15 gas field off Sarawak is expected to achieve its first gas production in the fourth quarter of 2017. 
"Management has turned bearish on the company's near-term prospects, prompting us to cut our FY2017-FY2019 forecast earnings by 42% to 80%," AllianceDBS Research analyst Tan Jian Yuan says in his June 23 report. He has downgraded the stock to "fully valued" from "buy" due to the gloomier outlook, lowering his 12-month target price to RM1.20 from RM2.10 previously.
Tan says the reduction of the earnings forecast takes into account lower engineering and construction, drilling and energy revenues. While the Lumut yard is currently busy fabricating structures, its utilisation rate could fall to 30% to 40% at year-end if there are no new jobs.
Another concern is SapuraKencana's Petrobras contract in Brazil, where five of its delivered pipe-laying support vessels are operating at a high utilisation rate of close to 100%. Petrobras has approached SapuraKencana for discounts, in return for changing the initial arrangement of the contract period to a longer firm period.
"Of the five rigs stacked since 4QFY2016, three units are expected to be off-hire for the next 18 months and two units may only see charters in 3QFY2017. Of the 11 rigs currently on hire, five contracts will expire in FY2017 and will see gaps in utilisation, should they be successfully extended, at lower daily charter rates," Maybank Investment Bank research analyst Liaw Thong Jung says in a June 13 report.
"While the revised earnings expectations for FY2017/FY2018 due to weaker market conditions are likely to significantly undermine market's expectations, Sapura-Kencana is committed to cut costs, preserve cash flows and be capital disciplined," he says.
Liaw has a "hold" call on SapuraKencana, with a RM1.60 target price.
AllianceDBS Research's Tan estimates that the company's current order book of RM21.3 billion will only provide revenue of RM6.5 billion and RM3.9 billion for FY2017 and FY2018 respectively.
"SapuraKencana currently has US$7 billion (about RM28 billion) of new tenders out in the market. (Of this,) 49% tendered for are currently in Asia-Pacific, with India as the second largest market at 22%. Other regions include the Americas (17%) and Middle East and Africa (12%).
"In order to maintain a stable order book of RM20 billion to RM25 billion, SapuraKencana has to secure about RM5 billion of new orders per year. However, the timing of tenders materialising remains uncertain at this juncture. Taking into account recent management guidance, we are cautious on the company's near-term contract flow," Tan says.