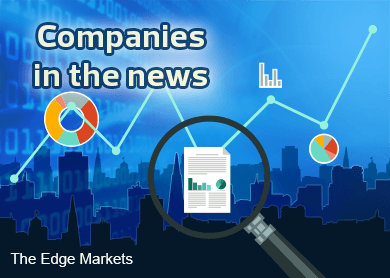 KUALA LUMPUR (July 13): Based on corporate announcements and news flow today, the companies that may be in focus tomorrow (Tuesday, July 14) could be the following: SapuraKencana, Muhibbah Engineering, Gamuda, MMC Corp, Unisem, DiGi.Com and Sanbumi.
SapuraKencana Petroleum Bhd has clinched a contract from Oil and Natural Gas Corporation Ltd for the Mumbai High South Redevelopment Phase III Project on a turnkey basis worth US$273 million (approximately RM1.038 billion).
In a filing with Bursa Malaysia today, SapuraKencana (fundamental: 0.85; valuation: 0.8) said it secured the contract via its wholly-owned subsidiary Kencana HL Sdn Bhd (currently known as SapuraKencana HL Sdn Bhd).
It said the job scope includes, but is not limited to, surveys, design, engineering, procurement, fabrication, transport and installation, hook-up, and commissioning of three new Well Head platforms, around 116km of submarine pipelines, around 7.5km of submarine cable.
It added the contract also covers modification works on existing platforms including clamp-on works on two platforms, subsea repair works on three jackets and D1C pile remedial works.
"The contract value is US$211.95 million, (plus) €7.71 million and Indian Rupee of 3.41 million (approximately US$273 million) including Taxes and Duties, and excluding the Service Tax in India," it said.
SapuraKencana said the contract agreement was signed by both parties and executed on June 27, 2015 at Mumbai, India. The oil and gas services company expects the overall project to be completed on April 30, 2017.
Muhibbah Engineering (M) Bhd has bagged two contracts worth a combined RM143.1 million from Northport (Malaysia) Bhd, a wholly-owned subsidiary of NCB Holdings Bhd, for upgrading works at Wharf 8 and associated works at Container Terminal Four (CT4) in Northport, Port Klang.
In a filing with Bursa, Muhibbah Engineering (fundamental: 1.1; valuation: 0.8) said the contract value for the upgrading works to Wharf 8 and associated works at CT4 totals RM138.8 million, while dredging works is RM4.3 million.
"Upon completion of the upgrading of Wharf 8, it will place Northport in a better position to handle the Triple E-Class Container vessels. This will offer Northport improved connectivities for shipping routes to service Europe, America, China and Japan routes," it added.
The contract is for 24 months until July 22, 2015.
MMC Gamuda KVMRT (PSD SSP) Sdn Bhd, a joint venture between Gamuda Bhd and MMC Corp Bhd, has been appointed as the project delivery partner for the second Klang Valley mass rapid transit (MRT) line 2.
In a statement this afternoon, Mass Rapid Transit Corp Sdn Bhd (MRT Corp) announced it has signed an agreement with MMC Gamuda KVMRT to have the latter become a project delivery partner for MRT line 2 that plies between Sg Buloh and Putrajaya.
MMC Gamuda KVMRT will be paid a fee of 6% of the actual cost of the construction of the MRT Line 2, only if the key performance indicators (KPIs) are met. If not, the fees will be deducted based on quantum agreed by both parties, the statement said. MMC and Gamuda each holds a 50% stake in the joint venture.
The estimated construction cost of the MRT Line 2 is RM28 billion, excluding land and relocation costs. For the 6% fee, the joint venture would earn about RM1.68 billion in terms of fee for being project delivery partner.  
Unisem (M) Bhd chairman and group managing director John Chia Sin Tet has placed out 15 million of his shares, representing an approximately 2.16% indirect stake held through his vehicle Jayvest Holdings Sdn Bhd, to an institutional investor.
In a filing with Bursa, it was revealed that Chia, who is a major shareholder in the semiconductor devices manufacturer, had placed out the 15 million shares last Friday (July 10, 2015).
"Jayvest Holdings Sdn Bhd intends to utilise the proceeds from the placement of shares for the exercise and conversion of its warrants into ordinary shares in the company within the next few weeks," read the announcement.
When contacted by theedgemarkets.com, a representative from Unisem declined to reveal who the institutional investor is.
Among Unisem's notable institutional investors is Lembaga Tabung Haji. The pilgrimage fund now holds a 2.81% stake in the company after ceasing to be a substantial shareholder in February this year.
DiGi.Com Bhd saw its net profit fall 6.9% to RM464.36 million or 5.97 sen a share for the second quarter ended June 30, 2015 (2QFY15) from RM498.91 million or 6.42 sen a share a year ago, due to higher depreciation and amortisation charges as well as higher tax expenses.
In a filing with Bursa, the mobile service provider said revenue for the quarter also dropped by a marginal 1.3% to RM1.72 billion from RM1.75 billion in 2QFY14 due to competition intensity in international direct dial (IDD) services as well as post-goods and services tax implementation confusion.
Nevertheless, DiGi.Com declared a second interim dividend of 5.9 sen totalling RM459 million for the financial year ending Dec 31, 2015 (FY15), payable on Sept 4, 2015. This brings its total dividend to 12.14 sen per share for the year.
For the six-month period (6MFY15), DiGi.Com's net profit came in at RM943.58 million or 12.14 sen a share, 4.1% lower compared with RM984.07 million or 12.66 sen a share a year ago. This is despite revenue for the period strengthened by 1.44% to RM3.51 billion from RM3.46 billion.
In a statement, DiGi.Com chief executive officer Albern Murty said the group will continue to expand its 1800 Mhz and 2600 Mhz spectrum for Long Term Evolution (LTE) to enable more customers to enjoy access on the LTE-enabled devices, in addition to boosting capacity and improving indoor coverage.
Sanbumi Holdings Bhd, which has been loss-making since 2006 and is primarily involved in the provision of various tourism and hospitality services, plans to diversify into property development to reduce its dependency on its existing business.
In a filing with Bursa Malaysia yesterday, Sanbumi proposes to develop a mixed development comprising a 37-storey serviced apartment (436 units), a nine-storey podium of shops, car parks and other facilities on a freehold land measuring 70,988 sq ft, located along Jalan Rozhan in Bukit Mertajam, Pulau Pinang.
The development, said Sanbumi (fundamental: 1.65; valuation: 0.9), is expected to carry approximately RM240 million in gross development value with an estimated development cost of RM180 million.
It targets to commence construction in the second quarter (2Q) of 2016 and to complete the project in four years.
"Through the proposed development, the group would be able to unlock the potential value of its investment in the land and to redeploy it for the group's proposed new business venture," said Sanbumi, which expects the new business to contribute more than 25% of the group's net profits in the future.
It intends to part finance the project via a private placement to raise RM7.05 million — based on an indicative price of 13.5 sen a share, which it intends to undertake after a proposed par value reduction to cancel out 90 sen from the RM1 par value of each existing share.
It intends to cancel all its treasury shares, which will reduce its issued and paid-up share capital to RM189.24 million comprising 189.24 million shares — including 15.1 million treasury shares — to RM174.13 million with 174.13 million shares.
This will give rise to a credit of RM156.72 million, which it said will be used to offset the company's accumulated losses, which stood at RM105.84 million as at March 31, 2015. The group will see a retained profit of RM50.88 million upon execution of the proposal.
Subsequently, Sanbumi plans to embark on the private placement, which entails the issuance of up to 52.24 million new shares, representing 30% of its total issued and paid-up share capital: 20% to its directors and substantial shareholders Datuk Chua Tiong Moon and Tan Sri Chai Kin Kong (10% each), and 10% to third party investors.
Based on an indicative issue price of 13.5 sen and assuming all placement shares are placed out, Sanbumi expects to raise RM7.05 million, of which RM1.75 million will be for working capital, RM5 million for the funding of the proposed development, with the remainder for estimated expenses related to the proposals.
Its share base will leap to 226.37 million shares from 174.13 million shares (post par value reduction) upon the completion of the private placement.
It expects all the proposals to be completed by the fourth quarter of 2015. They, together with the proposed development, are subject to shareholders' approval at an extraordinary general meeting to be convened.
(Note: The Edge Research's fundamental score reflects a company's profitability and balance sheet strength, calculated based on historical numbers. The valuation score determines if a stock is attractively valued or not, also based on historical numbers. A score of 3 suggests strong fundamentals and attractive valuations.)