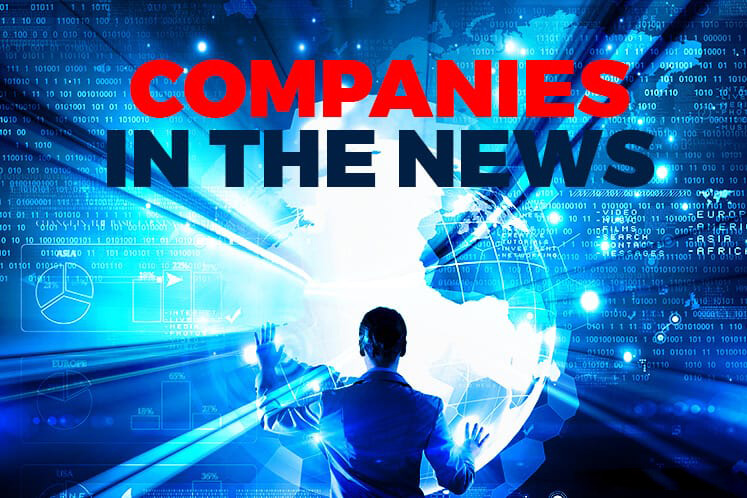 KUALA LUMPUR (July 19): Based on corporate announcements and news flow today, stocks in focus for Monday (July 22) may include the following: Sapura Resources Bhd, T7 Global Bhd, Seacera Group Bhd, Tasek Corp Bhd, Barakah Offshore Petroleum Bhd, Green Packet Bhd, Fajarbaru Builder Group Bhd, APFT Bhd, AirAsia Group Bhd, AirAsia X Bhd and Atlan Holdings Bhd.
Sapura Resources Bhd's unit has inked a joint venture (JV) agreement with Rolls-Royce to distribute the latter's products to marine (naval and commercial), rail, construction and industrial, mining, agriculture, oil and gas, and power generation market sectors in Malaysia.
Sapura Resources said its subsidiary SRB One has formed the JV, namely MTU Power Systems Sdn Bhd, with Rolls-Royce's subsidiary MTU Asia.
MTU Power Systems will be the exclusive distributor of MTU products in Malaysia for a decade while also undertaking the sales and servicing of products and original equipment packaging solutions from MTU, which is considered to be a core business of Rolls-Royce's Power Systems business unit.
T7 Global Bhd's units have secured three contracts worth RM100 million in total.
T7 Global said Tanjung Offshore Services Sdn Bhd (TOS) had inked an agreement with VME Process Asia Pacific Pte Ltd for the provision of engineering, fabrication, procurement and supply of modular process packages in India.
TOS had also received a service order from FPSO Ventures Sdn Bhd for the provision of remotely operated vehicles, diving support vessel, manpower and equipment for subsea services for FPSO BUNGA Kertas, according to the filing with Bursa Malaysia.
Meanwhile, another subsidiary T7 Gastec Sdn Bhd, formerly known as Gas Generators (Malaysia) Sdn Bhd, has also received a letter of award from PTS Resources Sdn Bhd for the supply, delivery, installation, testing and commissioning of battery system including its associate engineering services and accessories.
Seacera Group Bhd said its wholly-owned subsidiary Seacera Properties Sdn Bhd (SPSB) has received a notice of demand and termination from Megapower (M) Sdn Bhd, now known as Brosman Holdings (M) Sdn Bhd (BHM), demanding a payment of RM6.3 million in respect of the purchase price paid to SPSB for a piece of land.
SPSB had failed to comply with the terms of the sale and purchase agreement dated Feb 2, 2012, between SPSB and BHM, thus the latter demanded RM6.3 million in repayment.
Failing which, it said SPSB will be charged interest at 8% per annum on a day-to-day basis until receipt of full payment.
Tasek Corp Bhd has received a notice from HL Cement (Malaysia) Sdn Bhd and Ridge Star Ltd for the extension of their unconditional voluntary takeover offer for shares in the company that the offerors do not own, to Aug 5.
This is the second extension for the offer, after the offerors had previously extended the closing date to July 22 from July 9.
Meanwhile, all other details and terms and conditions of the offer remain unchanged.
Abdul Rahim Awang has resigned as president of Barakah Offshore Petroleum Bhd and Nik Hamdan Daud will take over the post effective today.
Barakah Offshore said that Abdul Rahim resigned due to "personal reasons". He had joined the group on Sept 2, 2013 as the vice president and chief corporate officer.
Green Packet Bhd is collaborating with Bank Islam Malaysia Bhd to provide electronic wallet services.
Green Packet said its wholly-owned subsidiary KiplePay Sdn Bhd has signed a Memorandum of Understanding (MoU) with Bank Islam yesterday.
The MoU will be effective for two years from the signing date.
Fajarbaru Builder Group Bhd has bagged an RM27.17 million contract from Knusford Bhd linked to the Setiawangsa–Pantai Expressway (SPE) project, also known as Duta-Ulu Kelang Expressway (DUKE) Phase-3.
Fajarbaru said its wholly-owned subsidiary Fajarbaru Builder Sdn Bhd has accepted a letter of award from Knusford Construction Sdn Bhd, a wholly-owned unit of Knusford Bhd.
The job involves the construction of bridge structure works for the Setiawangsa to Melati stretch of the highway. The tenure of the contract is seven months, ending on Feb 21, 2020.
The board of directors of APFT Bhd has initiated a civil suit in the High Court against its former directors for breaches of fiduciary duties during their tenure as directors of the company.
APFT said the suit was filed against its former chairman Datuk Faruk Othman, as well as three other former directors Arif Faruk, Tan Boon Leng and Tan Nyap Keong @ Tony Tan.
Case management has been fixed on Aug 17 before the Kuala Lumpur High Court.
AirAsia Group Bhd and AirAsia X Bhd (collectively AirAsia) are not happy and the two low cost carriers want to appeal against the High Court's ruling that they need to fork out RM40.73 million for uncollected passenger service charges (PSC).
"AirAsia strongly believes that the court has erred and we will appeal this decision.
"AirAsia will apply for a stay of execution and challenge Malaysia Airports (Sepang) Sdn Bhd's (MASSB) and its parent Malaysia Airports Holdings Bhd (MAHB's) actions — which we maintain are a burden on all traveling Malaysians — until we exhaust all avenues available under the law," said AirAsia co-founders Tan Sri Tony Fernandes and Datuk Kamarudin Meranun.
Atlan Holdings Bhd is exploring the possibility of listing its subsidiary, United Industries Holdings Sdn Bhd, on the Growth Enterprise Market of the Stock Exchange of Hong Kong.
United Industries is an investment holding company and its subsidiaries are principally involved in the manufacturing, marketing and distribution of automotive component parts.
Atlan said the proposed listing is to build and enhance the visibility and reputation of its automotive business by obtaining its own listing status.