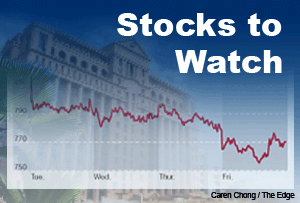 KUALA LUMPUR (Sept 23): Based on news flow and corporate announcements today, the following stocks could attract investors' interest tomorrow (Wednesday, Sept 24): Sapura Resources, Scientex, TMC Life, Priceworth, Bahvest, L&G, Tenaga, APFT and Scomi Engineering.
Sapura Resources Bhd posted a 55% jump in its net profit for the quarter ended July 31 to RM2.05 million, from RM1.32 million previously.
Revenue also increased to RM9.99 million, from RM8.71 million.
In a filing with Bursa Malaysia this evening, Sapura Resources said the increase in earnings was due to the increase in revenue from its aviation segment and a decrease in the group's operating expenses.
Scientex Bhd will have the trading of its shares suspended tomorrow (Sept 24), from 9 am.
In a filing with Bursa Malaysia this evening, Scientex said this was "pending the release of a material announcement the holding of a press conference before the close of trading on Sept 24".
TMC Life Sciences Bhd has denied that its major shareholder Peter Lim Eng Hock was mulling to inject all his healthcare service assets in Malaysia and Singapore into the company, after a local daily reported the matter, quoting sources.
TMC Life told Bursa Malaysia this evening that it had enquired its directors and Lim over the rumour, and said that the major shareholder "was not aware of the (statements) and the company did not receive any notification on its major shareholder's plan to park both hospital assets — Tropicana Medical Centre in Petaling Jaya and Thomson Medical Centre in Singapore — under TMC Life".
A total of 14.7 million or 3.85% of Priceworth International Bhd's shares were traded off market today, adding to the 17 million shares that changed hands at the same price yesterday, Bloomberg data showed.
The off-market transaction today was settled at 20 sen per share, which worked out to RM2.94 in total. At 20 sen apiece, the Priceworth shares traded off market earlier today, were valued at a 27.27% discount to yesterday's closing of 27.5 sen.
Priceworth's counter closed 1.5 sen or 5.45% lower at 26 sen, with a trade volume of 32.28 million. This compared with the one-year average volume of 5 million, prior to today.
Borneo Aqua Harvest Bhd (Bahvest) and its nine directors were publicly reprimanded by Bursa Malaysia today, as they failed to establish an internal audit function which was independent, while the company's representations in annual reports were also inaccurate and misleading.
In a filing with Bursa Malaysia, the marine aquaculture company said it was publicly reprimanded for breaching the ACE Market listing requirements. In addition, the penalties at a total of RM40,000, were imposed on four directors.
Bahvest Chairman Datuk Seri Md Kamal Bilal, Managing Director and CEO Datuk Lo Fui Ming, and directors Chong Khing Chung and Mejar (K) Datuk Samsudin Yahya, were publicly reprimanded and fined of RM10,000 each.
Meanwhile, its executive directors Lo Teck Yong and Akinori Hotani, as well as its former directors Lo Ken Hin, Chiu Kui Tzu and Chang Mei-Lin, were also publicly reprimanded.
Bahvest said it was publicly reprimanded for failing to establish an internal audit function, which was independent of the activities it audits since April 2010 until December 2012.
Besides, Bahvest's representations in its annual reports for the financial year ended March 31, 2011 (FY11) and FY12, were inaccurate and particularly misleading, compared to the existence of an internal audit function and internal audit activities carried out during FY11 and FY12.
Bursa Malaysia said it views the contraventions seriously, as the requirement for listed companies to establish an internal audit function is important to ensure an independent and regular review, as well as appraisal of the effectiveness of the risk management, internal control and governance processes within the listed company.
Land and General Bhd (L&G)'s major shareholder Mayland Parkview Sdn Bhd, yesterday further converted 64 million irredeemable convertible unsecured loan stocks (ICULS) into new shares, bringing its shareholding to 307.42 million shares or 30.33% direct stake, just one step closer to trigger a mandatory general offer (MGO).
In a filing with Bursa Malaysia today, L&G said Mayland Parkview had on Monday (Sept 22) converted the ICULS into 64 million new shares in the property firm.
Worth noting is that after the two major conversions on Sept 18 and Sept 22, which involved 204 million ICULS in total, Mayland Parkview still has 36.371 million yet-to-be converted ICULS at the moment.
When contacted by The Edge Financial Daily today, L&G Chief Financial Officer Ng Kee Chye said that assuming Mayland Parkview was to convert all their remaining ICULS, its stake will be raised from 30.33% to 32.73%.
It has not gone unnoticed by L&G shareholders. At the property developer's annual general meeting yesterday, some minority shareholders were concerned about the possibility of Mayland Parkview taking L&G private, should it trigger a MGO situation when the 33% shareholding threshold is breached.
L&G Managing Director Low Gay Teck, however, told the reporters that as of now, no proposal was given to L&G, in relation to the MGO.
"As long as Mayland Parkview's shareholding is below 33%, there is no concern about that. I can't answer that on behalf of the major shareholder, but there is no indication from them (to take L&G private), and there was no such discussion," he said.
A consortium of Tenaga Nasional Bhd and Powertek Bhd, a wholly-owned unit of 1Malaysia Development Bhd (1MDB), has signed a memorandum of understanding with Bangladesh Power Development Bhd (BPDB) for the development of a 1,320MW coal-fired power plant in Maheshkali, Cox's Bazar, Bangladesh.
Under the agreement, the parties will form a joint working team to conduct a feasibility study for the independent power project and eventually incorporate a joint venture company for the development, if deemed feasible.
The Tenaga-Powertek consortium will then sign a long-term power purchase agreement with BPDB, for the sale and purchase of power from the project.
"The Commercial Operation Date of the Project is expected to be in 2019," said Tenaga in its announcement to Bursa Malaysia.
Apart from this partnership, Tenaga is said to also participate in RM11 billion project 3B, which 1MDB has been awarded at home. Tenaga would hold an equity stake of 20%, according to The Edge Weekly.
APFT Bhd will deploy two aircraft for its charter services next year, as part of its plan to monetise its assets, said the flight training provider's Executive Chairman Datuk Faruk Othman.
"We have secured necessary approval from the DCA [Department of Civil Aviation], to operate flight charter services as early as next year. This is expected to contribute positively to our earnings, though at initial stage, the contribution will not be significant," he told reporters after signing a contract to provide aviation training with German-based Lufthansa Technical Training GmbH, here today.
"Our routes are currently being finalised and we are targeting to provide local connectivity in the east coast, especially Kelantan and Terengganu," he added.
Currently, APFT has three helicopters and 39 aircraft used for flight training purposes, with fleet age ranging from five to 10 year years.
Scomi Engineering Bhd, the transport solutions arm of Scomi Group Bhd, said its order book has surpassed the RM1 billion-mark after bagging the São Paulo Line 18 project in Brazil. Its Chief Executive Officer Kanesan Veluppillai said the project is on track to begin operations early next year.
"With the Brazil contract [in our bag], our order book is already at RM1.4 billion," he told reporters after the company's annual general meeting.
Before the Sao Paulo win, its order book had stood at RM750 million. It was previously reported that the group intends to build its order to RM2 billion to RM3 billion by early 2016 or 2017.
"We are actively bidding for more projects in Turkey, Thailand, India and Indonesia," Kanesan said, adding that the company had submitted bids for several monorail projects in Malaysia, and is talking to state governments on providing tram services.