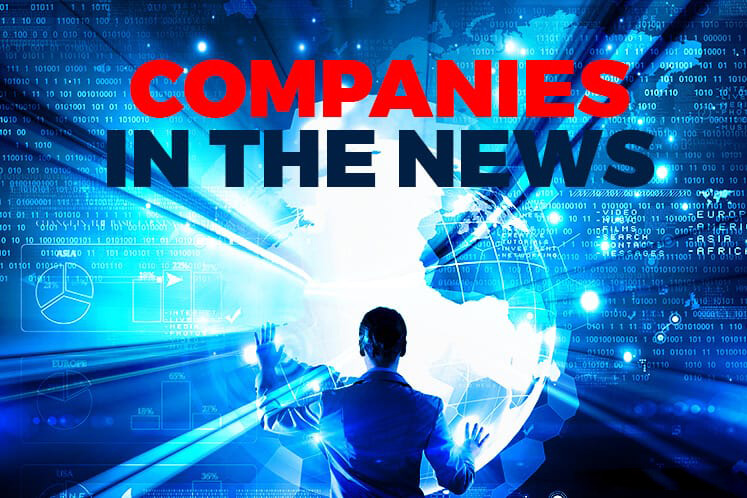 KUALA LUMPUR (Jan 22): Based on corporate announcements and news flow today, companies that may be in focus tomorrow (Wednesday, Jan 23) may include the following: Sapura Energy Bhd, Sasbadi Holdings Bhd, Kelington Group Bhd, Bina Puri Holdings Bhd, HeiTech Padu Bhd, K-One Technology Bhd, Country View Bhd, Axis Real Estate Investment Trust and Malayan Flour Mill Bhd
Sapura Energy Bhd managed to raise about RM4 billion from its rights issue exercise that closed on Jan 16, although the rights issue of ordinary shares under the exercise was undersubscribed.
It said the unsubscribed rights shares will be fully taken up by the joint underwriters — Maybank Investment, CIMB Investment Bank and RHB Investment Bank.
Meanwhile, the rights issue of Islamic redeemable convertible preference shares saw 100% valid acceptances.
Sasbadi Holdings Bhd's net profit for the first quarter ended Nov 30, 2018 rose 84% to RM4.38 million from RM2.38 million a year ago, thanks to higher revenue from its print division, and lower expenses.
Earnings per share rose to 1.05 sen from 0.57 sen. Revenue for the quarter rose 11% to RM30.51 million from RM27.51 million a year ago.
On its prospects for the current financial year, Sasbadi said it will focus on growing its non-academic related segments, of which it expects better results with stronger sales momentum.
Kelington Group Bhd has secured new orders worth RM64 million during the fourth quarter ended Dec 31, 2018. This lifts the total value of new orders secured in full year FY18 to RM424 million — breaching the RM400 million mark for the first time.
Kelington said it is currently tendering for contracts worth RM1.2 billion across its key operating markets of Malaysia, Singapore, China and Taiwan.
Bina Puri Holdings Bhd's joint venture with Tim Sekata Sdn Bhd has bagged an RM251.53 million contract to undertake sub-contract works for the electrified double track project from Gemas to Johor Baru.
With the latest award, this brings the group's unbuilt book order to RM1.145 billion.
HeiTech Padu Bhd has secured a Ministry of Health contract worth RM33.18 million.
It said the contract is for the supply, installation and commissioning of the Critical Care Information System (CCIS) in intensive care units of 11 hospitals for a period of three years.
K-One Technology Bhd has secured a manufacturing agreement with a new US customer to manufacture dental water flosser that it forecasts will generate sales of about RM10 million each year, for the first three years.
K-One said the deal was secured via its wholly-owned subsidiary K-One Resources Sdn Bhd. The customer is part of a US-based multinational.
Country View Bhd's net profit surged over five times in its fourth quarter ended Nov 30, 2018 to RM52.03 million from RM9.54 million in the same quarter last year, mainly due to the completion of disposal of lands in Kedah in the quarter under review.
Earnings per share improved to 52.03 sen from 9.54 sen.
Revenue was up 3.9 times to RM141.79 million compared with RM36.48 million previously.
For the full year, Country View's net profit rose 2.5 times to RM70.51 million against RM28.47 million for the previous year, as revenue grew 94% to RM236.06 million from RM121.95 million.
Axis Real Estate Investment Trust's (Axis REIT) net property income (NPI) grew 50.3% to RM55.11 million in the fourth quarter ended Dec 31, 2018, from RM36.67 million last year, on higher realised property income.
Realised property income rose 41.5% to RM59.3 million from RM41.91 million a year ago.
For the full year, NPI rose 25% to RM182.76 million versus RM146.2 million last year, while revenue grew 21.1% to RM204.36 million from RM168.75 million.
Realised net income from operations was 24.9% higher at RM113.44 million, compared with the previous year's RM90.8 million.
Malayan Flour Mills Bhd's (MFM) two rights issues to raise RM275.1 million have been oversubscribed.
The first issue, involving the issuance 5% redeemable convertible unsecured loan stocks (RCULS), saw an oversubscription of 7.03%.
The group said it received valid acceptances and excess applications for 176.69 million units of RCUL over the total number of 165.08 million units available.
The second rights issue, meanwhile, attracted applications for  222.03 million shares over the total number of 220.11 million available, giving an oversubscription rate of 0.87%.
The cash call is intended for the expansion of the group's poultry processing plant, construction of a new aqua feed milling plant, the extension of an existing jetty, as well as to pare down its revolving credit facilities.