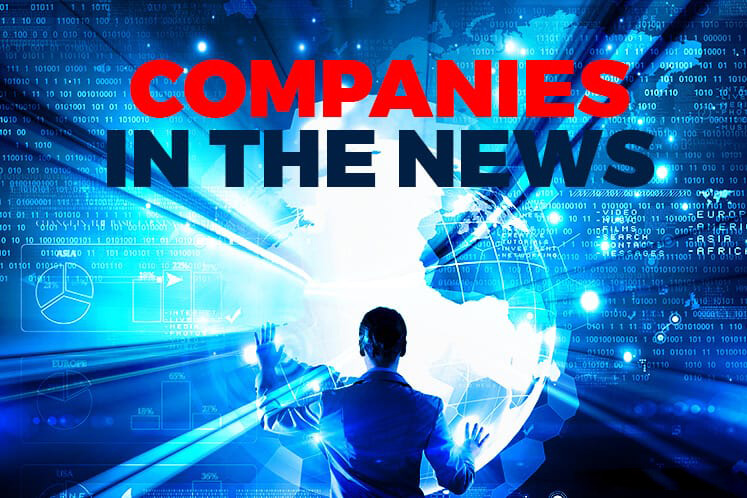 KUALA LUMPUR (June 11): Based on corporate announcements and news flow today, companies in focus on Tuesday (June 12) may include: Sapura Energy Bhd, RHB Bank Bhd, Bina Darulaman Bhd, Daya Materials Bhd, Metronic Global Bhd, Meda Inc Bhd and Gas Malaysia Bhd.
Sapura Energy Bhd said it has discovered its ninth gas exploration well in offshore Bintulu, Sarawak following the completion of its drilling campaign within Block SK408 in 2017.
The group said the ninth well was discovered by its wholly-owned subsidiary, Sapura Exploration and Production (Sarawak) Inc, and its two partners, Sarawak Shell Bhd and Petronas Carigali Sdn Bhd.
Codenamed Pepulut-1, Sapura Energy said the ninth well encountered high quality reservoir within the Block SK408 production-sharing contract.
The well's discovery comes after the group's recent announcement of its development plans for Gorek, Larak and Bakong fields as phase one in the Block SK408.
RHB Bank Bhd is aiming to increase its financing for small and medium enterprises (SMEs) from 16% of the bank's domestic financing to 20% by 2022.
RHB Banking Group head of group business and transaction banking Jeffrey Ng Eow Oo said this will be boosted by its launch of the RHB SME Financing portal, which enables customers to apply for SME term loans online within 10 minutes with minimal data inputs, and obtain financing within five working days.
The group said SME is its key area of growth, and in line with that, it will continue to innovate its products and services to remain at the forefront of the industry.
Through the online platform, RHB targets to approve RM100 million in SME loans over the course of one year.
Bina Darulaman Bhd has won a one-year extension of its state road maintenance contract with the Kedah government worth RM70 million.
Bina Darulaman said its wholly-owned subsidiary BDB Infra Sdn Bhd entered into a supplementary agreement with the State government yesterday for the extension.
The group said the government, through the Public Works Department (JKR), has agreed to pay BDB Infra for the work to be undertaken in the Kota Setar/Padang Terap, Kuala Muda/Sik, Kubang Pasu, Kulim/Bandar Baharu, Pendang/Yan and Baling districts.
The project is expected to contribute positively to Bina Darulaman's earnings for the financial years ending 2018 and 2019, the group added.
Daya Materials Bhd, a Practice Note 17 (PN17) company, plans to submit its regularisation plan to Bursa Malaysia by August this year.
Its chief executive officer-cum-executive vice chairman Datuk Lim Thean Shiang said the company is finalising the appointment of the principal adviser, and will discuss with the stakeholders before submitting its regularisation plan to Bursa ahead of the February 2019 deadline.
Daya Materials — which lapsed into PN17 stautus in February — had in a June 1 bourse filing said the group is looking into formulating a plan to regularise its financial condition (regularisation plan), and has approximately nine months to submit the plan to Bursa for approval.
Metronic Global Bhd's wholly-owned Metronic Engineering Sdn Bhd has been awarded 4.73 million Saudi Arabian riyals (RM5 million) in an adjudication proceeding against Ahmad Zaki Resources Bhd.
The claim is in relation to disputes over non-payment for works done and costs incurred by Metronic Engineering for the Al Faisal University Campus Development Project in Riyadh, Saudi Arabia.
Metronic Engineering had commenced the adjudication proceeding under Construction Industry Payment and Adjudication Act 2012 (CIPAA) against Ahmad Zaki, and the adjudication decision on June 7 has ruled for the payment to be made within 30 days.
Ahmad Zaki was also ordered to pay interest, and pay Kuala Lumpur Regional Center for Arbitration fees incurred by Metronic Engineering pursuant to this adjudication.
Meda Inc Bhd's major shareholder, a private company One Sierra Sdn Bhd, has disposed of its entire 6.9% stake in the group.
The property developer said One Sierra sold the stake last Friday.
One Sierra is the vehicle of individuals Yuen Kok Meng and Chow Tet Ngee.
Gas Malaysia Bhd has welcomed Sharifah Sofia Syed Mokhtar Shah, the 24-year-old daughter of tycoon Tan Sri Syed Mokhtar Al-Bukhary, to its board as a non-executive director.
Her appointment is effective from today, the group said in its filing with the stock exchange. Syed Mokhtar has a 30.93% stake in Gas Malaysia via Anglo-Oriental (Annuities) Sdn Bhd.
Sharifah Sofia also sits on the boards of four other companies linked to her father, namely DRB-Hicom Bhd, Pos Malaysia Bhd, Malakoff Corp Bhd and MMC Corp Bhd.