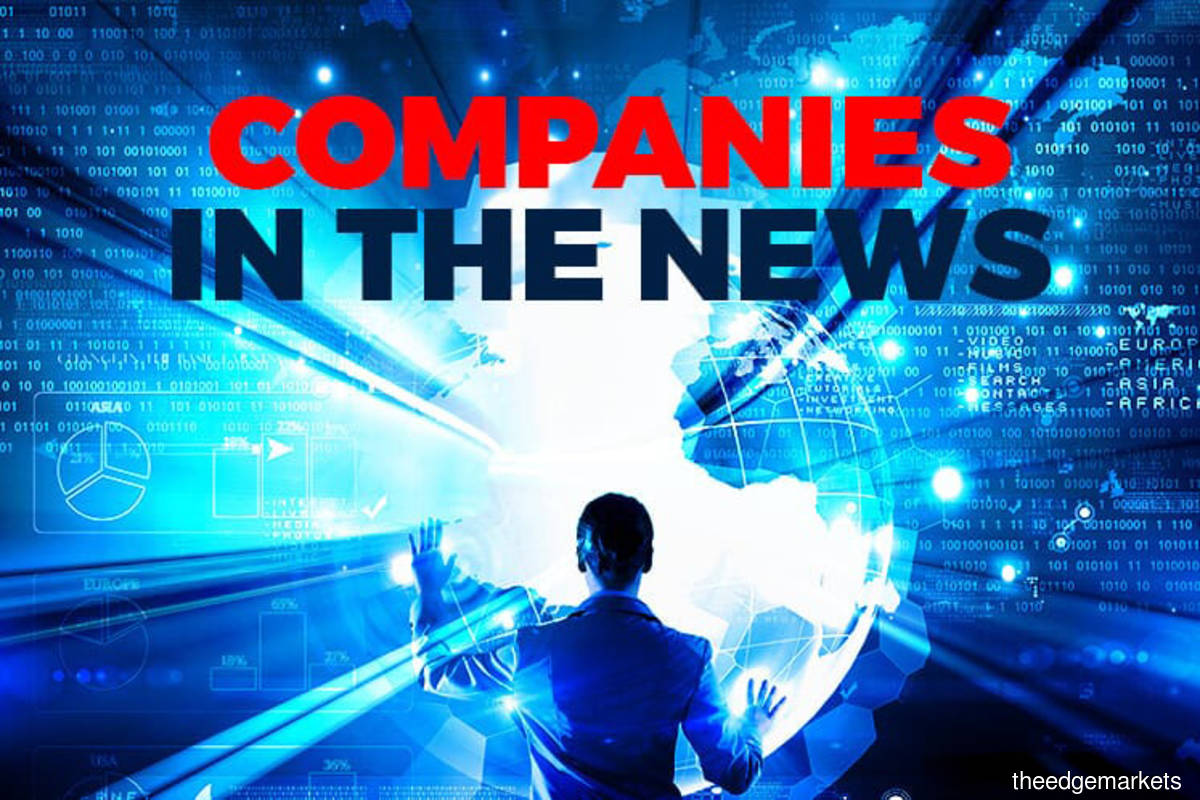 KUALA LUMPUR (Sept 5): Here is a brief look at some corporate announcements and news flow on Monday (Sept 5), which include Sapura Energy Bhd, Leong Hup International Bhd, KPJ Healthcare Bhd, Majuperak Holdings Bhd, Microlink Solutions Bhd, Kelington Group Bhd, Inta Bina Group Bhd, JAG Bhd, Capital A Bhd, EP Manufacturing Bhd, Solution Group Bhd, Pekat Group Bhd, South Malaysia Industries Bhd (SMI), Destini Bhd, Public Bank Bhd and KPower Bhd.
Bank Negara Malaysia has accepted Sapura Energy Bhd's application for assistance to mediate debt restructuring with its multicurrency facilities (MCF) financiers. Sapura said the Corporate Debt Restructuring Committee of Malaysia, a committee under the purview of BNM, has given it 60 days from Sept 1 to submit a proposal for debt restructuring, adding that during this period, the MCF lenders are expected to observe an informal standstill and withhold from any proceedings.
The Malaysian Competition Commission (MyCC) has granted Leong Hup International Bhd's wholly-owned subsidiary Leong Hup Feedmill Malaysia Sdn Bhd (LFM) a one-month extension ― to Oct 21 from an initial deadline of Sept 20 ― to submit its written representation in response to MyCC's poultry feed price-fixing proposed decision. At this juncture, the RM157.47 million financial penalty, as well as other directions potentially imposed on LFM under the proposed decision are not final.
KPJ Healthcare Bhd president and managing director Datuk Mohd Shukrie Mohd Salleh is stepping down from the positions effective Wednesday (Sept 7) to pursue other opportunities, just five months after assuming the role on April 1. In the interim, KPJ Healthcare chief financial officer Norhaizam Mohammad will fill the void left by Mohd Shurkrie and assume the role of officer in charge.
Majuperak Holdings Bhd group CEO cum executive officer Nizran Noordin has been told to go on garden leave starting Sept 2, about two months ahead of the expiry of his service contract on Oct 31. In his absence, chief financial officer Syed Agil Syed Hisham, who was only appointed on Aug 29, is appointed as the acting group CEO, to assume the day-to-day management of the group.
Microlink Solutions Bhd has appointed Ramlee Abdullah as its new group CEO to replace Chia Yong Wei, who is stepping down from the role after six years at the helm. The technology solutions provider said Ramlee came over to the company from Omesti Group in March this year as senior manager of sales, before being subsequently redesignated as the CEO of the public sector on June 1.
Kelington Group Bhd's wholly-owned subsidiary Kelington Technologies Sdn Bhd has won an ultra high purity contract worth about RM330 million from "a world leader in semiconductor solutions" to undertake the bulk and speciality gas system distribution works for the customer's expansion of its current manufacturing facility in Kulim, Kedah. The new contract raised its total orders to RM1.28 billion, surpassing last year's total new orders of RM1.19 billion, and set a fresh record in terms of value of new contract wins.
Inta Bina Group Bhd's wholly-owned subsidiary Inta Bina Sdn Bhd has accepted a letter of award worth RM146 million from Eco Ardence Sdn Bhd to design and build main building works in relation to a mixed-use development project located in Shah Alam, Selangor. The development will see a 32-storey serviced apartment block with 500 units, as well as an eight-storey covered parking podium block with facilities on the ground floor.
JAG Bhd's wholly-owned subsidiary JAG Land Sdn Bhd has entered into a sales and purchase agreement with Menara ABS Bhd to acquire a 12-and-a-half-storey building in Taman Desa, Kuala Lumpur for RM35.29 million, as part of the group's effort to expand its property investment business.
Capital A Bhd is progressing with plans for the listing of AirAsia Aviation Group Ltd and airasia Super App in New York, according to its CEO Tony Fernandes, who said the company would probably make the announcement next year.
The Road Transport Department's (JPJ) National Committee for Vehicle Type Approval (VTA) and Homologation granted the VTA for EP Manufacturing Bhd's first-ever two-wheel electric vehicle, the Blueshark SG3000DT (Blueshark R1) model, about a month after it received conditional approval for the construction of its maiden manufacturing plant for the two-wheeler.
Solution Group Bhd said that the inhalable version of CanSino Biologics Inc's Recombinant Covid-19 Vaccine (Adenovirus Type 5 Vector) ― Convidecia Air ― has received clinical trial approval from the Medical Research and Ethics Committee under the Ministry of Health, marking the first trial study of the inhaled version of Covid-19 vaccine in Malaysia. Solution Group's wholly-owned subsidiary Solution Biologics Sdn Bhd is the Asean manufacturing partner of CanSino.
Pekat Group Bhd's wholly-owned subsidiary Solaroo RE Sdn Bhd has obtained a moneylender licence issued under the Moneylenders Act 1951 and the Moneylenders (Control and Licensing) Regulations 2003 from the Ministry of Housing and Local Government, which enables the unit to undertake the business of money lending services in relation to solar leasing and other related services.
South Malaysia Industries Bhd (SMI) has been slapped with an unusual market activity query by Bursa Malaysia Securities Bhd, after a sharp fall in its share price. In reply to the bourse regulator's query, the property development company said its board is unaware of any corporate development relating to its business and affairs that have not been previously announced that may have contributed to the trading, including those in the stage of negotiation/discussion.
Destini Bhd has denied that it has been classified as a Practice Note 17 company and that it was set to be de-listed on Monday. It added that any such announcement would have been announced in accordance with Bursa's Main Listing Requirements.
Public Bank Bhd and Sunway Integrated Properties Sdn Bhd have signed a memorandum of understanding to collaborate on sustainable development projects ― which enable customers who purchase green-certified properties developed by Sunway Property to be entitled to Public Bank's Special Sustainable Financing Package.
KPower Bhd has changed its name to Reneuco Bhd and notes that the company's securities will be traded and quoted under the new stock short name of RENEUCO, with effect from Tuesday (Sept 6).