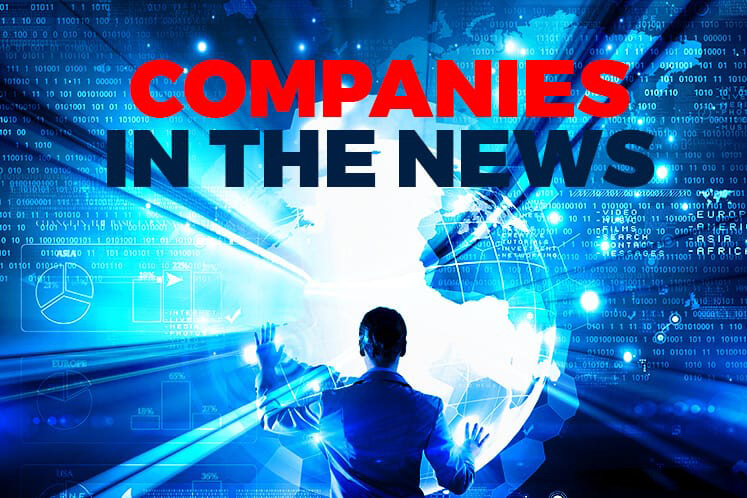 KUALA LUMPUR (April 12): Based on news flows and corporate announcements today, stocks on focus for April 15 (Monday) might include Sapura Energy Bhd, Dialog Group Bhd, Cycle & Carriage Bintang Bhd, LKL International, Cypark Resources Bhd, FGV Holdings Bhd, MyNews Holdings Bhd and Hap Seng Plantations Holdings Bhd.
Sapura Energy Bhd won five engineering, construction and drilling contracts worth RM1.3 billion. One contract is a submarine rescue contract for the Royal Australian Navy.
The group's subsidiary Sapura Offshore Sdn Bhd won a subsea pipeline contract in the Gulf of Suez, Egypt, from Pan Marin Petroleum Services Company.
Another subsidiary Sapura Drilling Asia Sdn Bhd secured two contracts for ExxonMobil Exploration and Production Malaysia Inc's tender assist drilling rig, Sapura T-9. It also saw an extension from Carigali Sdn Bhd for the provision of semi-tender assisted drilling rig, Sapura Berani.
Dialog Group Bhd's Pengerang Deepwater Terminals facilities were not affected by the fire that broke out at Petronas' Pengerang Integrated Complex in Johor this morning. Petronas confirmed today the fire and subsequent explosion occurred at 1.25am at the PIC, specifically at the atmospheric residue desulphurisation unit, which is currently under commissioning stage. No one was killed in the explosion.
Teams have been mobilised by Petronas and are working with the authorities to find out the cause of the incident. One security personnel sustained light injuries, and was discharged after receiving medical treatment.
Cycle & Carriage Bintang Bhd (CCB)'s chairman Haslam Grey Preeston, 42, resigned from his chairmanship effective April 30. Singaporean Eric Chan Tze Choong 49 will take over from Preeston on May 1. Preeston's resignation is part of the group's succession planning. Chan is currently Cycle & Carriage Singapore Managing director and was installed in 2012.
LKL International Bhd's unit Medik Gen Sdn Bhd (MGen) has won two distribution agreements from Taiwan-based Qisda Corporation's BenQ Asia Pacific Corp (BenQ), and BenQ's unit Lily Medical Corp to distribute medical display devices, disposable medical devices and related spare parts and software (in the case of the medical display devices). Both agreements end on March 31, 2021.
MGen will distribute BenQ's medical display devices, related spare parts and software, and Lily's disposable medical devices and related spare parts.
Separately, MGen entered into shareholder's agreement with Agrow Corp Sdn Bhd in April to set a JV LKL Agrow Healtech Sdn Bhd, which will promote, market, distribute and sell selected branded medical devices within Malaysia. The company will have an initial capital of RM500,000 comprising 500,000 ordinary shares and will be shared on a 50-50 basis.
Cypark Resources Bhd bagged an RM4.71 million contract to undertake upgrading works of mechanical system (chiller system), electric generator and medical gas for the KPJ Pasir Gudang Specialist Hospital in Johor.
It received a letter of acceptance of tender from Pasir Gudang Specialist Hospital Sdn Bhd, member of KPJ Healthcare Bhd, for the job.
The works will be divided into two sections — Section 1 is to be completed on Jan 22 next year, while Section 2 is slated for completion on Oct 22 this year. The group says the works are expected to contribute positively to its earnings and net assets.
FGV Holdings Bhd's 65%-owned Pakistan unit with Westbury Group, FWQ Enterprise (Private) Ltd inked an MoU with MMC Group Bhd owned Johor Port Bhd to submit a bid for the development of a clean bulk cargo terminal in Karachi Port, Pakistan.
Both FWQ Enterprise and Johor Ports are to create an unincorporated joint venture (JV) to submit the bid, with the MoU set to last 12 months from today and create a special purpose vehicle to carry out works for the clean bulk cargo terminal, provided the Karachi Port Trust agrees to select them as tender holders.
MyNews Holdings Bhd said the bag artwork subject to a legal suit between the company and two artists was in the public domain with no copyright notice attached.
Group executive director and CEO Dang Tai Luk said the artwork displayed on bags sold at its shops in October, was published on Nov 23, 2007 with no reference of the author or creator of the artwork, and or the plaintiffs Shamsaimun Ezil and Amir Hamzah Hashim as the purported copyright owners of the artwork.
It added that a statutory declaration was only made on Dec 17, 2018. The artist's studio Homework Studio ceased to be a business entity on Jan 24, 2014, following a search on Companies Commission of Malaysia. He added that the original author was not an employee of Homework Studios and that the bags were procured from third-party entities.
Hap Seng Plantations Holdings Bhd appointed Datuk Mohammed Che Hussein as its independent and non-executive chairman effective May 31, replacing former Bank Negara Malaysia (BNM) governor Tan Sri Ahmad Mohd Don who will step down on May 29 after being in the role for 12 years.
Ahmad will also relinquish his position as chairman of the group's remuneration committee, member of the audit, and the nominating committee on the same day. Former Carlsberg Brewery Malaysia Bhd CEO Datuk Jorgen Bornhof will also retire from his position as its independent and non-executive director as well as relinquishing his position as chairman of the nominating committee and a member of the audit committee.