This article first appeared in The Edge Malaysia Weekly, on July 30, 2018 - August 05, 2018.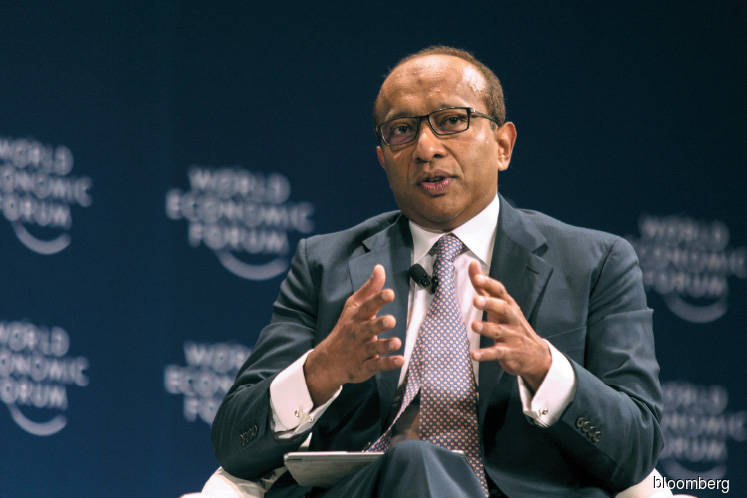 IN the past four years, equity investors have not been kind to Sapura Energy Bhd, whose share price dropped from a peak of RM4.80 in early 2014 to an all-time low of 41 sen in March this year. Nonetheless, Sapura Energy had not been singled out as most of its oil and gas peers faced the same fate after the meltdown in crude oil prices.
Its co-founder Tan Sri Shahril Shamsuddin, whose remuneration package has hogged the limelight, is confident of the group's prospects, despite the increasing need to address its whopping RM16 billion debts.
Shahril, who is also president and CEO, tells The Edge that Sapura Energy made a contrarian move to expand its business at the peak of the downturn. "We decided to leverage the assets we owned to get more jobs … in order to make up for the Ebitda (earnings before interest, taxes, depreciation and amortisation) margin that was shrinking. [There were] very few jobs in Asia."
With that strategy, Sapura Energy has increased its global footprint, winning contracts in Mexico, Brazil, the Middle East as well as Asean. The group's order book is currently at RM16.7 billion.
In short, Sapura Energy is not a jaguh kampung that survives on local jobs. The group has a prospective market of US$350 billion to tap compared with US$38 billion previously, according to Shahril.
At last Thursday's closing of 61 sen, Sapura Energy had a market capitalisation of RM3.65 billion — which is too low, says Shahril. The group's upstream operation, which it intends to float soon, alone is worth RM7 billion, he explains.
It is a bargain for investors at the current price, which is only 13% of its all-time high of RM4.84 achieved on Dec 30, 2013.
Looking at analysts' recommendations compiled by Bloomberg, Sapura Energy seems to be a "screaming buy". Less than a handful of the analysts have a "hold" call. Target prices range from 61 sen to RM1.30.
Analysts see value in Sapura Energy because of its ability to generate a healthy operating cash flow, but the group's high gearing is a major concern, considering that the O&G business is capital intensive.
MIDF Research analyst Aaron Tan notes that the soft share price has been largely due to sentiment, and adds that the fundamentals of the group remain intact given its ability to generate cash.
"From a fundamental standpoint, nothing has changed for the company. In fact, the order book is still very strong. The production rates of its gas fields are still decent and the costs of production for its gas fields are very low," Tan explains.
He points out that the gas sales agreement signed with Petroliam Nasional Bhd (Petronas) will augur well for Sapura Energy's earnings growth moving forward. Also, the group's overseas ventures are doing well, he adds.
"They (Sapura Energy) have been proving themselves as a capable contractor and have secured many high-profile works. The management is sound and has the experience and should know what it is getting into when it ventures into new markets," he says.
Tan adds that the group's move into Brazil was a good one, considering that a chunk of the group's income has been supported by its operations there.
According to Affin Hwang Research, the engineering and construction (E&C) segment returned to the black quarter-on-quarter with a profit of RM36.5 million in 1QFY2019, attributable to a doubling of its operating profit in its Brazilian operations, compared with a RM84 million loss in 4QFY2018.
A fund manager, who wishes to remain anonymous, concurs that the group would be a beneficiary of an impending recovery in crude oil prices, but notes that the group's high gearing of 1.61 times is a key risk. "We like the O&G segment and we think that crude oil prices will be sustained at the US$60 to US$70 level. I wouldn't discount that the sentiment would be more bullish at some point based on the current state of demand and supply."
That said, the group's debt-heavy balance sheet has made him hesitant despite its current low price.
The fund manager says the rising interest rate environment could pose a threat to Sapura Energy, depending on the group's exposure to US dollar-denominated borrowings. "The group's gearing is too much. If it is not handled carefully, there could be cash flow issues down the road.
"If they have a lot of exposure to US dollar-denominated borrowings, this will also be an issue, especially if the loans are on floating rates."
As at Jan 31, 2018, Sapura Energy's total borrowings was at RM16.4 billion, of which RM10.18 billion was foreign currency-denominated. A large chunk (RM6.82 billion) of its foreign debts are term loans.
"My problem now is the debt," Shahril acknowledges, stressing that the group intends to bring down its gearing ratio by half to 0.7 times in the first half of the financial year ending Jan 31, 2020.
It is known that Sapura Energy is exploring options, including an initial public offer and rights issue, to raise funds to slash its borrowings.
Shahril confirms that the group is working on a plan to list its exploration and production (E&P) division. It is mulling over a listing on Bursa Malaysia or the Australia Stock Exchange. "We could get a higher valuation in Australia but my heart is at home," he says.
Another analyst, who declines to be named, says the listing of Sapura Energy's E&P assets could be a double-edged sword. "They might get a good valuation (for the E&P assets). But one of its few profit-making divisions will be removed from Sapura Energy. This will definitely reduce the debt level, but at what cost?"
He adds that a cash call would help to raise fresh capital to pare down Sapura Energy's borrowings. However, it would need to convince shareholders that the fresh capital that they pump in will yield good returns.
Shahril disagrees that Sapura Energy will lose it shine after it lists the E&P unit. "Engineering and construction would be the core (business). It would be like what Sapura Crest (Bhd) was before the merger," he says, adding that there are enough contracts to keep it going.
"And don't forget, Sapura Energy will still own a substantial stake in the new listed entity," Shahril says, declining to reveal further information on the IPO plan.
The contrarian move has put Sapura Energy, a home-grown O&G firm, into the ring "to rival international players", as Shahril puts it. It has a presence in Australia, India, Mexico, Brazil, the Middle East, and East and West Africa.
All said, the sceptics may remind investors to be cautious of execution and political risks, which are inevitably in the upstream business worldwide.  
Save by subscribing to us for your print and/or digital copy.
P/S: The Edge is also available on Apple's AppStore and Androids' Google Play.