This article first appeared in The Edge Financial Daily, on December 13, 2019.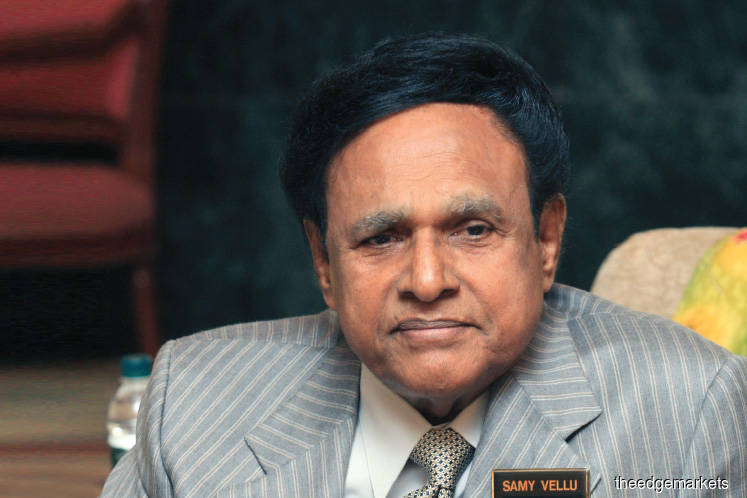 KUALA LUMPUR: The purported mistress of former MIC president Tun S Samy Vellu wants the Ipoh High Court to declare that she has been in a quasi-spousal union with the former long-time works minister and engaged in an ala-matrimonial relationship since Aug 23, 1981.
Meeriam Rosaline a/p Edward Paul is also seeking unpaid living costs from Samy Vellu and his son Datuk Seri S Vell Paari amounting to RM191,107.35, which she claimed was owed to her when it was cut off since July last year.
She also wants a court order for her to be allowed to see the former minister. Following that, she is seeking a one-off payment of RM20 million as lifetime living costs as well, besides a monthly stipend of RM25,000.
Meeriam is also seeking a declaration that she was cared for and supported by Samy Vellu for almost 40 years, an injunction against Vell Paari or his agents where she was prevented from seeing the former senior minister, and an injunction to prevent Vell Paari from controlling his father's finances resulting in payments to her being stopped.
The 59-year-old woman claimed Samy Vellu had loved her during their 38-year relationship, and they frequently travelled to London, Paris, Germany, Switzerland, the US and Singapore over those years.
Meeriam claimed they had a matrimonial situation where she acted as a wife to Samy Vellu, and on the former minister's instructions, she stopped working at a government hospital in Perak since 1993.
She further claimed Samy Vellu gave her a driver and bought a separate house for her in Ipoh. In 2005, the former minister built a bungalow for her. She claimed that throughout her relationship with Samy Vellu, she was allowed to contact and meet the former minister without any restrictions.
However, Meeriam claimed that recently, she was threatened by Samy Vellu's wife Toh Puan R Indrani and prevented by her from seeing the former minister. She further claimed the monthly funds were limitedly paid by Vell Paari as well.
For this reason, she filed an originating summons at the Ipoh High Court on Aug 15 this year.
A copy of the summons, where Meeriam named Vell Paari and Samy Vellu as respondents in the action, was sighted by theedgemarkets.com through a file search yesterday.
On Monday, it was reported that Vell Paari filed an originating summons on his father for the court to determine if Samy Vellu is a mentally disordered person and whether the former senior minister can give instructions to his solicitors, and when he could be incapable.
The legal application filed by Vell Paari is also aimed at discovering properties owned by Samy Vellu and highlighted Meeriam's legal action too.
Vell Paari, in a statement issued on Monday, said the application was filed to protect his father's interests.
Meanwhile, at the Ipoh High Court yesterday, Vell Paari and Samy Vellu's application for a stay of this proceeding pending the disposal of Vell Paari's originating summons involving his father came up before Justice Datuk Hashim Hamzah.
However, Justice Hashim did not want to hear the application and has fixed Jan 17 to hear the application. Meeriam was represented by lawyer Ramesh Sivakumar yesterday.