From left :- Samsung Malaysia Electronics Head of Product Marketing, IT& Mobile Business Julian Thean, Samsung Malaysia Electronics Sales Head of IT & Mobile Business Hosea Heen, Samsung Malaysia Electronics Head of IT & Mobile Business Liew Kian Meng, Samsung Ambassador Song Ji-Hyo, Samsung Malaysia Electronics CMO Elaine Soh and Samsung Malaysia Electronics Business Manager, IT & Mobile Business Yoo Jin Hyun at the Samsung galaxy Note8 Media launch 2017.
Photo by : MOHD SUHAIMI MOHAMED YUSUF
From left :- Samsung Malaysia Electronics Head of Product Marketing, IT& Mobile Business Julian Thean, Samsung Malaysia Electronics Sales Head of IT & Mobile Business Hosea Heen, Samsung Malaysia Electronics Head of IT & Mobile Business Liew Kian Meng, Samsung Ambassador Song Ji-Hyo, Samsung Malaysia Electronics CMO Elaine Soh and Samsung Malaysia Electronics Business Manager, IT & Mobile Business Yoo Jin Hyun at the Samsung galaxy Note8 Media launch 2017.
Photo by : MOHD SUHAIMI MOHAMED YUSUF
From left :- Samsung Malaysia Electronics Head of Product Marketing, IT& Mobile Business Julian Thean with Samsung Ambassador Song Ji-Hyo after the launch of Samsung Galaxy Note8.
Photo by : MOHD SUHAIMI MOHAMED YUSUF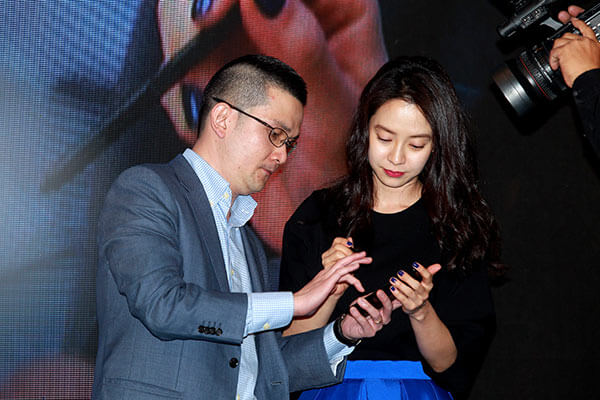 From left :- Samsung Malaysia Electronics Head of Product Marketing, IT& Mobile Business Julian Thean with Samsung Ambassador Song Ji-Hyo after the launch of Samsung Galaxy Note8.
Photo by : MOHD SUHAIMI MOHAMED YUSUF
Model showing the Samsung Galaxy Note8 after the Media launch 2017.
Photo by : MOHD SUHAIMI MOHAMED YUSUF
Samsung Ambassador Song Ji-Hyo taking selfie with her fan during the Samsung galaxy Note8 Media launch 2017.
Photo by : MOHD SUHAIMI MOHAMED YUSUF
Welcome note by Samsung Malaysia Electronics Head of IT & Mobile Business Liew Kian Meng at the Samsung galaxy Note8 Media launch 2017.
Photo by : MOHD SUHAIMI MOHAMED YUSUF
Welcome note by Samsung Malaysia Electronics Head of IT & Mobile Business Liew Kian Meng at the Samsung galaxy Note8 Media launch 2017.
Photo by : MOHD SUHAIMI MOHAMED YUSUF
Product presentation by Samsung Malaysia Electronics Head of Product Marketing, IT& Mobile Business Julian Thean during the Samsung galaxy Note8 Media launch 2017.
Photo by : MOHD SUHAIMI MOHAMED YUSUF
Product presentation by Samsung Malaysia Electronics Head of Product Marketing, IT& Mobile Business Julian Thean during the Samsung galaxy Note8 Media launch 2017.
Photo by : MOHD SUHAIMI MOHAMED YUSUF
Product presentation by Samsung Malaysia Electronics Head of Product Marketing, IT& Mobile Business Julian Thean during the Samsung galaxy Note8 Media launch 2017.
Photo by : MOHD SUHAIMI MOHAMED YUSUF
KUALA LUMPUR (Sept 21): Samsung Malaysia Electronics today unveiled its latest smartphone offering, the Galaxy Note8, which it dubs as its "most advanced device of the year".
The company said with the Galaxy Note8, Samsung continues to showcase its heritage in both hardware and software innovation. It offers an optimal user experience with a large form factor which easily fits in one hand, innovative display design and technologies and a line-up of thoughtfully designed accessories.
The Galaxy Note8 is fitted with the biggest screen for a Note device, at 6.3 inches, featuring the Quad HD + Super AMOLED Infinity display.
With the Galaxy Note8, the enhanced S Pen unlocks new ways to write, draw and interact with the phone and communicate with other smartphone users.
On top of its finer tip and improved pressure sensitivity, the new S Pen comes with the Live Message feature that allows a user to share animated texts or drawings across platforms supporting animated GIFs.
Additionally, the Galaxy Note8 is fitted with two 12MP rear cameras with Dual Optical Image Stabilisation (OIS) on both the wide-angle and telephoto lens, 6GB RAM and is water and dust resistance.
"People are constantly striving to do bigger and better things, and their relentless passion and spirit to achieve more has inspired us to design the new Note to ultimately help people reach their goals and potentials," said Samsung Malaysia Electronics head of IT & Mobile Business KM Liew.
"The new Galaxy Note8 features a refined design, an enhanced S Pen, a best-in-class dual camera and innovative entertainment and productivity capabilities to help people do bigger things. It is more than just a smartphone, it's a device that works the way we live and empowers us to make things happen," Liew added.