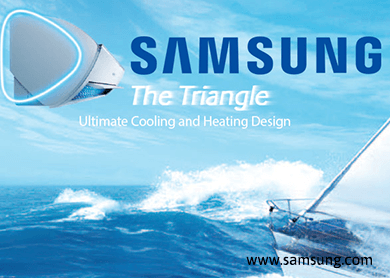 KUALA LUMPUR: South Korea's Samsung Electronics Co Ltd is expanding its portfolio to further penetrate the air-conditioning market, with the launch of a smart variable refrigerant flow air-conditioning system called the Digital Variable Multi System (DVMS). Designed for large businesses or home spaces, the DVMS allows for different temperatures to be maintained in different zones.
The DVMS is a 26 horsepower (hp) module with up to 80hp in one system, and also boasts uniquely long piping length. A single compressor is powerful enough and has long enough piping to cool a 30-storey building (approximately 110m).
Samsung Electronics senior vice-president of global business technology strategy, digital appliances business Dochul Choi said although the group's current global share in the air-conditioning market is not high, he expects Samsung to perform satisfactorily in the foreseeable future. "Our current [global] market share is about 2% to 3% now, but we are aiming to increase it to 20% within three to five years," he told reporters after the launch of the DVMS yesterday. "What we are lacking is a track record [in the air-conditioning business]. Once we start competing, we will really compete to get our market share up," he said.
To compete in the market, Samsung has to come up with the best product the market will see, said Choi. "In every aspect of our air-conditioning, it is the best. No doubt about it."
Despite the lack of a track record, Choi pointed out that Samsung has a strong brand value, which Forbes ranked at seventh globally. Choi sees plenty of opportunities  in Malaysia for Samsung due to the large number of construction projects.
"This is one of the busiest places for construction. So there are a lot of opportunities, in particular for ... hotel solutions and services, not only in air-conditioning," he said.
This article first appeared in The Edge Financial Daily, on June 18, 2015.