This article first appeared in The Edge Malaysia Weekly, on September 20, 2021 - September 26, 2021.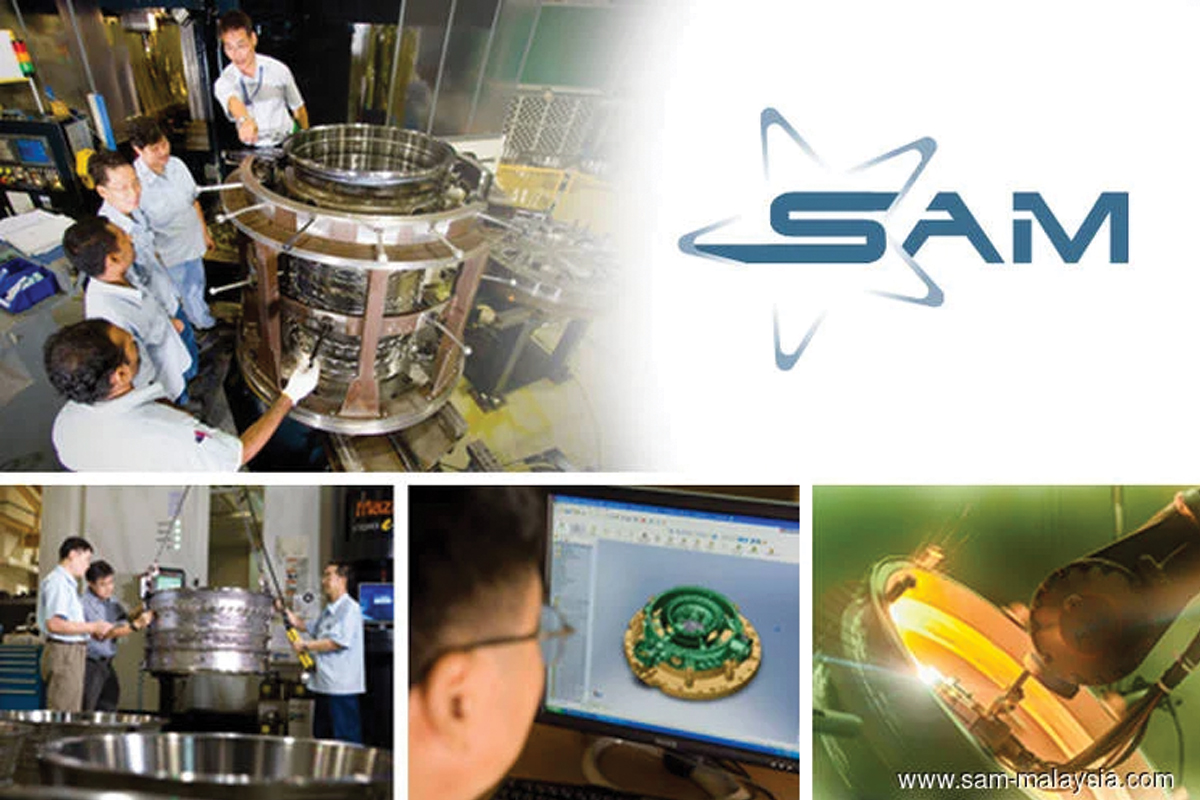 DESPITE the adverse impact of the Covid-19 pandemic on the air travel industry and related players, aerospace products manufacturer and precision engineering company SAM Engineering & Equipment (M) Bhd is in a sweet spot, thanks to its healthy pipeline of orders for its equipment segment and anticipation of a gradual pickup in the aerospace industry.
"Currently, the aerospace sector is in recovery as most major economies are reopening gradually, which will support the recovery of aircraft demand," SAM Engineering said in a bourse filing last Wednesday, based on the minutes of its 27th annual general meeting held on Aug 21.
With good participation in the semiconductor industry, the company said it expects a reasonably good outlook for its equipment segment. It has two business segments — aerospace products and equipment (semiconductor and data storage devices).
"The aerospace segment requires heavy investments and long development cycles, but it has a more stable operating margin compared with the equipment segment, which has shown good profitability in recent years in spite of being more volatile," said the Penang-based company, adding that it anticipates a positive outlook for both segments.
"According to market analysts, the semiconductor equipment industry will see double-digit growth in 2021 and 2022, with some 29 new [fabrication plants constructed during this period]. Good demand for semiconductor equipment will drive the growth of our equipment business," the group said in response to questions from shareholders.
SAM Engineering, a subsidiary of Singapore Aerospace Manufacturing Pte Ltd, said its total order book as at March 31 stood at RM2.4 billion. As for a breakdown of orders, the company said its aerospace business still takes up the majority of its existing order book, which is projected to last up to 10 years. "So far, we have never lost any sizeable strategic projects," it added.
The company explained it had been actively redeploying resources from the aerospace business to support the equipment business by supplying parts, sub-assemblies and equipment to support the manufacturing of semiconductors and data storage devices for customers at the front-end of the semiconductor equipment segment.
Addressing its net profit margin of about 10% being lower than that of its listed peers, including Pentamaster Corp Bhd and Mi Technovation Bhd, which have net profit margins of about 20%, SAM Engineering pointed out that its position as a contract manufacturer differs from that of an original equipment manufacturer.
"We are a contract manufacturer, making parts and equipment according to our customers' specifications. Compared with other contract manufacturers, we believe that our profit margins are respectable," it added.
Gradual recovery seen
Attributing the decline in orders for the segment last year to the impact wrought by the pandemic, SAM Engineering said it expects a gradual recovery of the revenue in its aerospace segment in tandem with the recovery of short-haul flights for domestic travel and long-haul flights globally.
The aerospace segment fell into the red in FY2021, with a loss before tax of RM22.1 million compared with profit before tax (PBT) of RM37.3 million in FY2020. Meanwhile, the equipment segment reported a PBT of RM103.98 million in FY2021 and RM62.3 million in FY2020.
"Currently, we don't foresee any specific new projects [for the aerospace sector]. While the projected order book for the aerospace segment is anticipated to last up to 10 years, the decline in orders last year was mainly attributed to lower demand in the entire aerospace industry as a result of the Covid-19 pandemic," said the company.
SAM Engineering said its clients Airbus and Boeing delivered 723 aircraft in 2020, with market analysts forecasting aircraft production in 2021 to range from 900 to 1,000 units, and the return of air passenger travel to pre-Covid-19 levels by 2024. "We have seen an improvement in demand compared with last year," it added.
SAM Engineering said that although the group had to operate at a lower capacity throughout the various movement curbs, the first of which was the Movement Control Order (MCO) implemented on March 18, 2020, it was able to meet delivery commitments to customers on time and ensure a smooth running operation.
Management learnt to manage and mitigate the disruptive effects of the MCO, it notes, by recruiting buffer workers to replace quarantined staff as well as widening its pool of suppliers instead of depending heavily on single-sourced suppliers in order to mitigate supply chain disruptions.
Post-Covid-19, companies will likely be more conscious of potential supply chain disruptions and business continuity planning, said SAM Engineering. "As a contract manufacturer, the group will have to learn to operate in different geographies and business segments to diversify risks and mitigate potential supply chain disruptions."
Financial performance buoyed by equipment segment
For its first quarter ended June 30, 2021 (1QFY2022), SAM Engineering's net profit increased 66.22% to RM11.98 million from RM7.21 million in 1QFY2021 but more than halved from RM24.59 million in 4QFY2021.
Revenue rose 18.6% to RM202.78 million from RM170.98 million last year but fell RM276.43 million quarter on quarter.
The company told Bursa Malaysia that the improved year-on-year earnings were attributable to higher profit contribution from its equipment segment, which saw higher sales due to higher demand from semiconductor and data storage customers, and that its quarterly earnings were partly offset by lower profit contribution from its aerospace segment on account of lower government grants and subsidies.
SAM Engineering said it was investing in new machines and space to meet increasing demand for products in its equipment segment, which would include an expansion of manufacturing operations in Thailand, where its factory is scheduled to start mass production by December.
Net profit for FY2019, FY2020 and FY2021 stood at RM78.5 million, RM79.8 million and RM59.7 million respectively on revenue of RM755 million, RM938.7 million and RM873.7 million.
As for dividends, the group paid out a first interim single-tier dividend of 14.76 sen for FY2020 and a first interim single-tier dividend of 11.03 sen for FY2021. For FY2019, it paid a first interim single-tier dividend of 17.43 sen and a special single-tier dividend of 11.62 sen.
SAM Engineering was slapped with an unusual market activity query by Bursa Malaysia on July 30 following a sharp spike in its share price to RM10.80 from RM8.32 the day before. The company responded that it was unaware of any possible explanation to account for the trading activity.
The stock then soared to a record high of RM16.24 on Aug 24, from RM7.16 in early July, before paring its gains to close at RM14 last Friday, giving the company a market capitalisation of RM1.91 billion.