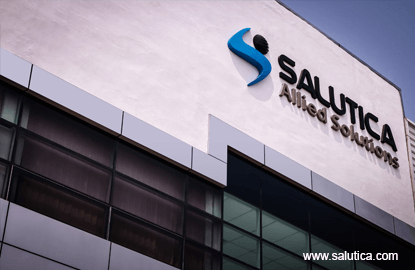 This article first appeared in Corporate, The Edge Malaysia Weekly, on June 27 - July 3, 2016.
NEWLY listed Salutica Bhd, an electronic components manufacturer based in Ipoh, is betting on some of the products of its customers — for example a device that gives touch-screen functionality to non-touch displays — for growth.
While the manufacture of electronic parts for these products does not contribute significantly to Salutica's annual revenue at present, it sees the demand for them increasing in the future.
"These are our smaller or 'Black Horse' businesses. They make up about 10% of our sales. Today they are small but who knows, one day they could be as big as Google or Microsoft," Salutica managing director James Lim tells The Edge.
The company considers a business with the potential to flourish as a "Black Horse".
According to Salutica's website, it manufactures components for a range of consumer electronics and technology companies, including Sony, Canon, HP, Panasonic, Hitachi and Nokia, as well as Plantronics, Jaybird, Neonode and Xpand.
Neonode owns the brand and technology for AirBar, which projects an invisible light field on the surface of non-touch displays that makes it possible to "touch" PC and laptop screens. It is also a USB plug-and-play device, which can be used on any non-touch screen with ease. A magnetic strip behind the device allows it to stick to the screen while a laptop or PC is being used.
Salutica is already manufacturing touch-screen devices using infrared technology, for example, for HP printers and other multimedia devices with built-in touch-screen functionality.
"There are about 500 million computers without touch screens today. A touch-screen computer costs you RM2,000 more, which is a lot of money. AirBar costs only RM250 and you can use it on multiple laptops and PCs," says Lim.
Neonode is also talking to PC and laptop manufacturers to build AirBar into their new models, he adds. "This will create another big market for AirBar — the built-in market — after starting with the after-market."
Salutica is one of the key technology providers working on AirBar with the Stockholm-headquartered Neonode. The group is currently building 2,000 samples of all the plastic parts of AirBar, including the lens, light pipe and end caps.
Salutica will be supplying the samples next month. Prospective customers can already pre-order AirBar on Neonode's website. The end assembly will be done in Sweden, where Neonode has a plant.
According to Lim, Salutica and Neonode are in an advanced stage of negotiations for the European company to outsource the AirBar assembly to the group. This could happen as early as next January, he says.
"Neonode expects its assembly line to be running at full capacity by the end of this year. They will have to notify us by October, so that we have time to prepare the floor space and for the machines to arrive," says Lim, adding that the AirBar assembly line will require a RM10 million investment by Salutica.
He expects this Black Horse business to be bigger than Salutica's original equipment manufacturer (OEM) contracts and in-house brand business.
In the third quarter ended March 31, 2016 (3QFY2016), the company's Bluetooth headset business accounted for 85.6% of its revenue of RM38 million.
"You look at the AirBar technology and you are thrilled. You know it is definitely going to sell. The question is, will sales be 100 million or 200 million units?
"Microsoft sells 500 million laptops a year. Let's say only 1% of that market buys AirBar from the after-market. That is already five million units. You do the maths," says Lim, adding that one line can assemble three million units of AirBar a year.
Besides the OEM and Black Horse businesses, Salutica also has an in-house brand called FOBO. According to its website, the FOBO portfolio focuses on devices that monitor loved ones and important personal belongings as well as tyre pressure.
Salutica has an ambitious target to grow FOBO sales by more than five times to around RM15 million in the next two to three years. According to MIDF Research, FOBO's sales grew 15 times from RM233,000 in FY2014 to RM3.53 million in FY2015. 
"To meet this target, the group is increasing the sales channels for the FOBO products. It will expand sales and distribution channels to seven direct third-party e-commerce platforms, 37 distributors and five direct retail chain outlets.
"It also aims to participate in more exhibitions to showcase the FOBO products while increasing branding, advertising and promotional activities through various platforms," states the research house in a May 18 non-rated IPO note.
Salutica's shares have rallied 14.7% since its listing on May 18. They closed at 94 sen last Friday, giving the company a market capitalisation of RM364.7 million. The stock, which hit a high of RM1.03 on June 21, fell 5% on Friday due to the overall negative sentiment following Britain's exit from the EU.
Kenanga Research had a target price of RM1 when Salutica was listed while MIDF Research had a fair value of 88 sen. As at last Friday, the company was trading at a price-earnings ratio of 12.88 times based on an estimated FY2016 ending June 30 earnings per share of 7.3 sen.
Salutica is well positioned to ride the Bluetooth wave, says Kenanga Research. In recent years, adoption of Bluetooth technology has extended into the low power environment, such as the sensor, hearing aid, fitness and health tracking as well as apparel segments.
This saw global Bluetooth-enabled device shipments register an impressive compound annual growth rate of 18.6% from 2011 to 2014, says Kenanga Research analyst Desmond Chong.
"Such evolvement is also supporting the concept of connectivity in internet of things, which could drive shipments at a CAGR of 13% in 2018, suggested by Smith Zander's research," he says. "We believe Salutica is poised to ride the growing trend, given its expertise in Bluetooth technology and strong portfolio exposure to multinational customers."