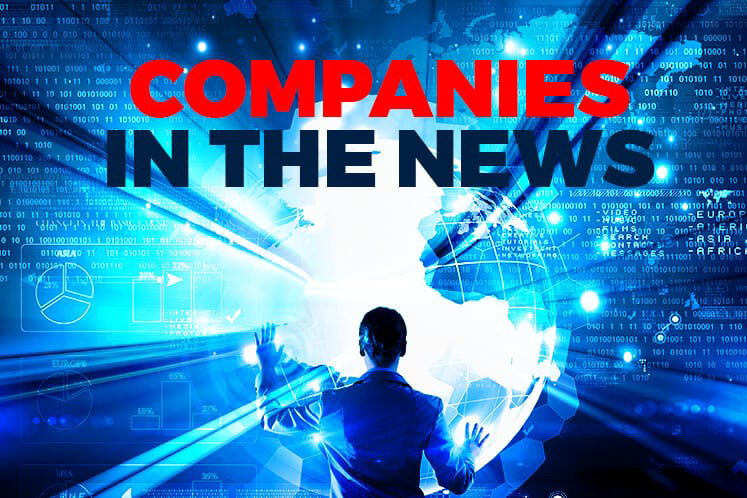 KUALA LUMPUR (March 19): Based on corporate announcements and news flow today, companies that may be in focus on Wednesday (March 20) may include the following: Salcon Bhd, T7 Global Bhd, Uzma Bhd, LKL International Bhd, JAG Bhd, Green Packet Bhd, Malaysian Resources Corp Bhd, Scientex Bhd and Glomac Bhd.
Salcon Bhd said its engineering unit has secured a water treatment plant construction contract in Sabah worth RM124.7 million.
It said the contract, awarded to its unit Salcon Engineering Bhd by Rintis Dinamik Sdn Bhd, will involve works for the capacity expansion works for the Telibong II water treatment plant in Tamparuli.
The expansion, which will be carried out on its main pipeline and storage tank, will increase the plant's capacity from 80 million to 160 million litres a day.
T7 Global Bhd said its unit T7 Marine Sdn Bhd signed a Heads of Agreement with Marine Crest Technology Sdn Bhd and India-based C2C-DB Systems Pvt Ltd (C2C-DBS) to form a joint venture company (JV Co), which will engage in marine services and naval technology business in Malaysia.
T7 Marine will own 40% shareholding in the JV Co, while C2C-DBS and Marine Crest will each hold 30%.
This joint venture will provide T7 Marine with an opportunity for growth as well as leverage on the technical capabilities of C2C-DBS and Marine Crest in marine services and naval technology business in Malaysia, T7 Global said.
Upstream oil and gas services provider Uzma Bhd said its unit MMSVS Group Holdings Co Ltd has been awarded a three-year contract to provide onshore hydraulic workover services.
The contract — awarded by PTTEP International Ltd, PTTEP Siam Ltd, and PTTEP SP Ltd — commenced on March 1 and is valid until June 30, 2022 with a one-year extension option, it said.
The value of the contract or nature of payment was not specified in the filing.
LKL International Bhd has secured an agreement to distribute BenQ's ultrasound system, surgical light and surgical table, as well as related spare parts and software.
The distributorship agreement — signed between its unit Medik Gen Sdn Bhd and BenQ Medical Technology Corp — is for a period of two years, expiring on Feb 28, 2021.
Under the agreement, MGen will be appointed as BenQ's distributor to carry out sales activities in Malaysia. MGen may then appoint resellers to market and sell the products in the country.
Total waste management company JAG Bhd has signed an MoU with Empire Mining Sdn Bhd to jointly explore bauxite mining opportunities in Pulau Langkawi, Kedah.
It said the MoU is to set out intentions with the possible joint venture between JAG or its nominated subsidiary and Empire Mining, to extract, process, and produce bauxite there.
The parties have agreed to negotiate exclusively with each other for three months from the date of the MoU, and a further three months or more if mutually agreed in writing.
Green Packet Bhd said it has requested to commence arbitration proceedings against MYTV Broadcasting Sdn Bhd, confirming an article in The Edge Malaysia weekly that the two parties are embroiled in a contract dispute.
It said the request was filed with the Asian International Arbitration Centre on March 13, in connection with MYTV's abrupt termination of an agreement inked between the companies for the supply of set-top boxes (STB) to MYTV. The deal was signed in January last year.
The damages Green Packet sought include RM21 million for the first batch of the 200,000 units of STP which it said it had delivered to MYTV, and RM105.84 million for the confirmed order of the remaining 1.4 million units.
MYTV should also pay for the remaining two million units under the agreement, said Green Packet, besides costs of the arbitration proceedings, interests, and other futher reliefs.
Malaysian Resources Corp Bhd (MRCB) is stepping up the game in the construction industry by aiming to introduce the country's first volumetric building system by year end.
Its executive vice-president Datuk Seri Judin Abdul Karim said MRCB's building system (MBS) is a combination of prefabricated prefinished volumetric constructions and a jointing system known as the candle-loc.
MBS, according to him, is a step up from the current industrialised building system (IBS) used by the industry for precast buildings, which could reduce project delivery time by 30% compared to conventional construction methods, reduces the need of manpower, material wastage and increases safety and quality requirements as it's built in controlled environments.
Scientex Bhd's net profit in the second quarter ended Jan 31, 2019 grew 8.5% to RM73.75 million from RM67.98 million a year ago, on higher revenue from better sales performance.
Revenue in the quarter grew 21.6% to RM766.59 million from RM630.68 million previously.
Glomac Bhd reported a 70.3% year-on-year net profit slump to RM1.43 million or 0.18 sen per share in its third quarter ended Jan 31, 2019, from RM4.82 million or 0.61 sen in the year-ago quarter, following the completion of certain development phases and fewer ongoing phases, compared to the previous corresponding quarter.
Revenue fell 24% to RM79.03 million from RM104.02 million, on lower property development contribution as well as lower construction activities.