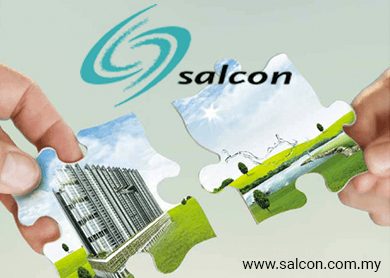 This article first appeared in The Edge Financial Daily, on April 14, 2016.
Salcon Bhd
(April 13, RM0.66)
Initiate coverage with "buy" with a target price of 84 sen. Salcon has completed more than 900 water and wastewater treatment projects (WTP) in Malaysia, Thailand, Vietnam, Sri Lanka and China since its inception in 1974. It also diversified into the property segment in 2013 with its maiden project, rés28 in Selayang with a RM200 million gross development value (GDV), and telecommunications infrastructure in 2015 via a 50%+1 share stake in Volksbahn Technologies S/B (VT) which holds the exclusive rights to lay fibre optic cables on the Prasarana Malaysia Bhd rail network and premises for up to 15 years.
Earnings growth will be driven largely by the acceleration of progress billings from its RM600 million order book, maiden contributions from VT and profit recognition from rés28 upon its completion.
Salcon is currently bidding a total tender book of over RM2.2 billion with management's target of a 20%-30% success rate.
These jobs include the Langat 2 WTP Phase II contracts, new alternative water supply jobs in Selangor and the projects from 11MP (11th Malaysia Plan) to reduce non-revenue water (NRW) to 25% from 36.6% in 2013.
Salcon will be looking to finalise its asset disposal in China by the third quarter of 2016 (3Q16). The completion of the disposal will see Salcon's net cash soaring to RM240 million from RM200 million as at end of December 2015, translating into net cash per share of about 35 sen, equivalent to 56% of the current share price.
We expect a higher dividend payout of 3.5 sen in financial year 2016 (FY16) and FY17 from three sen in FY15.
Salcon engaged an active treasury share buyback year to date (YTD), amounting to 12.98 million or 1.95% of its outstanding shares.
Its major shareholder, Infra Tropika Sdn Bhd, accumulated 5.6 million shares YTD, translating into 78.7 million shares or a 11.5% stake.
Thus, we expect there will be a strong cushion to protect Salcon's share prices from the downside.
We believe management is cautiously optimistic about better earnings prospects in FY16 and FY17, given its strong order book of RM600 million.
Management's target of a 20%-30% success rate of RM2.2 billion tender book of RM440 million to RM660 million worth of new wins is not a tall order, given its expertise in the WTP business. — Hong Leong Investment Bank Research, April 12.