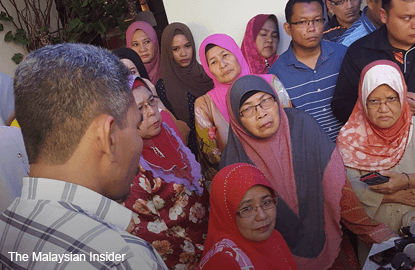 (Nov 27): Sacked Perak Umno leader Datuk Hamidah Osman today denied she was behind the "Bicara Negara" event in Ipoh last May, where former prime minister Tun Dr Mahathir Mohamad was the speaker.
The former Gopeng division Wanita chief said she had explained the matter in her reply to the party leadership after she received a show cause letter recently.
"I am still blur as to why I was sacked. I also haven't received any official letter on the sacking until now.
"I never heard from them (leadership) since.
"I thought the normal party procedure was to allow me defend myself in front of the party disciplinary board but none of this took place," she told reporters in Ipoh today.
Hamidah admitted she was one of the invited guests during the event held in Tower Regency but added that there were other Umno leaders too at the venue.
"So why was I the only one getting the axe?"
She, however, said she accepted her sacking with an open heart and had a message for party president and prime minister Datuk Seri Najib Razak, "Sir, please don't burn the country, if we burn, you burn with us also."
The former Wanita Umno information chief, who had been with the party for 33 years, added that she felt democracy was dead in Umno.
"It seems Najib is Umno and Umno is Najib. If we criticise Najib, we criticise Umno.
"But from the beginning I was asking for the president to step down because his actions are hurting the party. So why is the party punishing me?"
Hamidah added she had read recently, a remark by Umno secretary-general Datuk Seri Tengku Adnan Tengku Mansor, alleging that she was sacked for being on the opposition stage.
"I want to ask him, when, where and with whom?
"Where is the video or photographic proof in this era of 'nothing to hide'?"
On whether her supporters in the party would be quitting en masse following her dismissal, Hamidah said she did not know and left it up to them.
At the press conference today, however, some 30 members from the party's Wanita Gopeng division had turned up with Hamidah for her first press conference since getting the boot.
Five women from Wanita Umno's Gopeng division also took the chance to announce their resignation – information chief Mazidah Kaudan, treasurer, Hasiah Sambang, secretary Fatimah Abdul Rahman and committee members, Kalsom Abd Hamid and Fatimah Mt Isa.
The women, who had been in the party for more than a decade with Hamidah, said they felt what happened to their wing's division chief could also affect them. – The Malaysian Insider