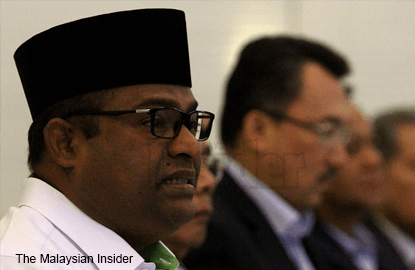 KUALA LUMPUR (Jan 26): The Tabung Haji chairman, Datuk Abdul Azeez Abdul Rahim, should be sacked if reports that its reserves are in the negative are true and that is unable to pay dividends to its 8.8 million depositors, says PAS today.
The Islamist party's deputy president Datuk Tuan Ibrahim Tuan Man said a new man should be brought in to ensure the pilgrims' fund fulfilled its obligation to depositors in line with Bank Negara's requirements.
However, the fund's chief executive officer and group managing director is Tan Sri Ismee Ismail and its investments are overseen by an internal investment panel. While Azeez oversees the board, operations are run by Ismee.
In a strongly worded statement today, Tuan Ibrahim urged Prime Minister Datuk Seri Najib Razak, Minister in the Prime Minister's Department Datuk Seri Jamil Khir Baharom, Azeez and Bank Negara governor Tan Sri Zeti Akhtar Aziz to clear the air over the fund's financial affairs.
Tuan Ibrahim asked if it was true that the central bank had written to Jamil Khir about Tabung Haji's financial position in 2015, where its reserves were in the negative.
He also asked if it was true that Bank Negara mentioned in the same letter that under the Tabung Haji Act 1955, the fund could not announce dividend and bonus payouts if its asset value was lower than its obligations.
"Is it also true that Bank Negara, in another letter to the Tabung Haji chairman, urged the pilgrims' fund to come up with a comprehensive policy on its reserves before March 31?
"And if all these are true, is this the cause of the delay in Tabung Haji declaring dividend and bonus?" Tuan Ibrahim asked.
He also questioned the need for the pilgrims' fund to invest in Tun Razak Exchange (TRX) land if it was in financial difficulty.
"Was it the decision of the prime minister or the Tabung Haji chairman?
"Will the investment not worsen the financial situation?" he asked about the controversial purchase of a plot of TRX land last year.