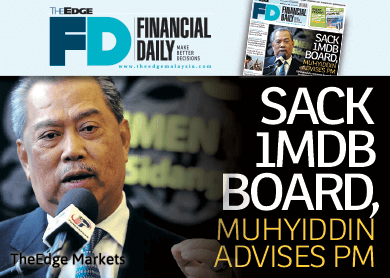 KUALA LUMPUR: Putrajaya must sack the board of 1Malaysia Development Bhd (1MDB) over the RM42 billion debt scandal or it will bring down the government, Tan Sri Muhyiddin Yassin told an Umno gathering last week. A video clip of his remarks has appeared on YouTube.
The deputy prime minister said this was his advice to Prime Minister Datuk Seri Najib Razak, adding he was not against the Umno president's leadership.
"The entire 1MDB board should be sacked and the police should be called in to investigate their involvement in the scandal," Muhyiddin told the Umno gathering to wide applause.
Yesterday, he told a press conference in Parliament that he stood by his earlier statement that the board of 1MDB should be sacked.
Muhyiddin said he had shared his opinion in a closed-door meeting and that it was done to help his peers understand the situation better.
"That was my view, which I made at a closed-door gathering during a political course organised by the training bureau.
"To me, I shared those views with my fellow political leaders so that they understand better. And it is not even new, I have spoken out on it outside. What matters is that we want to come up with a solution, if possible, over that issue," said Muhyiddin, in reference to 1MDB.
He added that Najib had not brought up the video to him since it was posted on YouTube.
"(Najib has done) nothing. I don't know, I just made my statement. I didn't ask what other people are saying."
Muhyiddin had been asked by the media to confirm the video's authenticity.
In the video, the Umno deputy president had said Putrajaya must sack the 1MDB board over the RM42 billion debt scandal as it could bring down the government.
"I told the PM, sack the 1MDB board. If I owned the company, and the CEO racked up so much of debt, that I had to pay interest between RM100 and RM200 million every month, what else to do? Just sack," he told the crowd, with Home Minister Datuk Seri Ahmad Zahid Hamidi in attendance.
He said he decided to take the "bull by the horns" over the 1MDB controversy, after the company racked up RM42 billion in debt.
"I don't run away from the bull. I take it by its horns. There are rumours saying that there [was] some manoeuvring (to remove the PM), but that is not true."
He said he has his "own stand" on certain issues, adding that it is difficult to explain the RM42 billion debt to the public.
"I look at the list of questions raised in Parliament and I wonder, how are we going to address all these concerns?"
Muhyiddin is among a few Umno leaders who have criticised 1MDB.
Others include former prime minister Tun Dr Mahathir Mohamad, who said he is open to debate with Najib on 1MDB's debt.
Dr Mahathir has in recent weeks voiced dissatisfaction over the controversial fund and has said Najib could not be forgiven for losing RM42 billion through the state investment vehicle.
He said in Ipoh last weekend he has been studying 1MDB since 2009.
He said since then, there had been unsatisfactory answers on why power plants were purchased at way above market rates and why its funds were kept in the Cayman Islands.
Najib had attempted to answer some of the criticism in his blog but was slammed by social media users for being evasive. — The Malaysian Insider
This article first appeared in The Edge Financial Daily, on May 22, 2015.