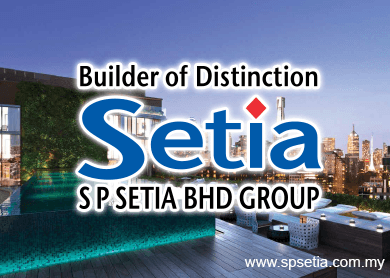 SUBANG: S P Setia Bhd is unfazed by the impact of the weakening ringgit on its Battersea Power Station real estate project in the United Kingdom as Malaysians make up less than half of its buyers.
S P Setia's (fundamental: 1.6; valuation: 2) acting deputy president Datuk Wong Tuck Wai said he remains confident in meeting the company's targets for the Battersea project, although he did not reveal any project figures.
"Those (Malaysian buyers) who have bought [the property] have the firepower to make the purchases. They have probably already hedged their bets when facing [financial] challenges.
"London is an international market. It is not only for Malaysians and we are very selective [of our Battersea buyers]. Our sales team is targeting China, India and other countries without currency issues," said Wong.
Wong was speaking at a press conference in conjunction with S P Setia's "Jet Set with Setia" campaign launch. The programme aims to reward 18 customers with overseas trips to one of S P Setia's overseas developments. The grand prize winner will get an all-expenses-paid trip for two, fly business class via Malaysia Airlines, and stay in luxury five-star hotels to visit S P Setia's international locations in the UK, China, Australia, Singapore, Vietnam and Langkawi.
Concerns about S P Setia's Battersea project arose when the ringgit weakened against the US dollar and the British pound.
As the sale of the Battersea properties is done in pounds, a weaker ringgit translates into costlier purchase prices in ringgit terms.
The ringgit depreciated against the pound at 6.4464 yesterday, compared with 5.1212 about a year ago.
Regarding their property sales, Wong is confident that everything is on track to achieve the RM4 billion target this year.
"Our target is always RM4 billion. Last year, we achieved RM4.3 billion. We started off with RM4.6 billion as a target, then we announced that we scaled it back because we needed to be practical about it. So, we scaled it back to RM4 billion.
"We have a lot of interest in our properties and there have been a lot of sales, but the days of people signing up and getting easy loans that were taken for granted no longer exist. That climate is no longer here," said Wong.
Each unit purchase in the "Jet Set with Setia" campaign entitles the buyer to one entry opportunity. There will be draws in September, October and December. Each draw will have six winners.
Wong said the campaign target this year is to sell 4,000 homes. He hopes that the group will receive 4,000 participants. However, he reminded hopeful winners to attend the draw in order to have valid entries.
"This campaign [is in conjuction] with celebrating our 40th anniversary. We want to think it's a very good bet to still invest in properties because they are always safe havens for your money as they will always appreciate [in value]," he said.
This article first appeared in digitaledge Daily, on August 21, 2015.