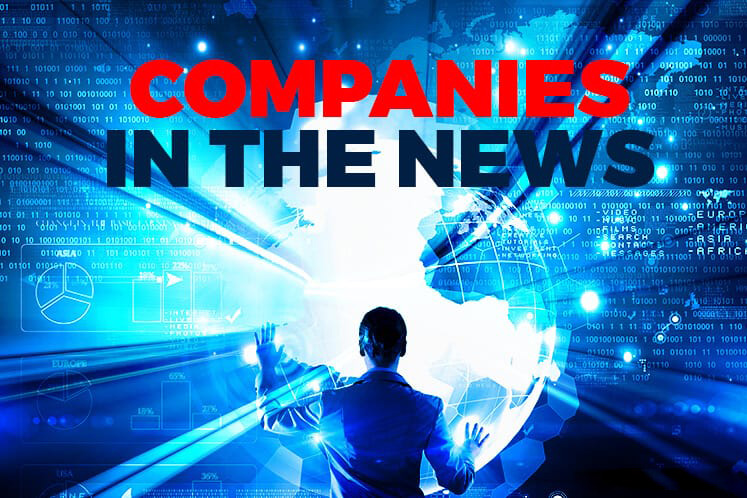 KUALA LUMPUR (May 7): Based on corporate announcements and news flow today, companies in focus tomorrow (May 8) may include the following: S P Setia Bhd, Tan Chong Motor Holdings Bhd, Ranhill Holdings Bhd, Three-A Resources Bhd, Bertam Alliance Bhd, GFM Services Bhd and Eden Inc Bhd.
S P Setia Bhd's 50%-controlled unit will be undertaking a mixed development in Cheras — the Quality Sustainable People Housing (QSPH) project — for Kuala Lumpur City Council (DBKL) in exchange for ownership of 52.52 acres of leasehold land in the area.
In exchange for the development, DBKL will transfer 52.52 acres of leasehold land, free from encumbrances, to the unit Retro Highland Retro Highland Sdn Bhd, in which Tradewinds Corp Bhd owns the other 50% stake.
The total value of the land is RM1.19 billion, based on the RM344.79 million construction of the first phase of the QSPH project, RM835.12 million for its second phase, and a RM14.99 million cash consideration.
S P Setia said the land is planned for a mixed development project, which will comprise residential and commercial components and is expected to have an estimated gross development value of RM11.03 billion with a development period of 11 years.
Tan Chong Motor Holdings Bhd plans to set up an automotive hub in Bagan Datuk, Perak, with an estimated long-term investment of RM500 million, to cater to the expansion needs of the local and export markets.
The new auto hub, Tan Chong Automotive & Commercial Vehicle Hub, will be located on a 338-acre piece of freehold land in Bagan Datuk. The first phase of the project will require the group to spend about RM100 million for land acquisition and the construction of a bus and truck plant. Once completed, the new plant will cater to the production expansion needs of the local and export markets.
Ranhill Holdings Bhd saw its net profit for the first quarter ended March 31, 2018 (1QFY18) jump 15.59% to RM18.14 million or 2.04 sen per share from RM15.69 million or 1.77 sen per share a year ago.
The increase in profits was on higher quarterly revenue, which increased 2.37% to RM360.29 million from RM351.95 million previously.
According to Ranhill, the better quarterly and year-to-date numbers were due to higher income contribution from its environment segment, which saw a rise in volume of water consumption that is in line with the increase in number of customer accounts. At the same time, its power segment enjoyed better performance on lower maintenance and fuel costs.
Three-A Resources Bhd's net profit fell 39.57% to RM6.24 million or 1.27 sen per share for the first quarter ended March 31, 2018 (1QFY18), versus RM10.32 million or 2.62 sen per share last year on lower profit margin as a result of higher raw material prices as well as higher net foreign exchange (forex) losses.
Its quarterly revenue was down marginally by 0.68% to RM102.48 million from RM103.18 million in 1QFY17 due to lower sales volume.
Trading in Practice-Note 17 (PN17) company Bertam Alliance Bhd's shares will be suspended from May 10 as the company has failed to submit its annual report for its financial year ended Dec 31, 2017 (FY17) on or before its April 30, 2018 deadline.
Bertam had said in a May 4 filing to the exchange that the group is unable to release its annual report, which includes its annual audited financial statements together with the auditors' and directors' reports as the group is still finalizing its annual financial statements, and targets to issue the report on or before May 31.
GFM Services Bhd has proposed to raise up to RM20.68 million via a private placement of up to 10% of its issued shares in tranches to part finance its acquisitions of KP Mukah Development Sdn Bhd (KPMD).
The acquisition will provide a platform for the group to enhance its revenue and gain immediate access to KP Mukah, a profitable facilities management company which currently holds a concession awarded by the Government and Universiti Teknologi MARA valid from Sept 17, 2012 till Sept 17, 2035,
The auditors of Eden Inc Bhd have indicated the existence of significant material uncertainties during the course of their audit of the financial statements ended Dec 31, 2017(FY17), which may cast significant doubt on the group's ability to continue as a going concern.
In the audit report filed to Bursa Malaysia today, it was highlighted that Eden Inc had reported a loss after tax of approximately RM18.56 million for FY17, and the current liabilities of the group had exceeded its current assets by RM62.76 million.
In addition to that the group had reported operating cash outflows of RM10.99 million.