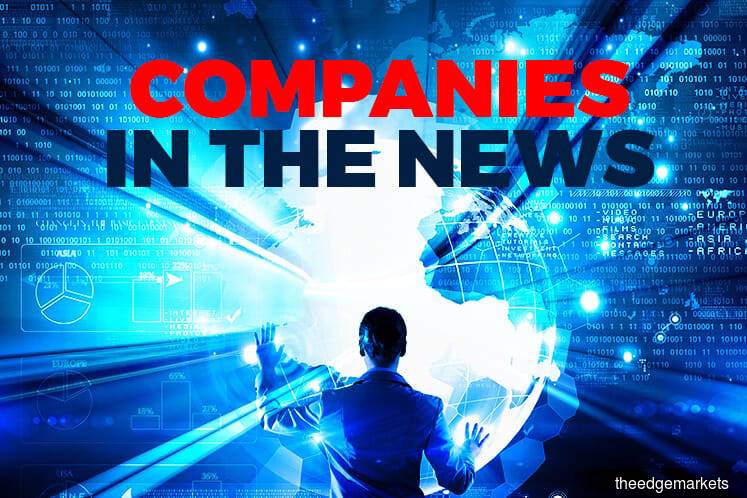 KUALA LUMPUR (Sept 3): Based on corporate announcements and news flow today, stocks in focus for Wednesday (Aug 4) may include: S P Setia Bhd, Scomi Group Bhd, Sime Darby Plantation Bhd, Dayang Enterprise Holdings Bhd, Berjaya Land Bhd (BLand), UEM Edgenta Bhd, UEM Sunrise Bhd, UWC Bhd, Thriven Global Bhd, Ranhill Holdings Bhd and Priceworth International Bhd, 
S P Setia Bhd plans to implement the industrialised building system (IBS) in the construction of upcoming landed-linked houses, as well as prefabricated bath units in some of its projects, to increase operational efficiency.
S P Setia president and chief executive officer Datuk Khor Chap Jen said the IBS has resulted in increased efficiency of construction work and assembly processes, as well as improved quality and timeliness in project completion and handover.
He said S P Setia had so far used the IBS in its apartment projects, besides non-residential developments, including the Setia City Mall in Shah Alam. 
Scomi Group Bhd submitted a Practice Note 17 (PN17) waiver application to Bursa Malaysia today.
Scomi said the company had triggered the PN17 criteria, as its shareholders' equity spread was less than 25% of its issued share capital and the equity dropped below RM40 million, based on its financial results for the quarter ended June 30, 2019.
Scomi incurred a loss of RM250.5 million for the quarter, with its losses in the oilfield services segment rising by RM20.7 million compared with a year ago, mainly due to a lower gross profit and higher operating expenses.
Sime Darby Plantation Bhd aims to boost income from its palm-based specialty products segment, so that it contributes to two-thirds of downstream revenue by 2023.
Focusing on these special products, which consist of palm oil refined for specific purposes such as shortening or high-quality cooking oil, will strengthen earnings of Sime Darby's and reduce exposure to volatility in palm oil prices, said Mohd Haris Mohd Arshad, managing director of Sime Darby Oils, the downstream unit of the company.
Dayang Enterprise Holdings Bhd said its unit has been awarded a 15-month contract by Petronas Carigali Sdn Bhd.
The contract to Dayang Enterprise Sdn Bhd is for the provision of hook-up, commissioning, and topside major maintenance services for Petronas Carigali in Peninsular Malaysia.
Dayang said the contract, which expires on Nov 15, 2020, is expected to contribute positively to the group's earnings over the contract duration. 
Berjaya Land Bhd (BLand) said it has secured a public housing and mixed development project in Yangon, Myanmar, that carries an estimated gross development value of US$624 million  (RM2.63 billion).
It said it has received a certificate of award for the proposed development from the Yangon Region Government, and that the project is located on a land measuring about 183 acres along the Myanandar Road and Shweli Road in the Seikkan Township.
The proposed development comprises 14 parcels of mixed development, including inter-alia affordable housing, mid- to high end condominiums, shop houses, retail spaces, the farmer's market, community hall, schools and infrastructure, to be built over three phases. 
UEM Edgenta Bhd's 70%-owned UEM Sunrise Edgenta TMS Sdn Bhd (UEMSET) has terminated its joint-venture (JV) agreement with Township Management Services Sdn Bhd (TMS) to operate Edgenta TMS Sdn Bhd (ETSB), which was conceived in 2016 as the country's first holistic township management service operator.
UEMSET is 70%-owned by UEM Edgenta and 30%-owned by UEM Sunrise Bhd.
It was noted that ETSB has recorded losses of RM116,000 and RM670,000 for the financial year ended June 30, 2018 (FY18) and FY19 respectively. 
UWC Bhd said its net profit for the fourth quarter ended July 31, 2019 (4QFY19) came in at RM10.07 million, against a revenue of RM46.91 million.
This brings the integrated engineering support services provider's full-year (FY19) net profit to RM36.24 million, up 16.1% from RM31.22 million in the preceding year. Full-year revenue meanwhile, rose 5.8% to RM144.35 million from RM136.50 million, on stronger demand. 
Thriven Global Bhd has accepted a RM15 million credit facility from Bank Islam Malaysia Bhd to finance its working capital requirements.
The group said the one-year credit facility will also be used to help defray expenses from its Klang Valley development projects.
In addition, the credit facility will be used to settle subsidiary Bakat Stabil Sdn Bhd's business financing facility with the bank.
Ranhill Holdings Bhd has won a RM18.59 million contract to undertake pipe replacement works in Kota Bharu .
The group said its wholly-owned subsidiary, Ranhill Water Services Sdn Bhd, was awarded the contract by Pengurusan Aset Air Bhd.
The one-year contract, which is to last till March 9, 2020, includes the supply and laying of PVC-O and Mild Steel pipelines to replace existing pipes. 
Priceworth International Bhd has signed a memorandum of understanding (MoU) with Innoprise Corp Bhd for the supply of logs.
The proposal will also see Innoprise, which is the investment holding vehicle of Yayasan Sabah, taking up a 30% stake in Priceworth.  
Priceworth said Innoprise is in possession of several timber concessions and controls a significant supply of timber logs.  
The MoU sets out the intention as a framework towards completion of the proposals that will lead to the execution of a supply of log agreement.