This article first appeared in City & Country, The Edge Malaysia Weekly, on May 6, 2019 - May 12, 2019.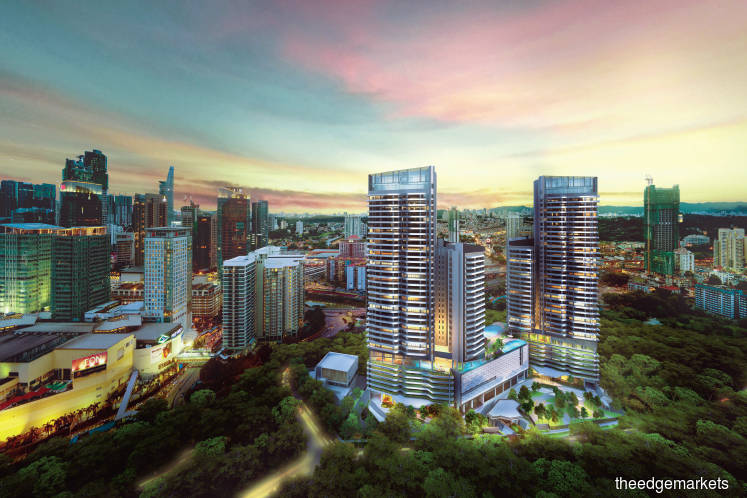 A lot has changed since we last visited the site of S P Setia Bhd's Setia Sky Seputeh in Taman Seputeh in 2016. The roads leading to the development — Jalan Taman Seputeh and Jalan Bukit Raja — have been realigned and upgraded and the construction of the Setia Sky Seputeh is well under way, having reached level 13 of Tower A and level 3 of Tower B.
Setia Sky Seputeh comprises two 37-storey towers of luxury residences and has a gross development value of RM951 million. Tower A (145 units) was launched in 2016, offering units with built-ups of 2,325 to 2,885 sq ft for RM2.9 million to RM3.6 million. It has sold 62%.
"When we bought this land in late 2011, we knew that Taman Seputeh was an exclusive and quiet area. The residents here feel it is an escape from the hustle and bustle of the city, even though it is actually located in the city.
"Taman Seputeh is halfway between Kuala Lumpur and Petaling Jaya, so the accessibility is great. The residents love the quality of life it offers. So, we made sure to build something that will maintain all the things they love yet bring in modern amenities," says S P Setia divisional general manager Paul Soh.
Designed around the three key concepts of identity, exclusivity and desirability, Setia Sky Seputeh has 290 units offering numerous spacious layouts with built-ups from 2,300 to 3,000 sq ft. Each unit will come furnished with kitchen cabinets, hob and hood, air conditioning system, water heater system, video intercom, washer and dryer, refrigerator and microwave oven. The development is just 500m from Mid Valley City.
According to Soh, each floor houses only four to six units and each unit has its own private lobby. The units are designed to emulate the feeling of living in a bungalow or semi-detached house, and are equipped with wide windows and broad balconies to allow light penetration, says Soh.
Setia Sky Seputeh offers 1½ acres of resort-themed landscaping with 31 types of facilities on the podium level. They include a sky gym, heated aqua gym, hot and cold spa, sky lounge, tea lounge, music room, yoga room, beach podium, multipurpose hall, Jacuzzi and Malaysia's longest man-made beach with 700 sq m of sand stretching 100m.
"The units we have sold in Tower A were mainly on the upper floors, which are the higher priced units. This is very different from our other medium-range developments. The upper to mid floors are mostly gone.
"I think a lot of our buyers seem to think the lower floors are too low but they will see when the building comes up that our lowest residential floor is still higher than the top of the block next door because Setia Sky Seputeh sits on higher ground," says Soh.
More choices
S P Setia is launching the 145-unit Tower B on May 11. While Soh acknowledges the more challenging market environment, he remains confident Tower B will do well.
"Of course, market sentiment will affect sales but our project is a high-end exclusive development that has a unique market. We target owner occupiers, upgraders and those living in Taman Seputeh, Bangsar and Bukit Damansara.
"I think a lot of buyers were holding back but now with the government's Home Ownership Campaign (HOC) and S P Setia's discounts and rebates, I think it will help push them to buy. There will always be ups and downs in the property market and we feel that by next year, the market will improve," says Soh.
The HOC was announced during the tabling of Budget 2019 last November. Buyers will be exempted from stamp duty for the purchase of residential units as well as receive discounts from participating developers until the end of June.
Tower B offer a choice of five layouts, says Soh, compared with the three in Tower A. Built-ups for Tower B range from 2,347 to 2,992 sq ft and they are priced at RM3.06 million to RM3.9 million. The entire development is expected to be completed in December 2020.
S P Setia is offering a build-then-sell (BTS) scheme for Setia Sky Seputeh. The scheme allows buyers to pay 10% of the price upon signing the sales and purchase agreement and the balance 90% will be paid upon completion of the project. There will be no progressive billing until completion of project.
For the community
S P Setia is also doing its part to improve the surroundings to benefit the local community.
"We don't just want to build something that embodies all the good things of Taman Seputeh, we want to improve the area. We originally submitted a proposal to Kuala Lumpur City Hall asking for higher density and DBKL asked for a few things. Even though we did not get the density we wanted, we will still give what DBKL asked for," says Soh.
The sales gallery will be converted into multipurpose hall that will be open to the public upon completion of the project. Aside from the realignment of Jalan Taman Seputeh and Jalan Bukit Raja, the section of Jalan Taman Seputeh fronting the project has been widened and deepened to ensure smooth traffic flow.
"We will also build a covered walkway from Setia Sky Seputeh to join the bridge crossing at Jalan Syed Putra to enable residents to walk over to Mid Valley Megamall safely and without being exposed to the sun," says Soh.
With construction well under way, Soh believes buyers can get a better feel of what they will be getting and also see the improvements S P Setia has made in the area.
"Taman Seputeh has been around for a long time, and the Thean Hou temple is famous, but I think a lot of people have not been here or really explored the area. I feel Setia Sky Seputeh is creating more awareness of Taman Seputeh and has raised values and the profile of the brand," says Soh.