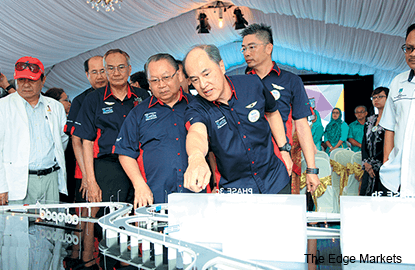 This article first appeared in The Edge Financial Daily, on 30 November, 2015.
KOTA KINABALU: S P Setia Bhd is targeting to launch products worth more than RM1 billion in gross development value (GDV) in Aeropod, Kota Kinabalu next year.
The developer is looking at launching retail offices, a boutique hotel and two blocks of serviced apartments in the 60-acre (24.28ha) integrated development in 2016, said S P Setia's acting president and chief executive officer of Datuk Khor Chap Jen.
Khor was speaking to the media during a trip to witness the groundbreaking ceremony of the flyovers at Aeropod last Friday.
The retail offices and two blocks of 800 serviced apartments will have a GDV of RM232 million and RM680 million respectively. They are expected to be completed by 2019.
"The first launch in Aeropod was the SoVo Exchange (smart office, versatile office), which offers a dual key concept. It was launched in two phases in 2013 and 2015. The SoVo Exchange has a take-up rate of 64%," said Khor.
He said that Blocks C and D of the boutique offices launched in 2012 are completely sold, while Block H is 76% sold.
Aeropod is an integrated development and transportation hub anchored by offices, a 300,000 sq ft lifestyle retail mall, international class hotels, serviced apartments, SoVo , luxury residential towers and a modern railway station. It has 3.8 million sq ft of gross floor area.
Aeropod is set to be completed by 2022 and it has a GDV of RM1.8 billion. So far, about RM300 million in GDV has been developed.
The two flyovers (841m and 318m long) cost about RM40 million and will provide easy and safe access to Kota Kinabalu City Centre, Kota Kinabalu International Airport, and the upcoming Tanjung Aru train station, which is scheduled for completion by mid-2016.
"Currently, drivers heading to [the] Tanjung Aru train station have to make a dangerous U-turn. Once the flyover is completed, it will ensure safety for the users" said S P Setia chairman Tun Zaki Tun Azmi.
"At S P Setia, we make sure our buyers have the convenience of accessibility when they purchase our projects. Thus, this flyover construction is another milestone for the group," Khor said.
The two flyovers are targeted to be completed by early 2018. S P Setia will also be constructing two additional flyovers at a cost of RM30 million, bringing the total cost to RM72.5 million.
In a weak market, Khor said it is important to look at the long-term prospects instead of narrowing down to the current environment as there will be ups and downs in prices.
"We will work according to the market condition to phase our launches. As for bank loan rejection rates, so far it is still normal within the 20% range" Khor said.
Khor said S P Setia launched the commercial components first as it made sense to develop the land surrounding the train station before proceeding to the residential component.
"With the train station coming in, it will bring in the crowd to the commercial hub. We also want to make sure our resident buyers have the amenities they need such as retail lots and shops for their convenience," Khor added.
The groundbreaking ceremony was witnessed by Sabah Deputy Chief Minister-cum-Minister of Infrastructure Development Tan Sri Joseph Pairin Kitingan. 
— theedgeproperty.com