This article first appeared in City & Country, The Edge Malaysia Weekly, on April 22, 2019 - April 28, 2019.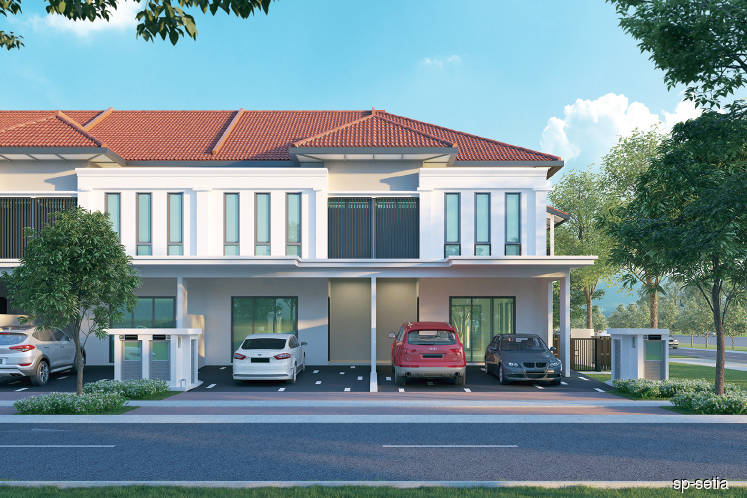 An artist's impression of Aril 2-storey link homes, which have built-ups of 1,770 to 1,960 sq ft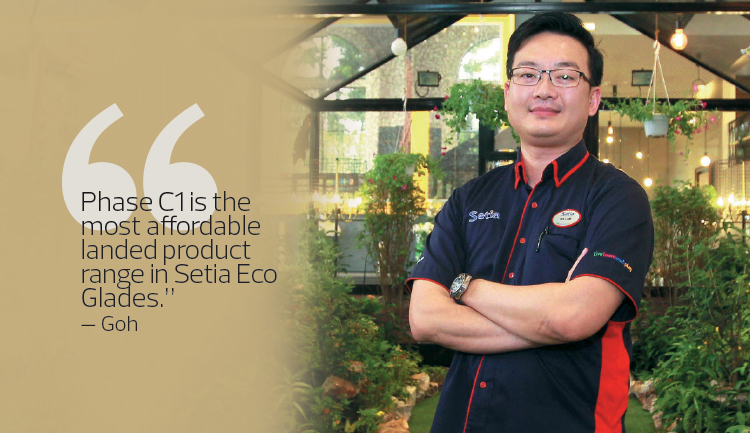 S P Setia Bhd will launch the last landed development on what it terms the Mainland of Setia Eco Glades in Cyberjaya on April 27. A preview was held on April 20 and 21. With a gross development value of RM140 million, Reef of Tropic (Phase C1) will have 152 units of 20ft by 70ft, 2-storey link homes on a gated-and-guarded 11.95-acre site.
The freehold units come in two layout types — Aril, with built-ups of 1,770 to 1,960 sq ft; and Bay, with built-ups of 1,940 sq ft to 2,000 sq ft. The units are priced from RM700,000.
In an exclusive interview with City & Country, Setia Eco Glades Sdn Bhd general manager Goh Tzen Sernz says, "Phase C1 is the most affordable landed product range in Setia Eco Glades, as landed properties in the township are generally above RM1 million. We know that affordability is the biggest issue in the market now and Phase C1 is the last parcel of landed development on the Mainland," says Goh.
Existing developments on the Mainland are Liu Li Garden and Lepironia Garden, which were launched in phases between 2012 and 2014 and are fully sold and handed over.
Setia Eco Glades comprises eight Islands. Charm of Nusantara, Sanctuary of Western Heritage, Sanctuary of Eastern Heritage and Jewels of Grasmere — all landed developments — are fully sold and handed over, while Isle of Kamares, a low-density apartment development, is 80% sold and has been completed.
Another development, Isle of Botanica, which was launched at the end of last year, saw all of its bungalows sold while its semi-detached and link houses are 50% sold.
Phase C1 falls under the Home Ownership Campaign 2019 and buyers are eligible for a waiver of stamp duty on their loan agreement before the end of June. It is targeted to be completed within 36 months of the signing of the sales and purchase agreements.
Offering an open-plan concept, the units will have three bedrooms and three bathrooms. "Owners can easily extend their units to include another room for Aril and two for Bay," notes Goh. The houses, which will have a 20ft back lane, will also come with a spacious porch that can accommodate four cars, he adds.
Phase C1's design and landscape are inspired by modern tropical Sri Lankan architecture. "We will use a lot of palm and coconut trees. Even the guardhouse looks like the main entrance of a resort," Goh remarks.
Just like other properties in Setia Eco Glades, houses in Phase C1 come without front gates and walls. "At Setia Eco Glades, we don't just build houses, we build communities that last forever," says Goh.
Residents will have access to residents-only clubhouse The Hammock Club via landscaped walkways, central nodes and junctions. "We encourage residents to walk to the clubhouse instead of drive to reduce carbon footprint. So we have landscaped the area nicely.
"Also, we will not provide many shower stalls in the clubhouse because we want to encourage residents to go home after their swim," Goh adds.
The Hammock Club will offer basic amenities such as a swimming pool, wading pool, playground, gym and common halls to keep the maintenance costs low. "The monthly maintenance of RM200 at Phase C1 will be subsidised for two years. Thereafter, we will try to keep it below RM300," says Goh.
Phase C1 will also be the first development in Setia Eco Glades to be equipped with smart community apps that allow residents access to e-billing, e-notification and facility booking to reduce paperwork. Goh notes that subsequent developments at Setia Eco Glades will follow suit.
Phase C1 development is targeted at upgraders from the surrounding vicinity. "We noticed a pick-up in demand from upgraders looking for landed homes in Cyberjaya. They are mostly from Puchong and Subang, areas that are congested."
Setia Eco Glades' upcoming developments
Setia Eco Glades is 70% developed, with the remaining components being one commercial, two landed island (Isles of Fantasia and Glades of Westlake) and two condominium developments (Reef of Tropic, Phases C2 and C3).
The developer has plans to launch the commercial component next year. Tentatively, it will comprise 3-storey shop lots on 7.5 acres, with prices starting from RM1.9 million. The shops, suitable for F&B outlets, are scheduled to be completed by 2022.
"We wish to kick-start our commercial component because we think [there is enough population at Setia Eco Glades]. With a high occupancy rate of 70%, I think the commercial development will come up at the right time. It is the only commercial development in the township," says Goh.
"We will also get a grocer to come in," he adds.
Isle of Fantasia and Glades of Westlake, which will comprise superlinks, semidees and bungalows, will be launched in 2020 and 2021 respectively. According to Goh, these premium products will be priced from RM900,000.
The developer does not have plans to launch Phases C2 and C3 due to the current market sentiment, says Goh. "Our focus is on affordable and landed developments now."
With a GDV of RM3 billion, the entire Setia Eco Glades will take eight years to be completed and handed over, says Goh. The township will have 2,400 residential units, of which 1,000 are condominiums. Eight hundred and ten units have been handed over.
The commercial component and condominiums are located next to the 400-acre Cyberjaya Park. According to Goh, the park is the only green lung in Cyberjaya that has a sports club and sports facilities.
"We plan to link future commercial and high-rise components in the township to the park via cycling and jogging paths," says Goh. "We want to encourage future condominium residents to walk rather than drive to the commercial development."
Residents in Setia Eco Glades enjoy connectivity to major highways (such as Putrajaya Link, Expressway Lingkaran Tengah, Maju Expressway, Lebuhraya Damansara–Puchong, South Klang Valley Expressway and B15 Expressway) and amenities including schools and universities (SK Cyberjaya, SMK Cyberjaya, SJK (C) Union Cyberjaya, Sekolah Sri Puteri, Korean School of Malaysia, ELC International School, Kirkby International College, King Henry VIII College, FTMS Global College, Cyberjaya University College of Medical Sciences, Universiti Islam Malaysia, Lim Kok Wing University and Multimedia University), hospitals (Hospital Putrajaya and the upcoming Hospital Cyberjaya), shopping malls (Dpulze Shopping Centre, Tamarind Square and Shaftsbury Square) and recreation (Cyberjaya Community Club and Cyberjaya Lake Gardens).
Goh adds that Hospital Cyberjaya will be operational by 2021 and a new petrol station will be ready by 2Q2020.
Landed properties in the township, according to Goh, will be able to command rental rates of RM2,200 to RM3,000 while semi-furnished apartments at Isles of Kamares can command RM2,500 to RM3,500.