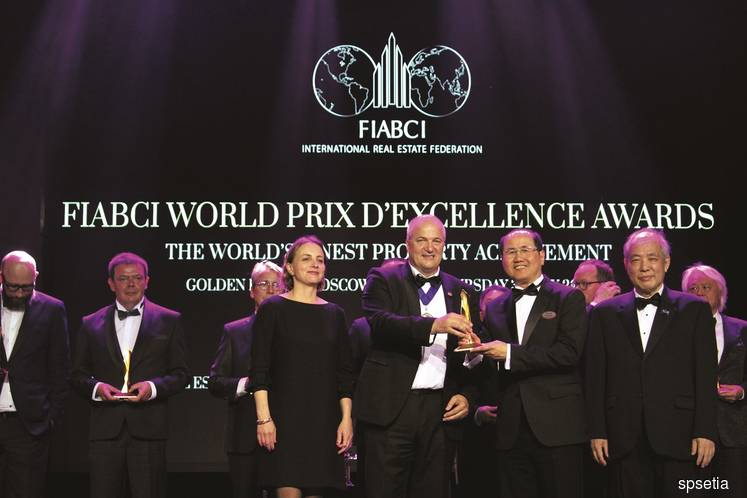 MOSCOW: Malaysia's top property developer S P Setia Bhd hopes to unveil its first development in Japan as soon as this year.
"We have submitted all the plans, hopefully we can get the approval within the year and then we will launch it," S P Setia president and CEO Datuk Khor Chap Jen told reporters in Moscow, Russia the day after S P Setia won three awards at FIABCI World Prix d'Excellence Awards 2019 gala night on May 30.
He said the proposed development in Osaka will be a 4.9-acre integrated development located next to a premium outlet mall and a stone's throw from Kansai International Airport. It has an estimated gross development value of RM1.8 billion.
"We never say no to new markets but we do not venture into new markets just because we want to. We have to look at the resources and see what kind of value the new market can give us. Likewise, what kind of value we can bring to the local market," Khor said.
He added that the group has been observing several potential overseas markets, especially in Indochina. "So far, nothing yet has caught our eyes there. Myanmar, Indonesia and India have potential too but not yet. Sometimes, it is also about the timing," he noted.
S P Setia already has presence in Vietnam, Singapore, Australia, China, and the UK. For the time being, Khor said the group has no plan for any major business expansions in these markets.
"Starting a new oversea market has its own challenges. We need to set up a team there. It involves a lot of ground work because when we go, we must be ready to do long-term business there," he said.
Meanwhile, at the FIABCI World Prix d'Excellence Awards 2019, the developer took home the Gold in the Purpose-Built category for Setia SPICE, Penang.
It also won Silver in the Residential High-rise category for Parque Melbourne,
Australia as well as in the Residential Mid-rise category for Circus West Village at Battersea Power Station, London.
Circus West Village is the first of eight phases in the regeneration project. Completed in 2017, it is now thriving with more than 1,000 residents living in 865 new homes while more than two million people have visited its restaurants, shops, bars and leisure facilities.
Khor said the international recognition is important for the group.
"You get to know where you are in the global market. It is important, because we want to be an international developer. We cannot be running on the spot but ahead by trying to foresee what happens in the market next."
Given the tough market back home in Malaysia, Khor said he is glad that S P Setia does have a particular focus as its developments are in various geographical locations and offer different types of products at different price ranges.
"If there is demand for a certain type of product, we can act quickly because we are not a single product kind of developer," Khor noted.
Moving forward, he believes the property market outlook will depend on external factors, such as the US-China trade war as it may affect market sentiment. — EdgeProp.my
 
This story first appeared in the EdgeProp.my pullout on June 14, 2019. You can access back issues here.
Click here to visit EdgeProp.my for the latest news on all things property