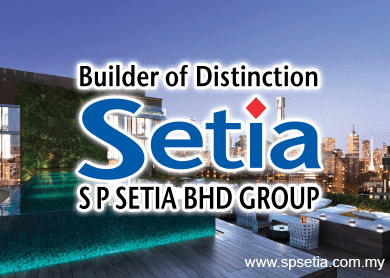 This article first appeared in The Edge Financial Daily, on April 15, 2016.
KUALA LUMPUR: S P Setia Bhd has acquired its fourth piece of land in Melbourne, Australia, which it intends to develop into a high-end residential project with a gross development value (GDV) of A$38 million (RM113.58 million).
In a statement yesterday, S P Setia said the land is located on a highly sought-after site in Prahran purchased for A$10 million. The group has a permit approved for an eight-storey building with 47 apartments, and an office and retail outlets on the ground floor.
"[It] is expected to be a popular high-end boutique project, which will have wide appeal to a broad range of purchasers," said S P Setia.
"Located at 103-105 High Street, this 850-sq m land sits on a prized location between Chapel Street and Greville Street, and is only 4.5km south-east of the Melbourne central business district (CBD).
"Prahran offers truly inner suburban living and is quintessentially Melbourne with a range of public transport, retail amenity, schools and parks, while being a stone's throw from the CBD and major arterials," it added, saying that the site is flanked by nearby expensive and exclusive suburbs.
The latest acquisition follows the one made in November last year, when S P Setia bought a parcel of land in Melbourne for A$6.68 million to be developed into a 48-unit four-level apartment complex with a GDV of A$34 million.
S P Setia made its maiden foray into the Australian property market in 2009, with the purchase of a 0.2ha Fulton Lane site for A$30 million and constructed 778 luxury apartments on the site, with a GDV of A$470 million. It later purchased a 0.9ha site in Parque and is in the midst of constructing 332 units with a GDV of A$247 million. Both projects have been fully sold.
S P Setia's international reach also includes Vietnam, Singapore, China and the United Kingdom.
As of Dec 31, 2015, the group had 27 ongoing projects, with an effective stake of 3,907 acres (1,581ha) in undeveloped land bank remaining and RM70.6 billion in GDV.