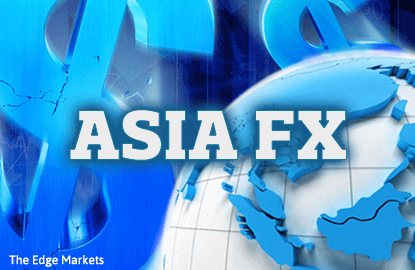 SINGAPORE (March 14): The Indian rupee hit an 11-month high and outperformed other Asian currencies on Tuesday, after Prime Minister Narendra Modi's landslide victory in a key battle ground state bolstered hopes for more reforms.
The victory by Modi's ruling Bharatiya Janata Party in India's most populous state of Uttar Pradesh strengthens his claim to a second term in national elections in 2019, and investors are betting it will embolden the ruling party to embark on more reforms.
The rupee touched a high of 66.16 per U.S. dollar, its strongest level since April 2016, while the broader NSE stock index hit a record high as Indian markets reopened after a public holiday on Monday and reacted to the state election results announced over the weekend.
"The assembly election results in Uttar Pradesh may well mark a key milestone for the Modi government in its bid to step up reforms," Chang Wei Liang, FX strategist for Mizuho Bank wrote in a note.
Most Asian currencies were little changed ahead of the U.S. Federal Reserve's two-day meeting, starting later on Tuesday.
The Fed is widely expected to raise interest rates this week, and one focus is whether Fed policymakers will revise up their interest rate projections for this year in their so-called "dot plot". In the previous projections released in December, the Fed had signalled three interest rate hikes in 2017.
Some analysts are sceptical that the new projections will point to a faster pace of rate hikes this year than what was flagged in December, given uncertainty over the Trump administration's fiscal policies and their impact.
"It's still a bit premature to upgrade their rate hike projections," said Roy Teo, FX strategist for ABN AMRO Bank. 
"I think more likely, what they will do is just to signal that even without Trump policies the economy is doing well." 
There was little reaction in Asian currencies to Chinese economic data, which painted a mixed picture. China's factory output and fixed-asset investment grew more strongly than expected in the first two months of the year, while retail sales disappointed. 
    
Singapore dollar
The Singapore dollar held steady at 1.4145 per U.S. dollar.
ABN AMRO Bank's Teo estimates that the Singapore dollar's nominal effective exchange rate (NEER) has recently been hovering near the mid-point of the central bank's policy band. 
Such moves seem consistent with the prevailing view among analysts that the Monetary Authority of Singapore is likely to keep its monetary policy unchanged at its April policy meeting, Teo said.
Although inflation has been edging higher in Singapore, it makes sense for the central bank to stand pat, rather than tighten policy, given uncertainties such as how U.S. trade policies might affect Asia, Teo said. 
"We just saw some encouraging signs on inflation in Singapore picking up but it's still relatively subdued," Teo added.
CURRENCIES VS U.S. DOLLAR
Change on the day at 0509 GMT
| | | | |
| --- | --- | --- | --- |
| Currency | Latest bid | Previous day | Pct Move |
| Japan yen | 114.84 | 114.87 | +0.03 |
| Sing dlr | 1.4145 | 1.4139 | -0.04 |
| Taiwan dlr | 30.930 | 30.916 | -0.05 |
| Korean won | 1146.20 | 1144.40 | -0.16 |
| Baht | 35.31 | 35.32 | +0.03 |
| Peso | 50.345 | 50.325 | -0.04 |
| Rupiah | 13357 | 13355 | -0.01 |
| Rupee | 66.20 | 66.60 | +0.60 |
| Ringgit | 4.4460 | 4.4450 | -0.02 |
| Yuan | 6.9174 | 6.9165 | -0.01 |
Change so far in 2017
| | | | |
| --- | --- | --- | --- |
| Currency | Latest bid | End prev year | Pct Move |
| Japan yen | 114.84 | 117.07 | +1.94 |
| Sing dlr | 1.4145 | 1.4490 | +2.44 |
| Taiwan dlr | 30.930 | 32.279 | +4.36 |
| Korean won | 1146.20 | 1207.70 | +5.37 |
| Baht | 35.31 | 35.80 | +1.41 |
| Peso | 50.35 | 49.72 | -1.24 |
| Rupiah | 13357 | 13470 | +0.85 |
| Rupee | 66.20 | 67.92 | +2.60 |
| Ringgit | 4.4460 | 4.4845 | +0.87 |
| Yuan | 6.9174 | 6.9467 | +0.42 |