This article first appeared in The Edge Financial Daily, on March 29, 2018.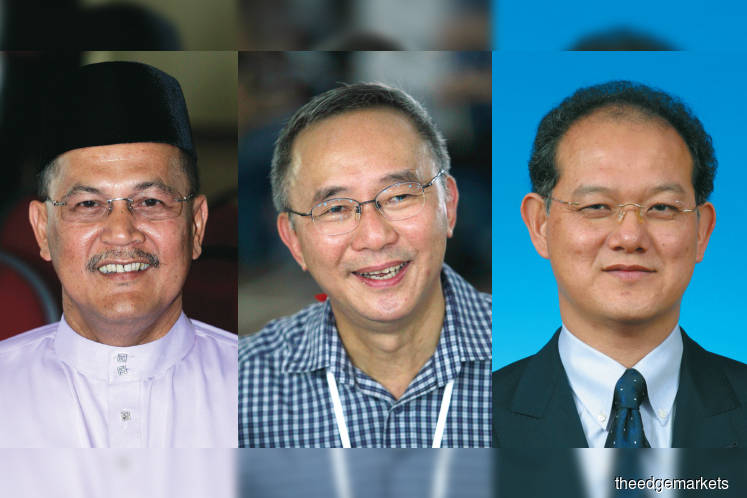 KUALA LUMPUR: Had Datuk Dr Mohd Shafei Abdullah, the Barisan Nasional (BN) candidate for Wangsa Maju, won in the 13th general election (GE13) in 2013, he would have been appointed a minister. At the very least, he would have been a deputy minister.
That was the pre-polls prediction of many in Umno. After all, Mohd Shafei was Prime Minister Datuk Seri Najib Razak's political secretary. And Najib as well as his then deputy Tan Sri Muhyiddin Yassin had campaigned hard for him in the run-up to the 2013 polls.
But that was not to be. Mohd Shafei lost to PKR's Datuk Dr Tan Kee Kwong by 5,511 votes. Nevertheless, he was appointed Uda Holdings Bhd chairman in 2015.
Mohd Shafei wants another shot at the parliamentary seat. That makes writing about the battle for Wangsa Maju in GE14 like writing the same script five years ago.
The scenario in 2013
Back then, the seat was held by Wee Chee Keong, who declared himself an independent member of parliament (MP) after quitting PKR. Wee had won the seat under the PKR ticket in 2008.
But in 2013, he did not seek re-election.
For GE13, PKR had no problem in naming Kee Kwong as its candidate.
However, for BN, there were problems.
To cut a long story short, MCA, which contested Wangsa Maju as BN's choice in 2008, wanted to recontest the seat. And it wanted Datuk Yew Teong Look, who lost to Wee, to be the candidate once again.
But Umno wanted it too, telling MCA it "cannot win Malay-majority Wangsa Maju".
MCA protested, but Umno was adamant that Mohd Shafei would be the BN candidate. Despite MCA's protest and the party even boycotted the BN campaign, Mohd Shafei was BN's choice.
The current situation
Now in the run-up to GE14, MCA has made the same demand. Datuk Seri Liow Tiong Lai, the party president, has said that his party will contest Wangsa Maju. To MCA, there is no question about it and Yew is MCA's choice despite being aware that Umno, at the very least Umno Wangsa Maju, wants Mohd Shafei to be the BN candidate once again.
Mohd Shafie has clearly been acting the role of a candidate. Huge posters of him and billboards of a caring Mohd Shafei with the rakyat can been seen in many locations in the constituency. In fact, the billboards were erected months ago.
In short, Mohd Shafei had wanted a rematch as soon as his defeat was announced.
And of late, he has stepped up his activities with the rakyat and what looks like his operation centre has sprung up in Wangsa Maju.
After all the preparations, it is not likely that Mohd Shafei or Umno will back off at this juncture.
So, will this see another round of an MCA-Umno feud? Will it be as bitter as the one in 2013? Or will MCA this time give way to Umno to contest again?
Bear in mind that when Yew and his supporters in the party kicked up a fuss back then, it was said that he had the backing of his party leadership. Still he missed the boat.
Yew and Mohd Shafei have not responded to queries from The Edge Financial Daily.
Background
The Wangsa Maju constituency was created in 1994. In the country's GE9 and GE10 in 1995 and 1999 respectively, BN was represented by Umno. The coalition won both times.
In GE11, MCA was given the trust to represent BN. Its candidate was none other than Yew and the MCA man won.
But in GE12 in 2008, Yew lost as said earlier in this article.
Ironically, when it failed to contest in 2013, MCA believed or was led to believe it had merely loaned the candidacy to Umno.
Hence, we have this issue at hand.
The incumbent
PKR seems to be ready to field the affable Kee Kwong to defend his seat. But some party insiders have said PKR treasurer Datin Paduka Dr Tan Yew Kew could be their Wangsa Maju candidate this time — citing the current MP's health issue which he suffered some time ago.
Also, Yee Kew is "showing interest" in the position.
Still, Kee Kwong is seen as the favoured candidate.
"I have served the rakyat well. My health is good and I am ready to defend my seat in Wangsa Maju," said Kee Kwong, who is the son of the well-known "Mr Opposition" of the 1960s and 1970s, Tan Sri Dr Tan Chee Koon.
Malay voters
There's a strong possibility that Wangsa Maju will see a three-cornered fight involving Pakatan Harapan via PKR, BN represented by Umno, and PAS.
An additional factor is that in the re-delineation exercise tabled before Parliament yesterday, voters in surrounding Malay areas like Kampong Padang Balang and Kampong Changkat, which are currently in the Batu constituency, will vote in Wangsa Maju instead.
That could very well see an additional 10,000 Malay voters in the constituency.
Kee Kwong is not worried though because "Wangsa Maju is not about race or racial politics". He went on to say that "if race was an issue, Shafei would have won [in GE13]".
Come to think of it, when MCA's Yew won in 2004, he defeated a PKR candidate who is, yes, a Malay.
Despite PKR and in particular Kee Kwong's confidence, there is a haunting problem — that of "phantom voters".
PKR is saying it has proof of 1,609 "phantom voters that have been newly registered or transferred to Wangsa Maju".
They are said to be part of a larger number of 4,804 new voters — by registration or transfer — in the area which PKR says could significantly impact the voting in four polling districts in Wangsa Maju.
A report have been lodged with the Election Commission (EC) to address the issue.
The EC on its part has left it to the police to take the necessary action as the allegation of suspicious voter registration makes it a criminal offence under the Penal Code and the National Registration Act 1959.
At the time of writing, there had been no report of any developments in the investigation.
Click / Tap image to enlarge