This article first appeared in The Edge Financial Daily, on March 19, 2018.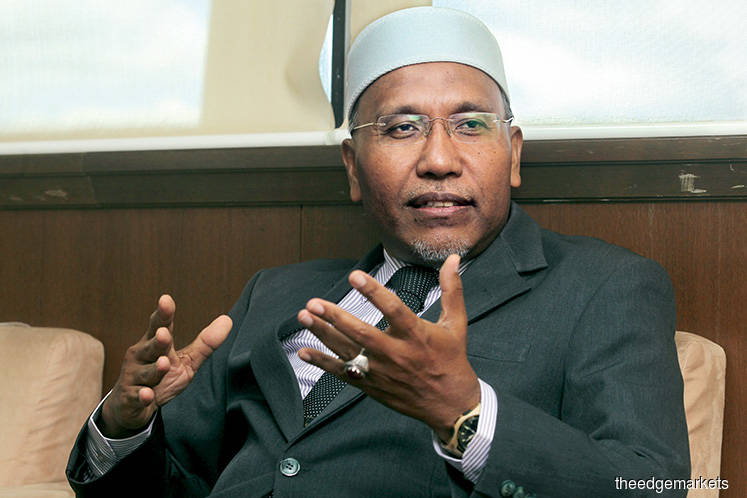 The Edge: Why did PAS split up with Pakatan Rakyat in the first place?
Idris Ahmad: It was not a decision based on emotion. We had a condition, which is we will not sacrifice the Islamic aspects of our agenda. If this is prohibited, we will retaliate. That much is clear.
It took a year for the Syura council to study the situation … initially we wanted to repair the relationship. But it was so obvious, to the point that RUU355 [Syariah Courts (Criminal Jurisdiction) Act] was opposed. This is not even a full, comprehensive hudud law in the way Kelantan wants.
And it does not affect non-Muslims. It is under the same syariah courts, the same judges, the same prosecutors … Why is there such over-reaction, such anger? To me, we are lucky to already have the syariah courts. If we wanted to form them only today, I can confirm that it would be challenged to the bitter end. To us [the attacks on RUU355] are a bit extreme.
In 2004, PAS won only seven seats.
The environment is different now. I went to a gathering in Sri Gading, Johor, last week, which attracted some 10,000 people, 80% of whom were youths. This is the future of PAS.
Our weakness is in explaining to non-Muslims our context in their native languages, for example. But now we have published a Mandarin language edition of Harakah Daily, there has been some movement among the Chinese community.
We admit that we have enjoyed support from non-Muslims. But we also need to consider that some Muslims did not support us in the past because of our ties with DAP. Others are trying to play on sentiments.
People say PAS will split PH votes. Are you comfortable with that notion?
In the beginning, PH and Amanah claimed that we wanted to give [Datuk Seri] Najib [Razak] a lifeline when we expect to win just 40 seats. Suddenly, Rafizi said [in July 2017] that PH had identified 50 seats. Why were they not accused of the same? You cannot rule with 50 seats either.
It is okay for DAP, even if it is not in PH. It can stand on its own. Others will need more support. DAP may get 50 to 55 seats in Chinese-majority constituencies. But it will be hard elsewhere, which is why they hope to sit in the same camp with [PPBM chairman] Tun [Dr] Mahathir [Mohamad], simply as a stepping stone to take control.
Does that mean PAS is not seeing Amanah and PPBM as factors that will steal PAS votes?
They are no threat to us. If they were to steal votes, they would be stealing from Umno. Have a look at how PAS voters are — when the first PAS president (Ahmad Fuad Hassan) exited, we survived. PAS vice-president (Mahfuz Omar), PAS secretary-general, these are big names [who left the party].
[Former PAS president] Datuk Asri Muda, who does not know him? People described PAS as Parti Asri Sekeluarga (Asri and Family Party). When he exited the party, he could only take along about 13 people.
If you betray the party, no one will follow. It comes naturally. Other parties, if you don't hold a ministerial position, no one will take notice of you. I pity [a certain Tan Sri].
When PPBM is associated with DAP, it gives a certain impression to the Malays. They can still garner votes in Malay-majority seats, but not enough to achieve victory. It is different from what was seen during the times of Datuk Seri Anwar Ibrahim's 'Reformasi'.
One would assume for PAS, politics and religion is one and the same. How is PAS going to share this perspective with non-Muslim voters?
We have our strengths. We have professionals with us. Give us a chance and give us a bit of space to discuss.
In 2015, after Amanah was formed, I gave a keynote address at a gathering. There were some 800 medical doctors whose lives PAS had touched from their school days. They wanted to show that they are still with PAS.
We have been in Kelantan for 28 years, there have no corruption investigations into our executive councillors nor our menteris besar. This is our track record. No bungalows, no land scandals, no sand scandals.
We will not protect any executive councillors or ministers from our side who are involved in cases like this. If you want to strike it rich, obtain material gains, corruption ... not in PAS.
Look at the house of Tuan Guru Abdul Hadi Awang, who was once  the menteri besar [of Terengganu]. Look at [ex-MB of Kedah] Azizan Abdul Razak's house. Even though they ruled for only five years, they had a clean record.
Some say PAS cannot lead, based on its track record of managing Kelantan's economy.
We need to remember, governance is real work. The exco will change. Ministers change, but the work continues. You can evaluate the economic growth in Kelantan. It is at a good level. And please do not compare with states like Selangor or Pulau Pinang. Whoever rules Kelantan, its economy cannot incline towards heavy industries.
We have our weaknesses. But the argument that a spiritual leader cannot govern — look at [former Perak MB] Nizar, he is not a spiritual leader. He, too, fell with [much] criticism in Perak.
When Hadi was Terengganu menteri besar from 1999 to 2004, we repealed assessment tax, tolls … When Umno took over, the taxes were re-introduced. We approved 60,000 lots of temporary occupation licence (TOL) land at the time. Umno took them back. The rakyat remembers.
[The late] Nik Aziz advocated for Kelantan to not have the element of usury in loans. When we were preaching about it, others argued that the system we proposed was not competitive against conventional systems. But we managed to do it in Kelantan, and then the federal government followed.
Will PAS cooperate with others, such as Azmin Ali, in Selangor? Or with Umno in Kelantan?
As of now, there is no cooperation. We have readied all our representatives. It is the same in Kelantan. We do not agree with Umno's struggle. If our grassroots cannot accept it, why would the leaders feel otherwise?
But PAS has the intention of becoming a kingmaker?
Our utmost intention is to rule. That is why we will launch our manifesto. We will make our offer on the 18th [of March]. But speaking about being a kingmaker, it is more about the need for us to have the strength to address the government of today or tomorrow. — The Edge Malaysia