This article first appeared in The Edge Malaysia Weekly, on April 9, 2018 - April 15, 2018.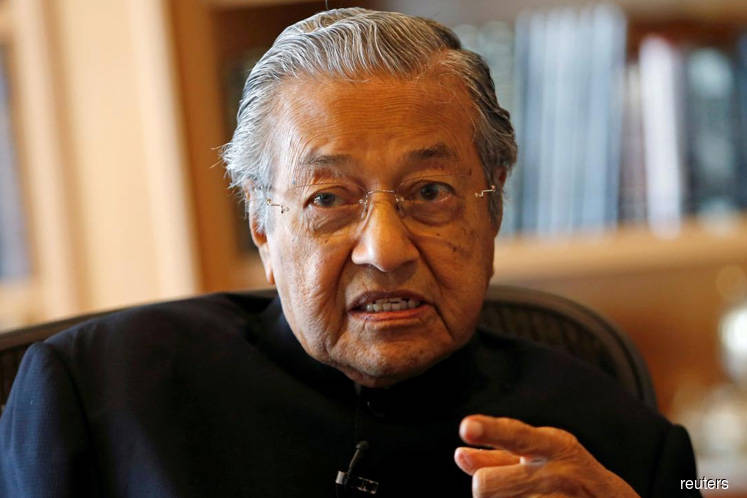 ON the foothills of Kedah Peak (Gunung Jerai), tractors till the still smouldering rice fields that have been torched by farmers to clear the land of pests before another season of padi planting.
It is a scene that is familiar to the folk in the idyllic coastal town of Yan Besar that rests in the shade of the mountain.
On a recent Saturday, when The Edge was there, there was an unusual bustle in the air. The traffic on an otherwise humdrum day was busy as cars manoeuvred in and out of narrow lanes. Gift-laden children strolled on the streets with their parents, laughing and singing, lending an air of gaiety to the balmy afternoon.
Just around the corner was a day-long event, Program Kan Syokk!, organised by Lembaga Tabung Haji at the Pantai Murni beach. It was opened by Minister in the Prime Minister's Department and Jerai MP Datuk Seri Jamil Khir Baharom. The event featured local artistes like Wak Doyok, Elfira Loy and Izzue Islam along with a colouring contest for kids, talks by Muslim clergymen, a fishing competition, aerobics session and free food.
"This is the second time in two weeks we are seeing events like this here," said Ida, a nasi campur stall operator. "Celebrities whom we only see on television come to perform and take selfies with us. It is good once in a while as it excites the town, and we get to earn extra," she said.
Ida, who is in her thirties, is well aware that the events are being held because of the impending general election.
"The Yan constituency is an Umno stronghold. It has been for a very long time but now it is a grey area as almost half the villagers have shifted their support to Tun Dr Mahathir Mohamad's party," she said, referring to Parti Pribumi Bersatu Malaysia, of which the former prime minister is chairman.
(Last Thursday, the party was provisionally deregistered for failing to submit minutes of branch and divisional meetings as required by the Registrar of Societies. It was given 30 days to comply with the order.)
Ida said the tide has reached her family too because life is not as easy as before with rising costs and lower income. Also, support for PAS, the Islamic party, had declined over its leaders' conflicting political views.
"It is very obvious now as people are struggling to make ends meet. My family has a business and we can manage in current times but what about the poorer villagers? Many are either fishermen or padi farmers, and have many mouths to feed. It is difficult," she added.
Stakes are high
The largely rural state of Kedah has been under Barisan Nasional (BN) for most of the time since independence.
Its run was broken in the 12th general election in 2008, when the opposition rode a wave of popular support to wrest five states, including Kedah. The opposition parties led by PAS formed the state government with 22 seats in the 36-member legislative assembly. PAS won 16, PKR four and DAP one seat, coming together as the Pakatan Rakyat coalition, while an independent held one seat.
The state fell back to BN in 2013 after voters became somewhat disenchanted with the PAS administration that was seen to have brought little economic development to the state. Its Ladang Rakyat rubber and oil palm plantation programme, which was linked to reports of serious deforestation, did not help its image.
The stakes are high this time. With muted economic growth as large industries have opted to site their operations elsewhere, more and more Kedahans have sought jobs in neighbouring Penang or further south.
While the opposition parties forming the Pakatan Harapan (PH) coalition hope to tap into this sentiment, they face a hurdle due to its unregistered status. The coalition has been told by the RoS that it cannot process its application because PPBM had not yet provided the information it is required to present to the Registrar.
The influence of PPBM chairman Dr Mahathir, who was the prime minister for 22 years, is evident among Kedahans, particularly those in their mid-thirties and above.
Mahathir is from Kedah, and was the MP for Kubang Pasu for 30 years. Many older voters remember his medical practice in Alor Setar.
Overall, respect for the elder statesman stems from his time as PM when he ensured Kedah's transformation from a mostly agricultural state to being industrialised.
On the fringes of the capital city Alor Setar lies the state constituency of Anak Bukit which has a majority Malay voter base. Most of the people are padi farmers, while some run small businesses or are civil servants.
Bread-and-butter issues
"Bread-and-butter issues are what affects them, made worse after the 6% Goods and Services Tax (GST) was introduced. These are regular people who face daily the rising cost of living and petrol prices. Of course, they want a change if there is a choice. A lot of people feel this way," said four-term assemblyman Datuk Amiruddin Hamzah.
He feels that the opposition would easily garner more votes in Umno strongholds in GE14, particularly those that Umno won by some 1,000 votes.
However, he is worried that youths, disgruntled with the political scene, might not want to vote.
"The Mahathir factor is huge in Kedah. Even his son Datuk Seri Mukhriz has got a following. He was a well-liked menteri besar because of his calm demeanour and polished personality but the youths aren't aware of Mahathir's accomplishments. They feel life is the same regardless of a change in government. This is the group we have to pay more attention to," said Amiruddin, who joined PPBM in December.
He believes the opposition will attract Umno supporters unhappy with problems at 1Malaysia Development Bhd (1MDB) state investment fund and FELDA.
Amiruddin added that although villagers may not know the full details of these issues, they understand that federal funds are scarcer because they suffer the brunt of it.
"For example, prescriptions at the hospital have been cut after a reduction in health subsidies. They have to go to hospital more frequently to get their medicine and that means paying more for taxi fare," he said.
Malay villagers are often known for their party allegiance, which at times divides attendance at communal events, but a lot of that has somewhat faded since Mahathir returned to the scene.
Villagers from opposing sides openly shake hands with party leaders who visit their village, with some sharing their thoughts on the current affairs.
"These days, many don't even whisper. Even my PAS-devoted relatives have become outspoken over their choice of leaders, and the thorny issues affecting all of us," said Ida.
Development plan
In 2013, 36 seats were contested in mostly two-cornered fights, and a handful of three-cornered fights that included independents. BN swept 58.33% or 21 seats (Umno took 19 and MCA, two) while PAS won nine seats, PKR got four, and DAP picked up two).
To retain the BN's showing, if not improve it this year, Prime Minister Datuk Seri Najib Razak launched the Kedah Strategic Development Plan (2019 to 2035) on March 3, promising to transform the state, starting with the upgrading of the Sultan Abdul Halim Airport in Kepala Batas.
"We are confident of winning. Everything is in order now," said Pendang Umno women's division head Datuk Suraya Yaacob, who is also the state exco for women's development, agro-based and agriculture, entrepreneur development and community welfare.
She contends that there is widespread reverence for Mahathir but they do not want him back as the prime minister.
"In Kedah, we have always had to deal with the opposition. It is not unique to us but there is Mahathir now. A lot of people like him but they don't want him to be the prime minister again.
"In any case, we do not feel threatened by PPBM. The threat is coming from PAS. We know who are in the opposition camp but live in the one community," she added.
In the upcoming election, PPBM wants to take on Umno in 14 seats, and now has to contest under the banner of a friendly party.
Of the other coalition members, PKR will contest 10 seats, Parti Amanah Negara will take 10, and DAP, two. For parliamentary seats, PPBM and PKR will each go for six, while Amanah will contest three.
"We consider most seats marginal based on the groundswell happening right now," said Amiruddin. "To say 2,500 is a big majority ... it is not anymore, given the rumblings at the grassroots level. I would say that if the (defunct) Pakatan Rakyat seats in the last GE were won by 1,000 votes, the chances of keeping those seats are very high. On the other hand, if BN won a seat by a handsome 1,000 votes, it is going to be risky for them," he said.
By his calculation, PPBM candidates would be able to wrest 9 to 10 seats from BN and a few more from PAS.
"Everywhere we go, even in the hinterland like Sik, Padang Terap and Baling, people are complaining about the cost of living, whether it is the traders or consumers. They can't wait for a change in the government, so they tell us," said Amiruddin, a PAS member for 18 years before being booted out for his reportedly modernist ideology.
Three-term Pokok Sena MP Datuk Mahfuz Omar, who joined Amanah last month, said hardcore supporters of PAS account for only about 15% to 20% of its voters, down from 43% to 45% in recent years.
"These voters will vote for PAS no matter what but we are aware that a huge number have lost faith in the leadership after PAS started working with Umno [on the hudud issue]. This was clearly against our principle in the past but it changed when president (Datuk Seri Abdul Hadi Awang) took over," said Mahfuz, who was with PAS for 34 years.
Hence, in this general election, he is sure that PAS, which had fanned the flames of sentiment against the DAP, calling it a Chinese-based party, will tell its supporters that Pakatan Harapan is a conduit for DAP to gain power.
Unperturbed by the challenges, Kedah PAS commissioner Ahmad Fakhruddin Syeikh Fakhrurazi said the party's strength in the state has never been stronger, particularly after Pakatan Rakyat was "buried by DAP and its allies".
"This election, the fight is going to be powerful with the emergence of Amanah and PPBM. Personally, I feel our manifesto to restructure toll rates, abolish GST and focus on low-income groups and youths is more realistic than Pakatan Harapan's," said Fakhruddin.
PAS and its allies in Gagasan Sejahtera are going all out to contest 36 seats and are expected to introduce one or two non-Muslim candidates, who are members of Dewan Himpunan Penyokong PAS, in mixed seats.
"Our supporters are clever enough to overlook the ongoing psy-war against us that paints us in a bad light. That strategy is becoming blunt and stale. We are not worried about the presence of new parties. In fact, we are more energised and believe a green tsunami will take place in Kedah," he added.
At Pasar Besar Alor Setar, Mukhriz, in a T-shirt with the word harapan (hope) written on it in capital letters and red PPBM cap, with his name embroided on the side, met traders and customers during The Edge's visit.
He listened attentively in between selfies and handshakes. Speaking to reporters later, he said the market has water problems and a broken toilet, and that traders need to pay for their own electricity.
"There is no political will to help them. The money that is allocated for these types of work is channelled elsewhere. I know (as) I used to be in BN but now, we are asking that we be given a chance to change things," he said.
Back in Yan Besar, the sun is setting on the horizon. The tractors have stopped ploughing for the day but the smoke from the fields continues to permeate the air, signalling a new season of growth that is about to begin.
Save by subscribing to us for your print and/or digital copy.
P/S: The Edge is also available on Apple's AppStore and Androids' Google Play.