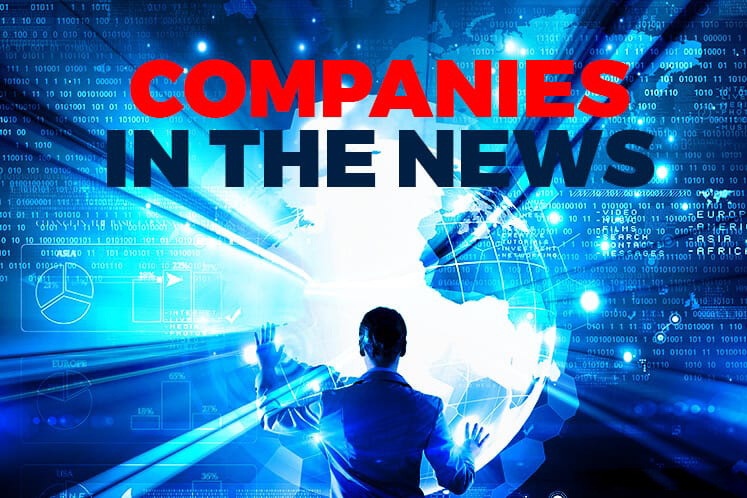 KUALA LUMPUR (Aug 12): Based on corporate announcements and newsflow today, stocks that may be in focus on Thursday (Aug 13) include: Rubberex Corporation (M) Bhd, Muda Holdings Bhd, Green Packet Bhd, Ni Hsin Resources Bhd, Solarvest Holdings Bhd, Teo Seng Capital Bhd and Bertam Alliance Bhd.
Rubberex Corporation (M) Bhd has signed a distribution agreement with a unit of Titijaya Land Bhd to export gloves, personal protection equipment and medical products to China.
The glove maker said it aims to distribute and export the products to the China market via Sinopharm Medical Equipment QuanZhou Co Ltd.
It said if necessary, a special purpose corporate vehicle will be incorporated.
Muda Holdings Bhd said its wholly-owned unit Federal Packages Sdn Bhd (FPSB) has acquired a 60% stake in a corrugated cartons and boards manufacturer for RM15 million.
FPSB acquired the 60% stake in Perak-based Quantum Total Packages Sdn Bhd (QT) from Lee Too Keat and Yu Shan Nee. Post-acquisition, Lee and Yu will see their stake in QT reduced to 40% from 100%.
It said the acquisition will facilitate Muda group's aspiration to further expand its corrugated carton industry and to increase consumption of the group's industrial grade paper.
Green Packet Bhd has proposed a private placement to raise between RM62.51 million and RM98.94 million to fund its cloud business.
Green Packet said the indicative issue price for the shares is 52 sen apiece, representing a discount of 9.12% to its five-day volume weighted average price of 57 sen.
It said it will use RM2.54 million as working capital for the cloud business.
A balance of anywhere between RM59.78 million and RM96.21 million will be used to acquire IT infrastructure like servers and network equipment in the next two years.
Ni Hsin Resources Bhd has announced a collaboration with Fiatec Biosystem Sdn Bhd to develop health and bioenergy products for its new food and beverage (F&B) business.
Its wholly-owned unit Ni Hsin Food & Beverages Sdn Bhd (NHSB) signed a two-year agreement today with Fiatec, which is engaged in innovating and developing health food and technology and providing customised health food solution.
Ni Hsin earlier announced on July 17 that it is venturing into the F&B segment to mitigate the risk of over-dependence on its existing core manufacturing businesses. The new segment is expected to start generating revenue for Ni Hsin from 1Q21 onwards.
Solarvest Holdings Bhd's subsidiary Solarvest Asset Management Sdn Bhd (SAMSB) has obtained a two-year moneylender licence from the Ministry of Housing and Local Government (KPKT).
Solarvest said the licence allows SAMSB to undertake moneylending services in relation to solar panel leasing and other related activities.
The two-year licence is effective from Aug 6 and is renewable upon the submission of an application to KPKT.
Teo Seng Capital Bhd's net profit fell 37.41% to RM3.18 million for the second quarter ended June 30, 2020 from RM5.08 million a year ago, though revenue held steady, no thanks to an increase in feed cost due to a weaker ringgit, lower egg sales and lower contribution from animal health products as demand eased.
The group's quarterly revenue came in at RM120.75 million versus RM121.25 million previously.
The weaker quarterly earnings dragged the group's first-half net profit down by 81.28% to RM5.09 million, from RM27.17 million in the corresponding period last year, while revenue dropped 12.89% to RM236.73 million from RM271.76 million.
Bertam Alliance Bhd has bagged a contract worth RM22.9 million for the provision of maintenance and replacement of water tanks services in Sabah.
Its unit Bertam Development Sdn Bhd accepted the letter of award today from Teamcons Resources Sdn Bhd, the Practice Note 17 company said.
The contract is to be provided in six locations in Sabah, namely Kota Kinabalu, Kudat, Kota Belud, Sandakan, Lahad Datu and Tawau.
The contract is expected to commence one week from today and be completed on Dec 20, 2021.