This article first appeared in The Edge Malaysia Weekly, on August 12, 2019 - August 18, 2019.
Click / Tap image to enlarge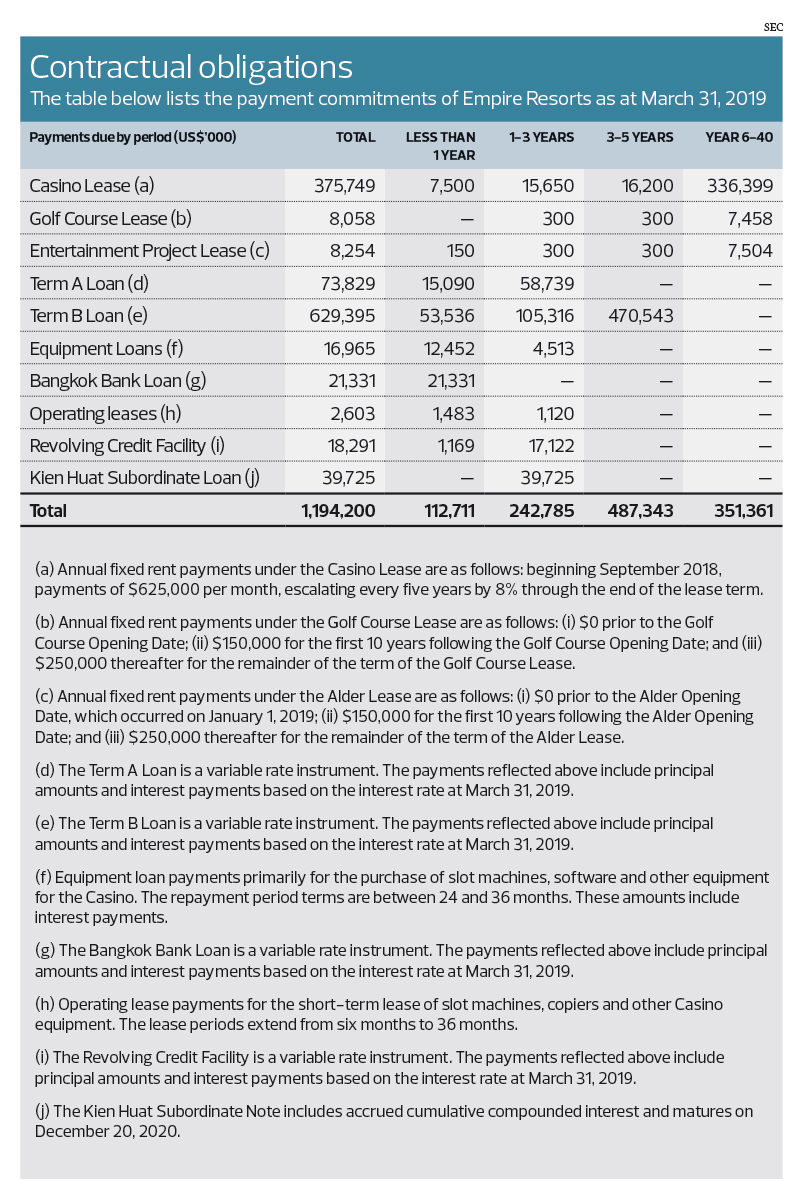 THERE is a feeling of déjà vu at Genting Group.
It plans to spend a substantial amount of cash on buying an asset belonging to Kien Huat Realty III Ltd through Genting Malaysia Bhd (GenM). Kien Huat is linked to the founding Lim family.
This related-party transaction (RPT) will see GenM spending US$128.6 million (RM539 million) on acquiring a 46% stake in loss-making New York casino operator Empire Resorts Inc, which is listed on the Nasdaq.
GenM and Kien Huat will also offer to acquire the remaining shares not held by them at US$9.74 apiece.
A joint venture between GenM and Kien Huat will then be formed to hold the stake in Empire Resorts — a company that has been posting net losses since 2015.
Kien Huat currently owns 84% of Empire Resorts' common stock.
The shock move wiped out RM2.55 billion of GenM's market capitalisation on the day after the announcement. Although the stock subsequently bounced back, there was no doubt that the minority shareholders were unhappy.
This is the third RPT by GenM in about 11 years and some analysts have downgraded the counter.
What benefit does the group see in RPTs? They are often viewed negatively by the investing community, which believes that they do not promote good corporate governance.
GenM declined to comment on this when contacted.
Some industry observers are wondering why the company is buying only a 46% stake in Empire Resorts and not the entire stake held by Kien Huat.
GenM declined to answer questions on this as well.
Perhaps this is to avoid having to call for an extraordinary general meeting to get shareholders' approval for the purchase, say some observers, who include analysts and bankers.
"For an RPT, the ratio prescribed by the listing rules is 5%. In this instance, the transaction is below the 5% ratio threshold that would trigger an EGM (extraordinary general meeting) to obtain approval from shareholders," says an investment banker.
Some observers fear that GenM will buy more shares in Empire Resorts in the future.
Past RPTs
In 2008, GenM's share price fell 17% following an announcement of the purchase of Walker Digital Gaming for US$69 million from the Lim family. Then, in 2010, a proposal to acquire the UK operations of Genting Singapore for £340 million caused the stock to fall 10%.
GenM recognised an impairment loss of RM48.6 million on its investment in Walker Digital in FY2009, just a year after the group bought the company in 2009.
The group then recognised another impairment loss of RM108 million, being the excess of the carrying value over the recoverable amount, charged to the profit or loss in FY2010. This means GenM recognised a total impairment loss of RM156.6 million in the two years after acquiring Walker Digital.
It is unclear if Walker Digital ever contributed to GenM's earnings as there has not been any mention of it in the latter's annual reports from FY2012 onwards.
A look at Empire Resorts' numbers
Empire Resorts owns and operates Resorts World Catskills (RWC), a casino resort located on a 1,700-acre site in New York.
In FY2018, Empire Resorts suffered a loss of US$138 million, mainly due to the high start-up expenses incurred in the commencement of RWC. It also posted losses of US$25 million to US$46 million in the preceding three years.
Empire Resorts' losses expanded to US$37.6 million in the first three months of this year from US$26.3 million in the previous corresponding period.
In 1Q2019, gaming revenue was up 56% year on year to US$44.6 million while gaming expenses grew 65.6% to US$35.3 million. Meanwhile, racing revenue was down 7.4% to US$1.2 million and racing expenses were up 28.6% to US$2.2 million.
Empire Resorts had US$1.2 billion of total payment commitments as at March 31, of which US$112.7 million will be due in less than a year, US$242.8 million in one to three years, US$487.3 million in three to five years and US$351.4 million in 6 to 40 years.
In its list of payments due, there is a Kien Huat subordinate loan of US$39.7 million that will mature on Dec 20 next year.
For 1QFY2019, Empire Resorts' interest expense jumped 620.7% to US$17.3 million from a year earlier.
"If Empire Resorts restructures its loans to bring down the interest expense, it will save a lot. Gaming revenues are up and it has also just introduced sports betting — that could help the company turn around," says an analyst who covers the stock.
"All the previous GenM RPTs — Walker Digital and the UK business — have seen the company selling out completely … this is the first time that it wants to privatise something. It's strange … does it see something that we don't?" he asks.
GenM said the deal to acquire a stake in Empire Resorts will "better position the Resorts World brand in the northeastern US gaming market through more effective cross-marketing with Resorts World Casino New York City".
The company added that there will also be "revenue and cost synergies" from the arrangement, and the deal will allow GenM to participate in Empire Resorts' future growth opportunities in the Orange County Opportunity.
Investors generally dislike RPTs, more so in the case of GenM considering that it has a poor track record in such transactions.
Will the current RPT to acquire a stake in Empire Resorts be any different?