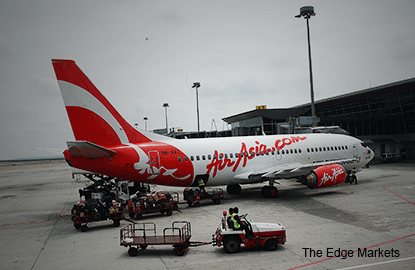 KUALA LUMPUR (Sept 5): AirAsia Group has promoted AirAsia Bhd's chief financial officer (CFO) Rozman Omar as group deputy chief executive officer (CEO), reporting to founder and incumbent CEO Tan Sri Tony Fernandes.
In a filing with Bursa Malaysia, AirAsia said Rozman will be succeeded by Pattra Boosarawongse, who is the CFO of Thai AirAsia Co Ltd (TAA).
Both of the changes took effect on Sept 1.
In his new role, AirAsia said Rozman will continue to oversee the group's finance, treasury & investment and financial planning and strategy. The group's legal department will also be reporting to Rozman.
Rozman had assisted AirAsia executive chairman Datuk Kamarudin Meranun and Fernandes on finance matters including financial planning and modelling and undertook due diligence work in evaluating the prospectives before they decided on acquiring AirAsia Sdn Bhd from DRB-Hicom Bhd in 2001.
Rozman was a member of the steering group that worked on the initial public offering and listing of AirAsia in 2004. At the same time, he also worked on the setting up of TAA joint venture and the acquisition of PT Awair International (now known as PT Indonesia AirAsia or IAA), both in 2004.
After the listing of AirAsia, Rozman took up the full-time position of IAA's CFO based in Jakarta. Rozman was later called back to AirAsia in 2006 to serve as its group CFO.
Boosarawongse, on the other hand, joined the AirAsia Group in March 2014 as CFO of TAA.
She started her career as senior auditor at Ernst & Young, Certified Public Accountants. She later joined Sony Music as financial controller and rose to become its finance director.
AirAsia fell six sen or 2.04% to RM2.88 today, valuing the low-cost carrier at RM7.99 billion.
Year to date, the counter has more than doubled from RM1.34 on Dec 31 last year.