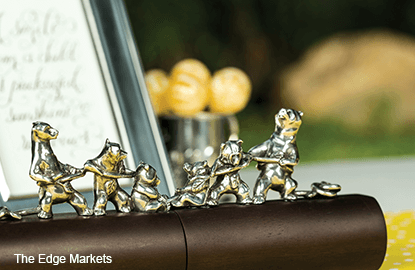 This article first appeared in The Edge Financial Daily, on January 21, 2016.
The two moments in life that the vast majority of humanity would describe as the most important ones in their lives are the day they got married and the day a child of theirs was born. Every minute of every day, millions of people around the world—whether in barren desert wastelands, in rural towns flanked by miles of rolling hills or in the middle of a sprawling city filled with skyscrapers—celebrate the joy of new beginnings. 
Inspired by these moments cherished by all, Royal Selangor brings you a collection drawn from an array of artistic influences to pay tribute to weddings and the arrival of new family members. Evoking the romance of fairytale weddings is Promessa, "promise" in Italian. The gentle feminine curves of floral motifs found on the lace bodice and trims of flowing bridal dresses are beautifully recreated in pewter — imbuing the collection with a subtle elegance. This wedding dress-inspired collection take on a contemporary look in the wedding-themed range which encompasses a photo frame, ring box, cake knife, cake server, document holder, photo album and champagne flutes — perfect gifts for a couple who are about to embark on an exciting new chapter in life. 
The succinctly named So collection celebrates a relaxed approach to urban living — one that gives prominence to the our modern lifestyle. The designs are kept simple, reflecting a minimalist sensibility. The distinctive feature of this collection are sleek curves and fine craftsmanship on a tray, tumbler, salt and pepper shakers and two lidded containers. Continuing the wedding theme, items in the So collection are indispensable additions to a household of newlyweds — owing to their versatility, they function equally well as decorative objects or storage spaces for necessities in the home or office. 
Wonderyears, on the other hand, takes us all back to the days when we were carefree and innocent — evoking memories that range from children's games and children's stories to nursery rhymes and much beloved characters such as Humpty Dumpty. This collection combines the malleability of pewter with the whimsical imagination of a child. The Mooo Light lamp is a nod to the imaginary world behind "Hey, Diddle, Diddle". It features a cow leaping over the full moon, supported by a base depicting other characters such as the cat playing the fiddle and the dish running away with the spoon. 
Wonderyears also puts a spin on the kid-friendly advice of counting sheep to sleep. Featuring a pair of sheep jumping over the proverbial fence, this coin box gives a little one the thrill of inserting coins into a storage box via strategically placed slots. Showcasing a spoon, mug, egg cup and toast holder, musical carousel, document holder, coin box, crib medallion and lamp, Wonderyears celebrates the special moments of our childhood. 
Finally, Crystalline employs refined, faceted geometry to evoke a modern elegance. Angular shapes, polished surfaces and bold lines catch and reflect light to create a dazzling tabletop display. Designed by Jarrod Lim, a graduate from RMIT University who has worked for design houses such as the studio of Patricia Urquiola in Milan and the furniture brand SCP in London, Crystalline brings forth a timeless, understated glamour. Lim's works have been featured in exhibitions throughout Europe, the United States, Asia and Australia, and he has won many awards for his designs, including the Pinnacle Award USA, the A&D Trophy Award and the Young Designer of the Year, Australia. 
Crystalline showcases Lim's contemplation of the reflective quality of crystal, which reflects a dazzling array of light when cut into angled surfaces. His vision to transfer the properties of crystal onto another medium led to his collaboration with Royal Selangor. The appeal of crystal-like structures and surfaces are given a unique spin in Crystalline. Highly polished pewter is juxtaposed with the warmth of natural black-walnut wood, providing a delightful contrast while at the same time protecting the underlying surface from scratches. This collection consists of a pair of tea lights, salt and pepper shakers, candle stands, a jug, a bud vase and candelabra. 
The full range of Royal Selangor's Spring 2016 collection is available at all Royal Selangor retail stores and authorised dealers, and online at www.royalselangor.com.