This article first appeared in The Edge Malaysia Weekly, on July 30, 2018 - August 05, 2018.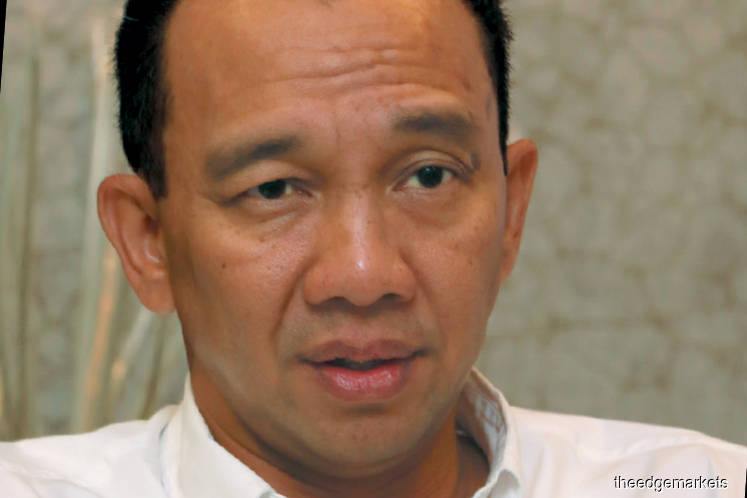 THE past few years have been challenging for Datuk Rosman Abdullah and construction company Putrajaya Perdana Bhd, which he helms as managing director. He controls 70% of the privately held company.
To recap, Rosman came under the spotlight when he was questioned by the Malaysian Anti-Corruption Commission (MACC) as part of an investigation into 1Malaysia Development Bhd (1MDB) and its former unit, SRC International Sdn Bhd, in July 2015.
"I would say the last three years of my life have been extremely challenging. It has been challenging for the company (Putrajaya Perdana) as a whole and for me personally," Rosman says in his first media interview since the episode.
"For me to be paraded in the infamous orange outfit is not something I dreamt of. It was never on my wish list to be in that situation, but it happened."
The case involved a sum of RM42 million that had been allegedly siphoned from SRC into Putrajaya Perdana's bank accounts before finding its way into former prime minister Datuk Seri Najib Razak's bank accounts.
Former attorney-general Tan Sri Mohamed Apandi Ali's "SRC Money Trail via Putra Perdana Construction" charts show that SRC transferred RM35 million to Putrajaya Perdana's 100%-owned unit, Putra Perdana Construction Sdn Bhd (PPC), on July 8, 2014.
Most of the money — RM34.99 million — then went to PPC's wholly-owned subsidiary, Permai Binaraya Sdn Bhd, which retained RM2.99 million and moved RM27 million to Najib's AmPrivate Banking 1MY account with its number ending 880.
In the audited accounts, Putrajaya Perdana identified the parties involved in the fund transfers as "first third party" and "second third party". The notes to the accounts do not say what the company's relationship with the two third parties was nor state the reasons for the fund transfers.
The same money trail was recorded in Note 17.2 (a) of Putrajaya Perdana's FY2014 financial statements, which recapped fund movements in the group's bank accounts — save for SRC being referred to as the first third party and account 880, the second third party. The notes do not explain why the fund transfers took place.
It is worth noting that Putrajaya Perdana's FY2014 accounts were signed off by external auditor Moore Stephens Associates on May 4, 2016 — about 16 months after the financial year ended and barely two months before signing off the company's FY2015 audited accounts on June 28. Both sets of accounts were tabled at its annual general meeting on June 30.
While he declines to comment on the matter, word has it that Rosman has been cleared of any wrongdoing by the MACC.
To put things in perspective, Rosman acquired Putrajaya Perdana for RM260 million in 2012 from Low Taek Jho, or better known as Jho Low, who is currently being sought for investigations pertaining to issues at strategic investment fund 1MDB. The deal was done via a leveraged buyout.
"They (Putrajaya Perdana) had an outstanding order book of more than RM1 billion at the time. It was really a no-brainer that we should be able to service the loan used for financing this acquisition," Rosman explains.
In another corporate move in 2014, he sold a 30% stake in the company to pilgrim fund Lembaga Tabung Haji for RM193 million. The proceeds of the sale were equivalent to more than two-thirds of what he had paid for the entire stake of Putrajaya Perdana.
It took Rosman three years to fulfil all the conditions of the acquisition. During this period, Low had associates as directors in the company.
It is worth noting that one of them was Jerome Lee Tak Loong, who was a director from March 2014 to October 2015.
In April 2014, Putrajaya Perdana acquired a 37.5% stake in Iskandar Holdings Co Ltd, a company with land bank in Johor, from Unity Capital — a firm controlled by Low — for RM240 million.
More recently, there were also reports on links between Putrajaya Perdana and the RM81 billion East Coast Rail Line involving a Chinese company being slated to buy 70% of Putrajaya Perdana for US$244 million, as part of a bigger plan where the government supposedly overpays for the construction of the railway line linking Port Klang in Selangor to Pengkalan Kubor in Kelantan.
Rosman denies any such plan. He also explains that Datuk Mohammed Azhar Osman Khairuddin was merely an independent director of Putrajaya Perdana sometime back in 2014. Mohammed Azhar was in the news as president of Suria Strategic Energy Resources Sdn Bhd, a company with the mandate to undertake a multi-product pipeline project that runs from Melaka to Jitra in Kedah and the trans-Sabah gas pipeline project for RM9.4 billion.
Both projects were awarded to China Petroleum Pipeline Bureau in November 2016, but by the end of March this year, they had achieved less than 15% progress, but RM8.25 billion or 87.7% of the total project value had already been paid.
Some market watchers have it that Rosman is a proxy for Low or others involved in the deal, which Rosman vehemently denies. "I'm not a proxy," he says.
"[The] transactions happened before I had full control of the company, and I believe they are being investigated by the authorities. Suffice it to say that at the point of the transactions, we did not know where the money was coming from or where the money was going to … Obviously, I can't comment too much on these as they are being investigated by the authorities."
Save by subscribing to us for your print and/or digital copy.
P/S: The Edge is also available on Apple's AppStore and Androids' Google Play.