This article first appeared in The Edge Malaysia Weekly, on February 17, 2020 - February 23, 2020.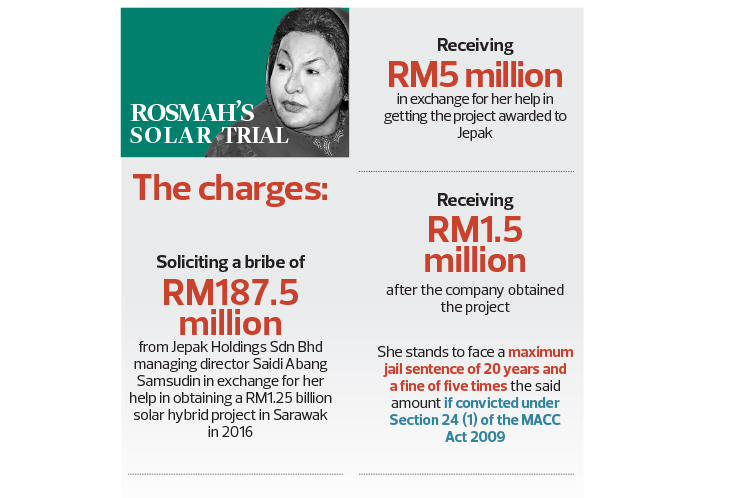 FORMER Education Ministry secretary-general Tan Sri Dr Madinah Mohamad last week testified that she and her ministry received continuous pressure from Datin Seri Rosmah Mansor and her husband, former prime minister Datuk Seri Najib Razak, to approve a RM1.25 billion solar hybrid project for 369 rural schools in Sarawak.
And being a public servant, Madinah said she felt she had to acquiesce as directed even though the request fell foul of the ministry's standard procedure (see accompanying story) because she was afraid of the repercussions.
Secretary-general of the ministry from June 2013 to September 2016, Madinah told the High Court that she had been directly ordered by Rosmah herself to "look into" the project and "speed it up".
Her testimony echoed that of the fifth witness, former education minister Datuk Seri Mahdzir Khalid, who told the court that he was directly instructed by Rosmah to speed up the project.
In her statement, Madinah recalled an event for National Permata that was attended by Rosmah and herself in June 2016.
"At the end of the event, Datin Seri Rosmah was walking to her car, accompanied by myself behind her. After entering her car, she lowered the car window and called me over.
"She then said, 'You tengok sikit project solar Jepak. Cepatkan sikit. (Take a look at Jepak's solar project. Speed it up.)'"
She said Rosmah's words raised a "sense of urgency" and warranted her as secretary-general to expedite the request. "I felt that because Datin Seri Rosmah is the wife of the prime minister. To me, [Rosmah] is someone who is of authority, who is able to influence Datuk Seri Najib Razak.
"I was stunned and asked myself why Rosmah was interested in the project. She had never showed interest in or asked for my help with a government project.
"Should I have not heeded the instruction, Datin Seri Rosmah could have complained to Datuk Seri Najib on my tardiness. Plus, [Najib] has already issued a memo instructing the replacement of diesel generators (diesel genset) with the solar hybrid project," she said, stressing that as a public servant, any suggestion from the prime minister was a serious matter.
Pressure continued to pile, she said, when she was contacted by Rosmah's aide, Datuk Rizal Mansor, as well as Jepak Holdings Sdn Bhd managing director Saidi Abang Samsudin and his business partner, Rayyan Radzwill Abdullah.
The witness said Rizal would frequently contact her and say "Ma'am" wanted to know the progress of the solar hybrid project, to which she understood "Ma'am" as being Rosmah.
"But I could not simply fulfil [Rosmah's] request because I had to go through the proper government procedures. But I did place priority on the project and would report on its status to Rizal," she said.
Rizal would go on to contact Madinah over the next six months, to convey Ma'am's frustrations over the "delay" in forwarding Jepak's proposal to the Ministry of Finance for approval, given that the Education Ministry lacked funds for the project.
"I remember telling Rizal that the ministry would raise the request once we have everything ready. I also told him that the ministry did not have the development expenditure to execute such a high cost project. But Rizal told me to just approve the request directly, saying, 'Boss will know what to do'," she said, adding that she knew that "boss" referred to Najib.
Rayyan, whom the witness described as being a "runner" for Jepak, would also frequently WhatsApp her, and name-drop the prime minister when querying the project status. "Rayyan also used the prime minister's name, urging me to immediately submit a request for approval for the project directly to the Finance Ministry by sending me messages like 'Just say you want the project' and 'Boss will take it up from there, boss knows what to do'," she said.
Hearing continues on Monday before judge Mohamed Zaini Mazlan.
Standard practice for ministry to award large projects to multiple contractors
TO minimise the risk of non-performance, it was normal practice for the Education Ministry to award a contract to provide diesel generators (diesel genset) to 369 schools in Sarawak to a number of companies.
As such, it was unusual, even unprecedented, when Jepak Holdings Sdn Bhd emerged with a proposal — which had already been approved by the then prime minister Datuk Seri Najib Razak — to replace the diesel genset project with a solar hybrid project for the schools, said former Education Ministry secretary-general, Tan Sri Madinah Mohamad, in her testimony during Datin Seri Rosmah Mansor's graft trial last week.
Madinah explained that her ministry had embarked on a project to provide electricity to rural schools in Sarawak via a diesel genset project since 2010, and was working to connect the schools to power grids in stages.
"There had not been any discussions to power these schools using solar hybrid. Furthermore, the ministry was not given any development expenditure to implement solar hybrid in schools," she said. Madinah added, however, that when the ministry received a minuted letter dated Dec 1, 2015, from the prime minister's office approving Jepak's proposal to replace the diesel genset project with the solar hybrid project, it had to be given serious consideration.
The implementation of the diesel genset project had been entrusted to 30 contractors, instead of just one, for a number of reasons, she explained. Among others, the ministry did not think a single entity could supply the diesel and maintain all the generators for the 369 schools effectively.
"From an administrative standpoint, the granting of this project to 30 companies was able to reduce the risk of failure of the project as a result of problematic contractors, which could result in 369 schools without power supply," she said.