This article first appeared in The Edge Malaysia Weekly, on March 16, 2020 - March 22, 2020.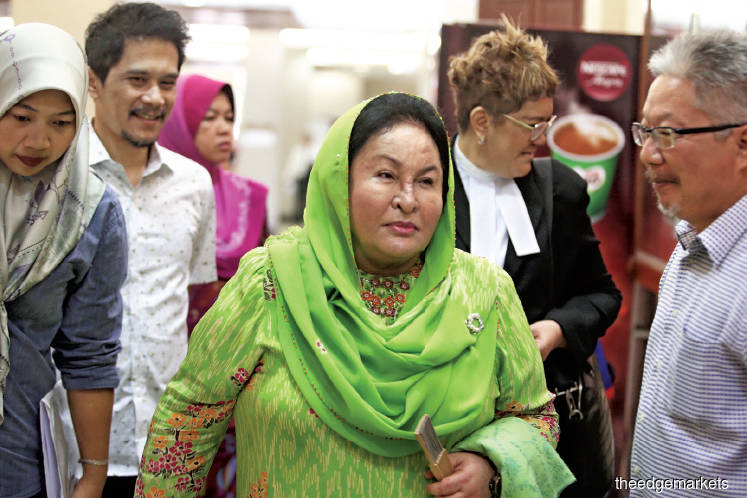 A witness testified that when both the prime minister (Najib) and his wife (Rosmah) gave instructions, it was a matter to be taken with 'great urgency'
Photo by Sam Fong/The Edge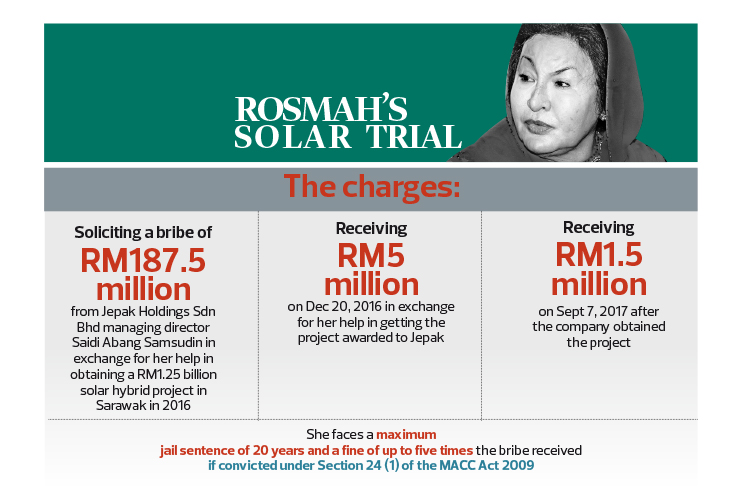 The charges:
Soliciting a bribe of RM187.5 million from Jepak Holdings Sdn Bhd managing director Saidi Abang Samsudin in exchange for her help in obtaining a RM1.25 billion solar hybrid project in Sarawak in 2016
Receiving RM5 million in exchange for her help in getting the project awarded to Jepak
Receiving RM1.5 million after the company obtained the project
She stands to face a maximum jail sentence of 20 years and a fine of five times the said amount if convicted under Section 24 (1) of the MACC Act 2009
 
DESPITE the fact that government tender regulations were being flouted in the approval of a controversial RM1.25 billion solar project to Jepak Holdings Sdn Bhd in 2016, top civil servants did little to prevent the granting of the project to the company, even though they believed it lacked the financial and technical wherewithal to do the job.
Having green-lighted the project, the Ministry of Education then proposed the setting up of a technical committee to conduct value management and monitor the project, in an apparent token attempt to mitigate anticipated damage and backlash, testimony from witnesses last week at the graft trial of Rosmah Mansor revealed (see charges).
So far, 12 prosecution witnesses have testified over 14 days. Five were ministry officials, including former education minister Datuk Seri Mahdzir Khalid as well as former education secretary-general Tan Sri Dr Madinah Mohamed and her successor Datuk Seri Alias Ahmad.
Their testimony underscored a common point — pressure to expedite the approval of Jepak's unsolicited proposal to install hybrid solar systems in 369 schools in rural Sarawak for RM1.25 billion, in place of existing diesel generator systems.
Continual pressure came from the top, they told the court, as letter after letter reached the Ministry of Education from the Prime Minister's Office to approve and award the project expeditiously. From Nov 23, 2015, when Jepak first wrote to the PMO pitching the project, until Nov 10, 2016, when the letter of award (LoA) was issued to the company, Mahdzir's ministry received more than three letters from Najib instructing that the project be carried out.
To complicate matters, Mahdzir, Madinah and Alias testified that they had been directly instructed by Rosmah herself to look into the project and "speed it up".
When the prime minister and his wife gave instructions, it was a matter to be taken with "great urgency", Madinah had testified.
Jepak's prospects questionable from the start
Not only did Jepak want the RM1.25 billion contract, it also demanded an advance payment before it commenced work, last week's witnesses Alias and his subordinate, Kamarudin Abdullah — the education ministry's secretary for asset management — disclosed.
Jepak had written to Alias in February 2017 asking for an advance payment of RM130 million to start the project, three months after the LoA was issued.
Alias confirmed that upon receiving the letter from Jepak, he had written to the Ministry of Finance for approval. After a series of letters, however, the finance ministry rejected the request, owing to the lack of documentation and Jepak's failure to comply with the conditions as it had furnished a guarantee provided by an insurer that was not licensed by Bank Negara Malaysia.
Datuk Othman Semail, the finance ministry's secretary of procurement at the time, was prepared to approve only RM10 million as advance payment, provided the conditions were met.
As Jepak deemed the amount insufficient, Mahdzir wrote to Najib requesting that an exception be made for the company to be granted its requested RM130 million to kick-start the project, even though Jepak had not met the conditions, Kamarudin testified.
He said he was not aware Mahdzir had written to Najib until his office was given a copy of the letter.
"The minister had not consulted me on this letter. It was 100% written by himself. I was only given a copy after it was sent. I don't know how he got the information to explain to the prime minister," Kamarudin told the court.
Subsequently, Jepak requested an interim payment of RM64 million for work done between January and April 2017. Again, its request was rejected for failure to furnish adequate documentation, but it was ultimately approved by the finance ministry after the education ministry made numerous petitions on its behalf.
Incidentally, Jepak still faces financial problems — last Friday, it petitioned the court to appoint a judicial manager to help settle its debts. The company made an application to the High Court after it was served a winding-up petition by two companies — MastiJaya Sdn Bhd and BHJ Enterprise Sdn Bhd.
Kamarudin also testified that, on Jepak's insistence, a clause in the contract was removed. It would have given the government the right to terminate the contract at any time and reduce the number of schools involved in the hybrid solar project if the schools were connected to an electrical grid.
He agreed that the removal of the clause could be undertaken only on the instruction of the finance ministry and that there was no such instruction. He said, however, that Alias had "authorised" the removal after Mahdzir had texted him via WhatsApp; Alias then sent him a reply instructing him to do so.
Previously, Mahdzir had testified that he agreed to remove the clause after receiving a call from Rosmah's aide, Datuk Rizal Mansor, on Nov 10, 2016 — the day the LoA was awarded. The contract was issued to Jepak on June 20, 2017.
Alleged vested interest
While there were many questionable acts on Jepak's end, Rosmah's defence team was quick to point out numerous lapses by the ministry.
Rosmah's lawyer, Datuk Akberdin Abdul Kader, questioned why the officials had acted in haste to pursue Jepak's request, even though they knew their actions went against good governance.
"You issued the LoA even before a value management exercise was carried out. It is usually done before, right? Do you agree that this was glaring disobedience on your part?" Akberdin asked Alias, who responded by nodding in agreement.
Alias admitted he had not acted according to the five principles of good governance stipulated by the finance ministry, especially as Othman, the ministry's secretary of procurement then, had continually written to him to ensure that rules and regulations were followed when awarding Jepak the project.
The LoA was issued two months after Alias was appointed secretary-general. His predecessor Madinah had given written approval, however, for Jepak to be awarded the project on her last day in office, Sept 2, 2016, when she retired.
Alias maintained he did not know about the project and heard about it only a few days before the LoA was issued, nor was he involved in the drafting of the LoA.
Akberdin put it to the witness that he had in fact a vested interest in the matter, which was why he continued to diligently seek payments for Jepak.
Alias disagreed, even though the lawyer tried to establish a relationship between Alias and Jepak's owner and managing director Saidi Abang Samsudin by implying they were golf buddies.
"I only played golf once with him in Kuala Lumpur, there was no other occurrence," Alias responded.
Madinah and Mahdzir, too, strongly opposed the suggestion that they had a vested interest in the matter, even after the defence team tried to establish they had close relations with both Saidi and Rosmah.
Madinah admitted that she had previously travelled with Rosmah in an official capacity and would confide in the former prime minister's wife about certain personal matters, but denied she had ever benefited monetarily from the project.
Mahdzir, on the other hand, testified that Saidi was a friend of more than 30 years and that the two had played golf on numerous occasions. But he denied the defence's suggestion that Saidi had coaxed him to accept RM50,000 from Jepak to fund a family trip, or that he had sought RM1 million per month for five years in exchange for help in landing the project.
The trial continues on April 6 before High Court judge Mohamed Zaini Mazlan.